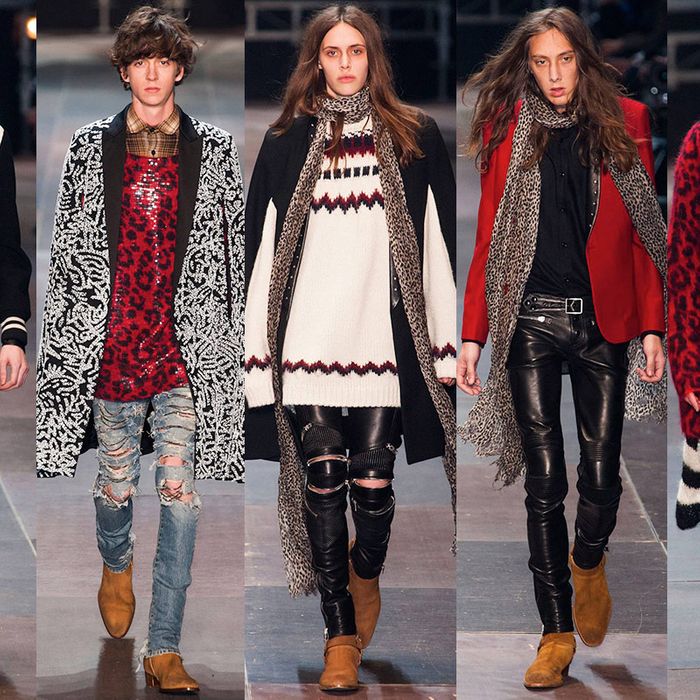 If Hedi Slimane wanted to make it obvious that his menswear debut for Saint Laurent was really something more unisex, he made it obvious in the most obvious way possible: casting Julia Nobis and a number of other female models to rock these looks. As a man — no less one who appreciated last season's witchy-hippie vibe at Saint Laurent women's — it's basically impossible to look at these outfits, full of drainpipe leathers, gauzy animal prints, and knitted tunics, and appreciate them as clothes a guy would wear. They are skinny women's clothes, even if they're the sort of women's clothes that Pete Wentz and his crew of fallen boys might have worn near the end of last decade.
In reviewing the collection, plenty of critics have said that it's redundant in 2013 to discuss Slimane's penchant for putting the slimmest silhouettes in existence on a runway (especially now that Nicolas Ghesquière isn't competing in that realm at Balenciaga). But that's not what this about. Instead, this choice shows that the designer is pushing forward Saint Laurent homme in a way that's not only aesthetically comfortable but also financially so. Men's designer clothes — especially if you don't count accessories — are a hard thing to sell. Which is why, some ten years ago, Dior Homme was groundbreaking both commercially and critically because stylish women wanted to wear it, too.
Judging from this first collection for men, Slimane seems to have a similar plan for the former YSL. As a guy who was looking for new clothes to wear (or maybe drool over), that's a bummer. Unlike Dior ever did, Saint Laurent already handed over a proper women's line for him to play around with. And here is one designer who is talented enough that he doesn't need two lines for ladies.