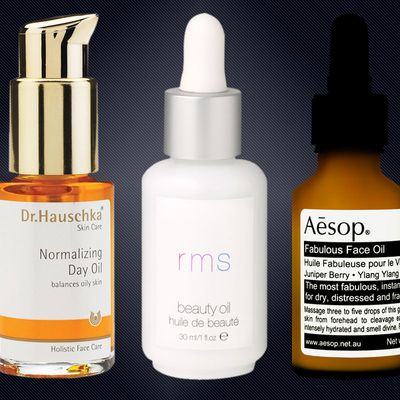 The oddest thing about swapping from a comforting, moisturizing daily face cream to a few drops of oil is the reaction you'll get. Bathroom-snooping friends, family members, and travel companions couldn't understand why I'd give up the benefits of an obviously emollient lotion for bottles and droppers that seemed both messy and expensive; I have what any beauty editor might call "combination skin" — dry cheeks with a shiny forehead by 3 p.m. — and no one understood that swiping a small amount of herbal oil across my mug would prevent my skin from producing its own gleam.
Turns out that applying "face oil" is actually an O.G. beauty routine — the sort of regimen that women and men used thousands of years ago to groom (and, in some cases, moisturize away the desert heat) in the ancient kingdom of Egypt and the Greek and Roman empires. Today, a combination of extracts — coconut, jojoba, almond, hemp, avocado, rosemary, ylang ylang, argan, and others, depending on each brand — are blended to accomplish a sorta-scientific miracle. With oily skin, these natural ingredients trick your skin into thinking it already has enough oil, shutting off sebum production and closing down the shine factory. In dry or blemished areas, the soothing plant materials also help to lock-in moisture by forming a protective barrier, while also cleaning out or refreshing pores to end irritation and quell redness. These traits make face oils great for dry, oily, or combination skin as they balance, detoxify, and mattify with just a minuscule amount of liquid.
That's the ideal situation, anyway. There are many options on the market — each with its own blend of essentials oils — and it's pretty tough to find one that absorbs into your pores without resting on your epidermis, where it will stay shining for a full workday. Some feel too heavy, or too heavily scented, as each of these natural ingredients comes with its own herbaceous profile. Others don't seem to moisturize enough, leaving you yearning for your days of good ol' cream.
To determine the best one, I tested eight options over the course of a month. But before we get to the winner, a word of caution: No matter what individual packaging says, you're best applying these oils while your skin is still after-shower damp — the better to add moisture and absorb the oils — and you really, truly, only need three or four drops. (That's easier if the bottle comes with a dropper included.)  If, like me, you happen to be a bearded man, the best among these will condition your scruff and reduce itching, too.
Not Recommended
Osmia Body Oil Flower, $24. The most heavily potpourri-scented of the bunch, this affordable organic product is meant for the whole body — but it's too strong for use above the neck. No matter how little I applied (which is difficult, since there's a hole at the top of the bottle, but no dropper), the oil still rested on my face all day, its pungent smell a constant reminder that it never absorbed. I was shinier than usual. And though I hate to blame this on a product switch, I also broke out.
Weleda Almond Soothing Face Oil, $25.50. A staple of hippie-leaning medicine cabinets since 1921, this brand simply combines almond oil and blackthorn blossom to create a product meant for sensitive skin, which I've always had. Unfortunately, the oil never moisturized as well as any standard face cream; there was a bit of friction as I rubbed it into my skin, which was unpleasant. Plus, the unappealing almond smell made me feel like I'd tried one of those weird kitchen DIY remedies that bad beauty blogs are always recommending.
Recommended With Reservations
Kahina Giving Beauty Argan Oil, $36. As the attractive packaging says, argan oil is "extremely rich in Vitamine E and essential fatty acids," making it the "the secret Moroccan women have used for centuries to fight the effects of the desert sun." Unlike the others tested, this product is a sole ingredient — a vaguely coffee-smelling essential oil that felt a little heavy on my face, where it didn't provide the needed moisture barrier to help me get through cold New York winters. But I'd still recommend it for a different purpose: Argan is one of those new-age tonics you can use all over, and I loved the shine and frizz-fighting qualities that resulted when I rubbed some of this stuff (as recommended by the packaging) through my hair.
Jurlique Skin Balancing Face Oil, $50. Among the group, this one had the viscosity and smell that most closely resembled Johnson & Johnson Baby Oil. It got the job done — probably no better than the aforementioned would — but it never felt like a luxurious process. It didn't glide on to my skin like the better ones I tested, and it was hard to dispense it from the bottle without splattering (and staining) any clothing in the vicinity. A workhorse, but that's it.
Rodin Olio Lusso, $150. Rich women who have settled into a routine swear by this ultrachic product, though it felt a bit cloying to me. The smell had all the intensity of Chanel No. 5, but with a bit of garden inside. Like the famous perfume, the oil lingered all day — never settling in to hydrate my skin and feeling a bit too strong for daily use. If I was older and my skin was more aged or wrinkled, I could see this stuff working better.
Recommended
Dr. Haushka Normalizing Day Oil, $42.95. Before trying this product, I hadn't concluded that anyone would actually want to switch from a lotion to a oil. Then, a few drops of this "normalizing" blend of apricot, peanut, carrot, sunflower, and other oils made my dry skin look fresh while eliminating most of grossness from that "T-zone" area dermatologists always signal out. Like a good cream, it felt nice to spread this stuff across my face in the morning. And the slightly medicinal/menthol-y smell (it has added fragrance, unlike many others tested) suggested cleanliness with no extra cologne needed. Only problem: With no dropper included, the bottle is a bit messy.
RMS Beauty Oil, $74. An angled dropper made this choice the easiest to apply. Like the one above, it did a great job of controlling shine and moisturizing dry areas — the Haushka was a bit better at the latter, RMS seemed to excel at the former. With a combination of jojoba, St. John's Wort, and turmeric, this product was also the best so far at minimizing pores, eliminating redness, and helping to clear up any blemishes that had settled onto my face after switching from one oil to another over the course of 30 days. Natural vanilla extract gives it an obvious scent, but it's subtle enough that you don't have to worry about smelling like frosting.
Highly Recommended (The Winner!)
Aesop Fabulous Face Oil, $55. While many of these face oils felt like a delicate science — too much and you're still shiny, too little and you're dry — Aesop wins accolades for being the easiest to apply. Whether I used three drops or six, on damp skin or a dry face, it still did an excellent job at stopping sebum production, hydrating my face, and keeping the whole area from my neck to my hairline both matte and patchless for up to 24 hours; I would wake up the next morning after using a few drops and still not feel greasy. The dark bottle is visually appealing and also helps keep out the sun's rays that can destroy the ingredients in each of these oils. It also has a dropper, earning bonus points, and I can see this being one face product that couples — men and women, or same-sex, too — could use together as a sort of one-step facial solution. The combination of juniper berry, ylang ylang, jasmine petal, and more provided all these benefits while feeling lighter than most creams, making it my new moisturizing standard. Sure, it's a bit on the expensive side. But since you only need a few drops daily, the small bottle seems like it will last for at least a year.