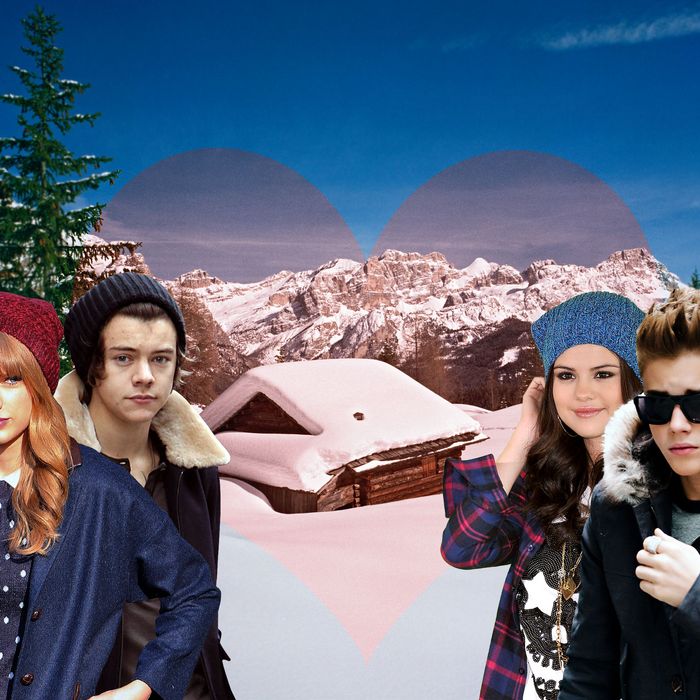 Photo: Photos: Johanna Huber/SOPA/Corbis, Splash News/Corbis
Welcome back to Celebrotica, in which the Cut's resident romance novelist reimagines the news.
"Taylor Swift and new beau Harry Styles of One Direction recently frolicked in the Utah snow with Selena Gomez and on-again boyfriend Justin Bieber."  –People, Dec. 28, 2012
Taylor Swift and Selena Gomez took steaming hot chocolate by the big ski lodge window. They watched Harry Styles and Justin Bieber frolicking in the snow outside, trading snowballs.

Selena sighed, leaning back into the padded embrace of her armchair. "They look so small from up here."

"They are small, darling," Taylor reminded. Her nails gleamed with platinum dust and sapphires, a wintry manicure. The boys tumbled down the slick slope like puppies. They mashed wet white into each other's faces. "Small, and so young," she mused.

It was true. When you are in your early twenties, the gulf into teenagerdom often seemed insurmountable. They observed as their teenagers gamboled on the low hill as though they would never tire.

Selena shook her head. She stirred a marshmallow into oblivion. "I don't know how much longer I can maintain this facade," she told Taylor. "Every day, the boy tests me."
Taylor's echoing nod was sage, an indication of hard-won experience. "You might look for a tamer nationality next," she said. "The British are serving me well enough, and Miley has found some success with her Australian." She extended a delicate hand and touched fingers to Selena's wrist. Her expressive brow below the coiffed hair showed concern. "Who ever knows anything about Canadians?"

Selena feared that her friend was right. For the sake of her career, she had given Justin too many chances, and the errant lad had worn down her patience every time. The youthful indiscretions were one thing; the harem pants were another.

Taylor let her go as the boys trampled inside, trailing sweat and snow. "Let's hit the slopes," said Harry charmingly, showing a hint of what could be gapped teeth. Like all the British aristocracy, he could ski, modeling the pursuit after the royals at Klosters. Justin had his phone out and was on Twitter. "I'm a God there," he said to Selena, when once she asked him to put it away. "You wouldn't tell God not to Tweet, would you?"

"Ta," said Taylor, artfully draping her faux white rabbit stole. She put on a trendy hat that suggested that she was a polar bear. "Stay resolved, Selena dearest."

Justin soon announced plans to go snowboarding with his entourage. He jostled amidst the looming men in black ski suits and masks and ear pieces, dark goggles over their eyes. They would praise his halfpipes, bonks, and boosts. One of them held a videocamera at the ready for YouTube streaming.

Selena alone was new to skiing, and sought out an instructor. He was German, with golden hair and shoulders broad as the Berlin wall. His name was Franz. They spent half the time learning icy slopes, the rest navigating warmer ones. Selena declared herself an ardent fan of the sport.

Leaving Franz behind in the trees to recover, she returned to the lodge. On the mountain overhead, Justin snowboarded, protected from the wind by his bodyguards, and Harry skied on one foot to the delight of the trailing press and teenagers and housewives.

In their private Chateau, Taylor awaited Selena in the bubbling hot tub. The lavish marble structure was set on a platform overlooking furrowed woods and deep valleys. It had captain's chairs and a musical subwoofer, flashing lights as she approached. Taylor lifted a crystal glass of champagne. "Won't you join me?"

After Selena's day it was hardly a question. She ached all over from her lesson in Teutonics, longed to slip into the hot water. Luckily, she wore a fashionable bikini beneath her winter wear, only practical, and she stripped down to a two-piece bedazzled by precious jewels, Taylor nodding approvingly.

Selena let the heat and warmth wash over her. Then she had a glass in her hand, and they were toasting, sipping fragrant gold. She settled back, draining it dry. At the bottom of the glass, she said, hearing herself sound bitter, "I have not lived such a lie since I used to pretend to be a wizard daily."

Taylor chuckled, richly. "You look at it the wrong way. This narrative is yours to exploit, my pet. You've already let him crawl back; after that, the world is your oyster."

"You really think?" said Selena. "He isn't giving me much to work with these days. And his star may be waning."

"I know," assured Taylor, moving across the big tub, moving closer. "All the world's a stage, Selena. Your namesake knew that. And all the men and women merely players: They have their exits and their entrances," she said. "That's Will Shakespeare, you know. And he was totally right."

Selena let herself slide closer in the water, persuaded. "They don't make men like they used to," she said, lamenting. "Where have all the poets gone?" She thought of Justin's last epic verse: "Oh, for you I would have done whatever / And I just can't believe we ain't together. Like baby, baby, baby nooo / Like baby, baby, baby oooh."

"Starving in attics, as ever," said Taylor, twisting locks of Selena's glossy hair back behind her ear. "We can pick you up one for the season. Have you heard of Sappho? I think you'd really like her stuff."

Taylor tilted to kiss her, seizing her mouth amidst the bubbles, and it was hot as the steam rose around them. Their wet mouths met and stayed, then shifted, then strayed.

Selena moaned as Taylor proved she knew just where to kiss first, just where to touch and press and caress. She responded in kind; it was so good to be with someone who didn't try to pose her for Instagram pictures halfway through. No, Taylor was very different. Nothing seemed to surprise or throw her off, as though she had seen everything, was ready for anything. She had much to show Selena.

"I will let you in on a secret now," she said, her blue eyes wickedly bright. "As I was told by Madonna, and she was told by Cher before her." Her long, sensitive mega-selling artist's fingers slipped between Selena's taut thighs. "In the end, it is better not to have a man at all."

Taylor had done absolutely all there was to do; her experience was as old as time. She took Selena under her wing, took her out of the hot tub and laid her down on the cedar planks of the deck. Women were so much better at this than groping men were. She would have to get word back to the Disney Channel studios. They were doing their orgies wrong.

Selena was hitting a personal high note when their lads came back. Harry was scampering, spinning around in a circle to catch the end of the scarf he wore. Justin was being carried on a litter between two bodyguards.

"I say," exclaimed Harry, full of enthusiasm, as he watched them writhe. Their petite, toned bodies and powerful vocal chords worked in sensuous concert, their fingers stroked staccato notes, and the air was heavy with the mingled scent of sweat and Taylor Swift's Wonderstruck perfume.

Justin looked more confused. "What does this have to do with me?" He started most conversations like that.

Taylor pulled her lips away from Selena's succulent skin. "We're doing a PSA, dear. You two can join us in just a moment."

"It's for charity," added Selena, panting, gasping, her hand closed tight in Taylor's golden curls to fix her in place. Predictably, Justin's eyes glazed over, like it did whenever she mentioned UNICEF or was called off to do her duty as a Goodwill Ambassador. She knew how to settle him. He stopped looking alarmed, and turned back to Twitter.

Neither of their young gentleman could pass up a photo-op. They had been regular teenagers, once; pretty-faced boys with untamed hair who sung to their mirrors. Then the internet and fame and fortune had found them, propelling them to international superstardom overnight. Women screamed to see them, beating their breasts and rending their clothes; girls slept with pillows that bore their image. Paparazzi trailed in wolfpacks. They were very good at posing for pictures, and singing plaintive love songs. They had done little else.

Harry stripped off to show his long, lanky limbs. A suit that had been made for him following a death-match of top designers hung just below his hips. Once a bodyguard had been designated cameraman for the evening, Justin strutted about in a tiny black Speedo. The boys didn't need much urging to join in. It seemed the most natural thing in the world to Harry to be sharing a night of many partners. He tumbled to and fro, kissing every mouth.

He confirmed it with a happy sigh, at a point when he lay with his head on Taylor's lap, and his feet on Justin's stomach, and his arm across Selena's hip, all of them a tangled quadrilateral. "How I miss the other lads," said Harry. "Would that they were here."

Justin was used to being a singular object of desire for all who saw him. He wasn't gay or anything, he said a bunch of times, but he was cool. It was chill, for charity and stuff. After they finished the third bottle of champagne, he was even more enthusiastic than Harry, had him pinned to the side of the hot tub. "Tell me again what you guys did in Budapest," he was saying. "Maybe I should get myself a band, think about my evolution." Soon enough, they had stopped thinking.

Lounging triumphantly on the deck, Taylor gave Selena a last kiss and rose to refill their glasses. She wore only a bracelet that spangled red, white and blue in gemstones, and her cloud of blond hair. Majestic, she moved like the snow queen of The Canyons, Park City, Utah. The camera, and all who saw her, loved her.
Amelia Casey is a romance novelist. Her most recent book, Taken by the Highwayman, makes Lady Anabel Mayward quiver.