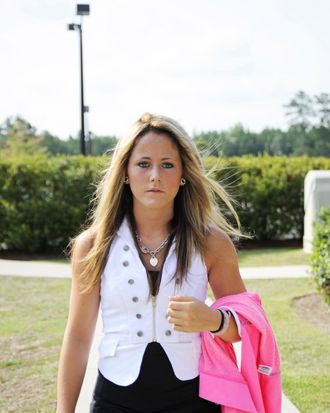 Photo: Young/Drummond/Splash News/Corbis
Being a young mom, MTV is realizing, is only cute for the first fifteen minutes. Sources tell the New York Post that the network is shutting down production on Teen Mom 2 — the documentary series that follows a handful of stars of 16 and Pregnant — after star Jenelle Evans's public breakdown last week. Evans live-tweeted her miscarriage and subsequent spat with new husband Courtland Rogers. How that's different from allowing MTV to document one's pregnancy and birth is unclear to us, but the Post's sources say such "erratic" and "headline-grabbing behavior" is making the network look bad.
Since her MTV debut, Evans has been arrested seven times for things like breaking and entering, assault, violation of probation, and possession of drugs. (Fellow former Teen Mom star Amber Portwood is currently serving a five-year drug-related sentence.) Insiders told the Post that "producers are concerned the attention-seeking reality star has become a liability for the show, which tries to characterize itself as a cautionary tale about the hardships of too-young motherhood." Evans and Portwood do, on the other hand, make an excellent cautionary tale about the hardships of too-young MTV reality stardom. A small silver lining: Audiences' tolerance for momsploitation appears to be drying up. Oxygen cancelled the widely criticized All My Babies' Mamas, which documented rapper Shawty Lo's relationship to the ten mothers of his eleven children.