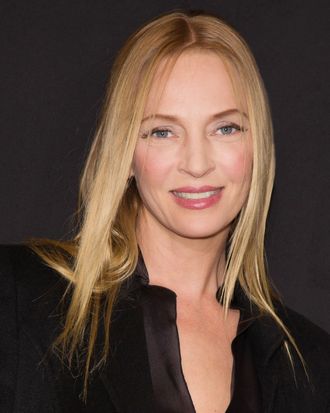 Photo: Stephane Cardinale/Corbis
The pretty looking blonde you see above, presumably dressed in head-to-toe Armani, was spotted outside of the Armani Prive couture show in Paris yesterday. According to the photo caption, said blonde is actress Uma Thurman. At this point, we had a jigga what? moment, because she's barely recognizable. Here are some theories on why she doesn't look like the yellow-racing-suit-wearing assassin we remember from Kill Bill.
1. The megastraight hair is throwing us off.
Thurman has naturally fine hair. Possibly for that reason, she always seems to add a little wave or curl to it for some added thickness and volume. The stick-straight ironed look is rare, and perhaps the first, immediate (and most obvious) reason that she doesn't look like herself.
2. There's something about her eyes.
Those of you who have worn a heavy set of false lashes know that, sometimes, they can weigh down your lids. Perhaps that's what's happening here. Instead of her usual wide-eyed gaze, the shape of Thurman's eyes appears longer (the faux-lashes could've used a trim) and a little squinty.
3. Could it be? Would she? Maybe …
She got a new face. No judgment here, but we leave this final call to you.