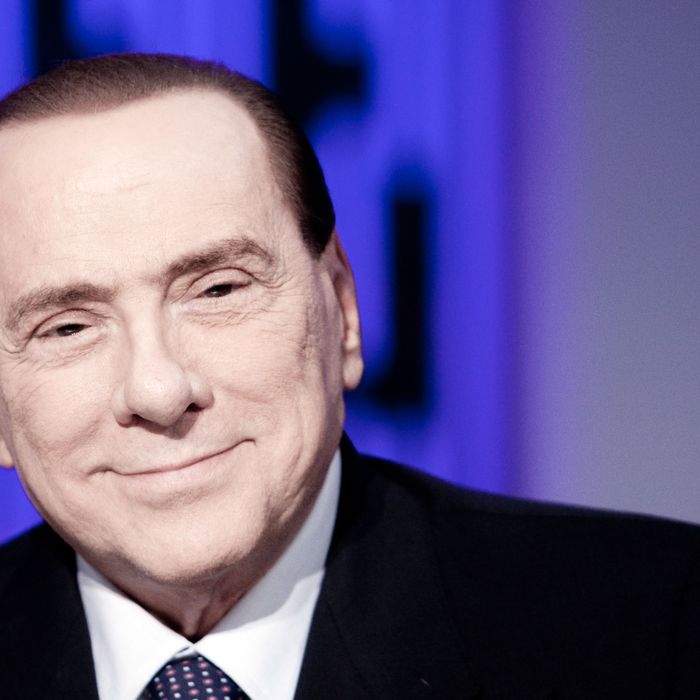 Photo: Alessandra Benedetti/Corbis
Italian ex–Prime Minister Silvio Berlusconi took a break from smearing his replacement and challenger Mario Monti yesterday to blast the female judges responsible for his $260,000 (a €200,000)-a-day divorce settlement, which he is appealing.
"These are three women judges, feminists and communists, okay?" Berlusconi said in a televised interview picked up by the AP. "These are the Milan judges who have persecuted me since 1994."
The president of the Milan tribunal and the head of the appeals court issued a joint statement "strongly" rejecting "any insinuation of impartiality" among the tribunal's judges, whom they called "diligent professionals."
Berlusconi's second ex-wife, Veronica Lario, understandably divorced the then-prime-minister in 2009 after having published multiple open letters in Italian newspapers, criticizing his penchant for publicly flirting with other, younger women. The settlement was originally reported at a €100,000 a day; no one knows where Berlusconi's new figure came from. He hopes to renegotiate the divorce settlement amicably, according to Reuters, because his current relationship with Lario is "excellent."
However, it wouldn't be the end of his legal woes. Berlusconi was convicted by another Milan judge (this one a man!) of tax fraud last year and is appealing that decision. The decision in Berlusconi's bunga bunga cover-up case is due any minute now, possibly before the elections next month.