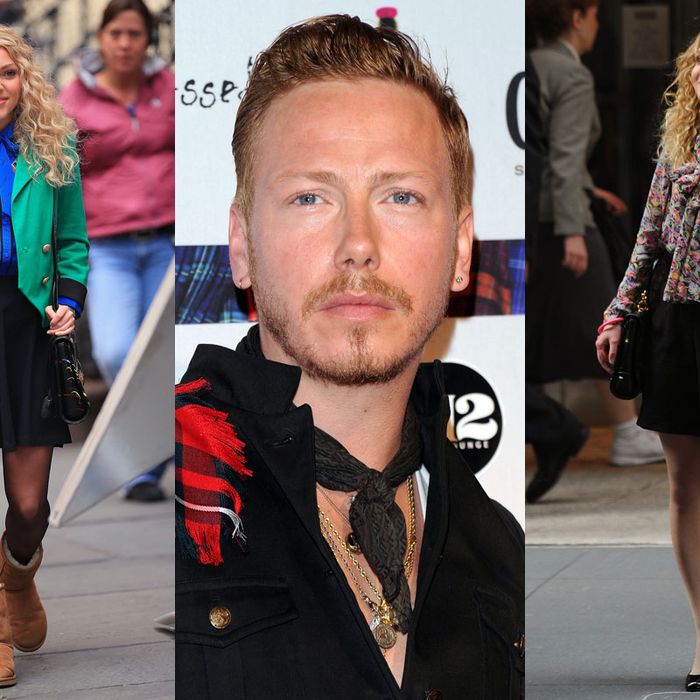 When the CW announced it was making The Carrie Diaries, a prequel to Sex and the City, it was a no-brainer that they called on 42-year-old Eric Daman to be the show's costume designer. Ten years prior, working as an assistant costume designer, he helped Patricia Field perfect Carrie Bradshaw's mix-it-up, tulle-and-T-shirt style — which earned the costume crew an Emmy in 2002.
Once Carrie ran off and married Mr. Big, Daman moved uptown to be the costume designer for Gossip Girl, where he attracted a teenage audience (and plenty of ascendant shoppers) with the characters' Upper East Side, prep-school charm. "I had no idea the headband would take off like it did," says Daman. Even before Gossip Girl ended this season on the CW, the producers asked him to hone in Carrie Bradshaw's eighties world, back when she was a high-school student, not an idiosyncratic fashion icon.
"I strangely indentify more with the young Carrie than the grownup Carrie," he says from Steiner Studios in Brooklyn, in between tapings of the show (the first episode airs on January 14.) The new series, based on Candace Bushnell's books The Carrie Diaries and Summer & the City, rewinds back to 1984, when Bradshaw was a senior in high school in Castlebury, Connecticut and wanted more than anything to move to the proverbial big city. Daman likely relates because his story's not so different.
He was born to a "hunting-and-gathering" family in Monroe, Michigan, where his only cultural fix involved watching MTV or driving two hours to get Interview magazine. "I was obsessed with Adam Ant, his war paint and those great colonial jackets. I would wear my brother's band jacket and try to look like him," he says. To emulate his idols, who also included Duran Duran and Madonna, he got creative with what was available at the local mall, until he found a more affordable option: "It was a whole new ballgame once I discovered the Salvation Amy." Though his parents didn't approve of his second-hand style, he loved the thrill of buying a sharkskin jacket for a dollar and pairing it with a shirt from the mall. "It's sort of how I'm styling Carrie now [played by Sophia Anna Robb] — by mixing eras. We were already doing that in the eighties. This is just translating that idea into a contemporary version."
No surprise for a fashion-loving teenager, he was also a self-proclaimed Francophile. While studying abroad his sophomore year of college, he fell madly in love with Paris and broke the news to his blue-collar parents that he wasn't coming back for his junior year of college. "I said 'this is where my life is now.' They said that they would pay for school but that they wouldn't pay for my lifestyle, so I had to get a job." Basically, he was a wide-eyed club kid, who spent a lot of time soaking in the city's nightlife scene. Soon he was offered a job at the avant-garde clothing boutique, Magic Circle. As he formed his own fashion family, the name of the store felt like prophecy.
First he met Patricia Fields, whose clothing line was carried in the shop. Then he met a scout for Steven Meisel, who noticed him at the store and took down his number. "At the time I was thinner, prettier, and very much androgynous in a David Bowie sort of way," Daman explains. A week later he came home from work to a message on his answering machine: "Hi, this is Steven Meisel's office. We would like to shoot you for a Calvin Klein campaign next week in New York. Are you available? Call us back."
Before Daman knew it, he was on a "very Andy Warhol, bohemian New York" set with Kate Moss, singing "Don't You Want Me" by Human League while shooting for the American brand. Over the course of the next year, he shot several more Calvin Klein campaigns with Moss and Meisel, enjoying the wild ride of his newfound model life. But his boyish charm would only go so far, so he needed a backup plan.
Meisel encouraged Daman to be a stylist, citing Daman's own proclivity for self-styling and natural ability to put things together. After a stint working on fashion editorials, mostly alongside Terry Richardson, Daman decided to try his hand at film. A friend of his was directing Adrian Grenier's first movie, The Adventures of Sebastian Cole, and Daman jumped at the chance to help. "I loved that you could create characters through clothing," he says. Soon afterwards, Daman ran into Pat Field on the street. She was looking for an assistant designer for the second season of Sex and the City and told him she wanted to elevate the show. He hit it off with Sarah Jessica Parker and ended up working on the next three seasons. "I learned so much from [Field and Parker] about how sparkles work, how prints can work against each other or for you, and how everything really should be tailored as much as it can to show off the best silhouettes," he recalls. "It really was the best costume design 101 any student could ever have."
It's that philosophy that helped make Gossip Girl a success. Now his career has come full circle and his attention has turned to The Carrie Diaries, where he reunites with old showrunners Amy Harris and Stephanie Savage. And his biggest challenge is to dress new versions of characters we already know: "People are going to expect Carrie to saunter down the hallways in her Manolos, but that's just not happening," he explains. "We are creating a quieter hometown girl who also has a city edge." To do this, Daman combines different decades of vintage with contemporary pieces to avoid an overly costumed effect — that mix he mastered replicating his idols' looks in his own teens. Since [spoiler alert] Carrie inherits her deceased mother's wardrobe, she has access to clothes that many schoolgirls wouldn't. "Those clothes are Carrie's connection to her mom. They give her strength, courage, and confidence. As a result, she took chances and had a lot of fun with it."
To achieve an authentic throwback look, Daman dusted off his own high-school yearbook, and pored over hundreds of archived patterns from McCalls and Vogue, to old Sears catalogues and vintage GQ ads at the New York Public Library. He also watched John Hughes films and cult classics like Liquid Sky. After getting a sense of what these characters might look like and taking cues from Bushnell's books, he headed to New York vintage boutiques like Resurrection Vintage and Screaming Mimi's to dream up Carrie's formative years.
"This show is a bit more realistic than Gossip Girl and Sex and the City," he says. "It's not just couture gown after couture gown or Serena outfit after Serena outfit — which were all amazing — but with this, you can actually go out and get a fun vintage dress at your local thrift store or find a great fifties beaded cardigan online and wear it with your T-shirt and jeans without it feeling like you are in a costume." Or, you know, you can just watch a young girl do that on television every week.
The Carrie Diaries airs Monday at 8 p.m. EST on the CW. Read more about Eric Daman on his blog.