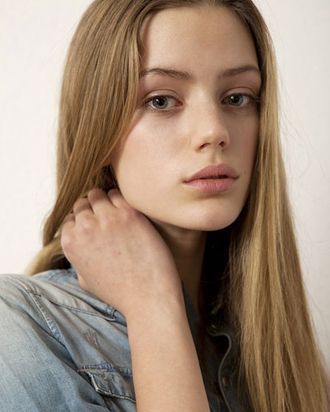 Esther Heesch is a 16-year-old of many talents — she surfs, she plays piano, she practices ballet, she can sit through episodes of Germany's Next Top Model with Heidi Klum in their entirety, and she's already racking up the jobs since she first stepped foot on a runway at Dior's fall 2012 couture show last year. For the spring 2013 season, Heesch booked a total of twenty slots at Milan and Paris fashion weeks (she skipped New York and London), walking for Prada, Céline, Alexander McQueen, Balenciaga, Chloé, Chanel, and Dries Van Noten, and opening for Valentino. She went on to nab the Céline pre-fall 2013 look book, Chanel pre-fall 2013 show in Edinburgh, and Valentino spring 2013 campaign, not to mention editorials for Interview and Vogue Japan (the latter, on newsstands now!). The Next model stopped by our offices before heading back to high school in Lübeck to talk about her teachers, eating organic, and Karl Lagerfeld's Hula-Hoop bag, which she saw in real life.
Where did you grow up in Germany?
I'm from the north, from the seaside, near Hamburg, in a city called Lübeck. I think it's my favorite city in the world. We live in a really, really old house from the Middle Ages. My mother's a goldsmith and my father's a doctor, and I have an older sister — she's 18, and a younger brother — he's 13.
How were you discovered?
I was looking for shoes in Hamburg, and somebody asked me if I wanted to try out modeling and I said, "Yeah, why not?" I started [last] year — my mother agency is called Modelwerk in Hamburg, and then I signed with Next. I hadn't thought about modeling earlier, but I was always tall and I sometimes watched TV shows about modeling, like Germany's Next Top Model with Heidi Klum, but I really like fashion, actually, and I make a lot of my own clothes.
Do you miss a lot of school for modeling?
For the spring 2013 fashion weeks, it was my first, and I did Milan and Paris, so I missed two and a half weeks of school, but my best friend told me after what I missed. As for the other kids at my school, there are not that many models in my city because it's not that big, so I think they're really surprised, but I think they like it, or I hope they do. My teachers are interested in my jobs, and want to see pictures, and ask me a lot of questions, but since I do miss a lot of school sometimes, they're like, Watch out.
What do your parents think?
They're really proud. [Laughs.] And my grandma, she watched my first show — it was the Dior Haute Couture show — she sat in front of the computer and watched the live-stream and she started crying. It was so sweet. [Laughs.]
Tell me about Dior couture.
It was my first show in my life. I was in London and then I got [an e-mail] that I should come to Paris, and I took a train and went to the casting, and it went well, and they took me. The clothes were so nice. I've never seen anything like it before — it was amazing, like in a fairy tale. I felt like a princess. Raf Simons was there at the casting and I really like him. He's nice and good-looking.
What shows stood out for you last season?
Of course Valentino, because I opened, and this was so nice. I really loved the music in the show and the dresses were awesome. Also Chanel — Chanel was great. I really liked the theme, with the wind turbines. I think it's a good idea and I think it's important for where we are now. And it was nice to see Karl Lagerfeld in life. I also saw the Hula-Hoop bag — the girl who carried it told me it was quite heavy. But I think it's funny.
You've also done some editorial work. What was it like to shoot for Wonderland and work with Julia Sarr-Jamois?
It was in London and the photographer was Michael Hauptman from New York. It was really fun — it was a nice day, it was sunny. There's one picture, with a boy in it, and he was working outside on a house painting it, and we asked him to come to the shoot and we ended up talking a lot.
So, what do you do in your spare time?
I do ballet. I started when I was 6. And in the summer, I go surfing because I live on the Baltic Sea. I started that when I was 9 and I go with my brother and it's not far away from where I live.
Do you listen to music?
Actually, I play piano. I don't have much time to do it, but I like it. Normally I don't like classical music that much. I prefer pop and rap, songs you can dance to.

Do you keep a specific diet?
My family and me, we always eat healthy, always — organic foods and a lot of vegetables, fruits, and stuff. I like it because it's fresh. And I think it's important to drink a lot of water, as well. I also have a nice, organic cream for my face. I use it every day.
Is it hard being a 16-year-old model?
In the beginning, it was sometimes hard with the English, but I think it gets better after some time. I always go alone to the cities, but my mother came with me to New York when I went the first time. I'm in New York now, shooting some things, and soon I will go home again because I have school. But I've met a lot of people from different countries … I don't know how young is too young to model. I think it depends on how you feel. Every person is different.
Explore other rising stars (plus all the big names) in our extensive Model Manual, featuring runway pics, glamorous editorials, model bios, career timelines, and more.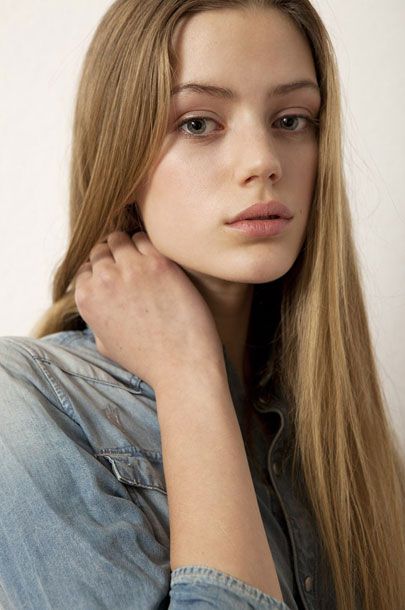 Test shot, 2012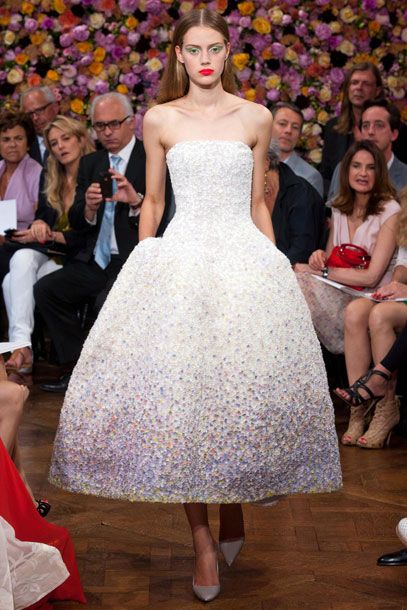 Dior fall 2012 couture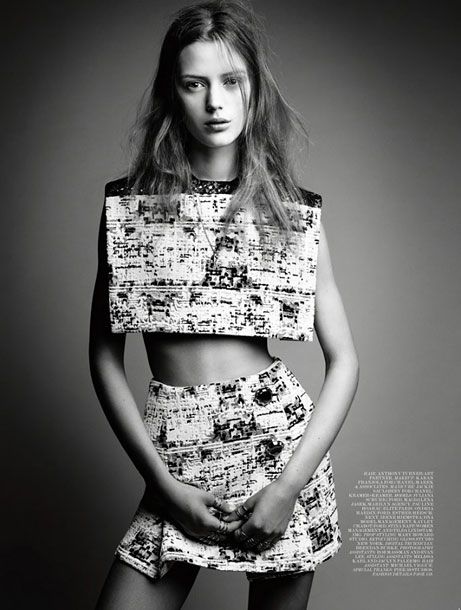 Interview December 2012, photographed by Patrick Demarchelier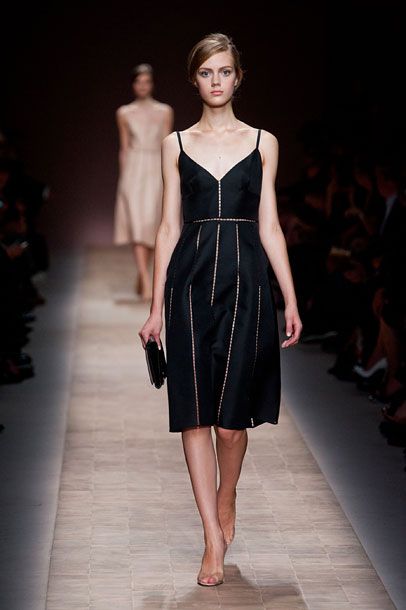 Opening the spring 2013 Valentino show in Paris
Valentino spring/summer 2013 ad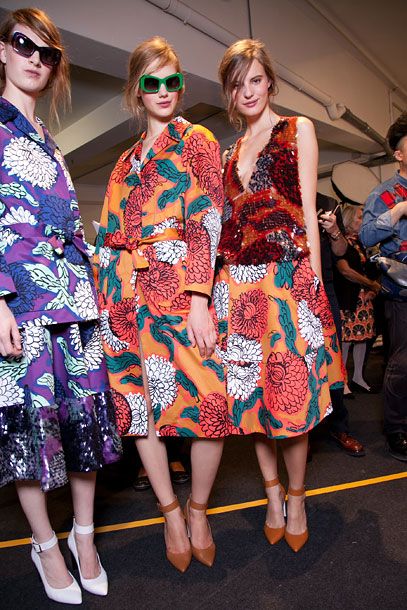 Backstage at Marni, September 2012