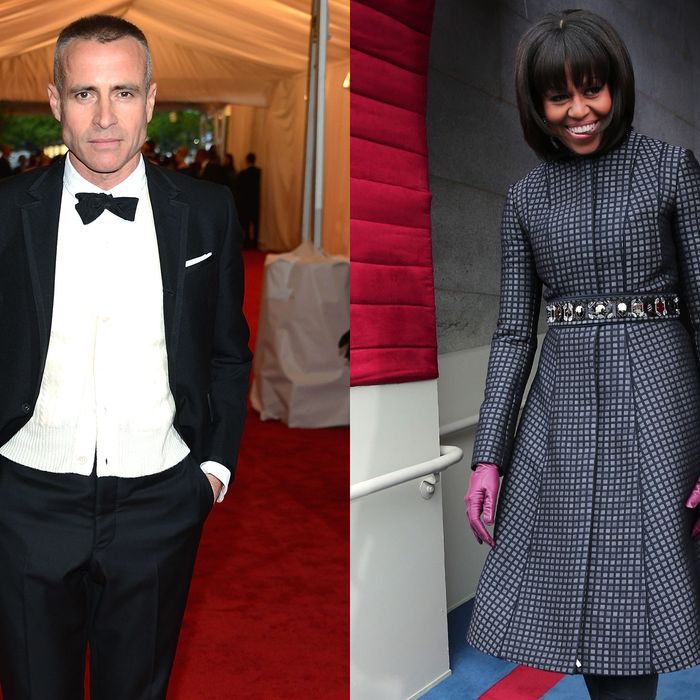 It's been a busy day in Paris for the American designer Thom Browne, known best until today for his cropped and tiny-proportioned flannel suits. He spent his day in sales meetings after showing his latest men's collection on Sunday — at least until he got an e-mail from a friend alerting him that Michelle Obama had chosen his personally commissioned design for the Inauguration. We caught up with him briefly, as he explained to the Cut how the jacket came to be, then told us what secret, unrevealed garment FLOTUS was wearing underneath it the whole time. Click ahead for the designer's take on the whole process, plus his thoughts on Obama replacing the belt he sent along with some jewels from J.Crew.
First of all, Congratulations. How did you find out she wore your coat?
Well, it's pretty overwhelming. Being here in Paris [for men's collections], and being in a different time zone, I found out over an e-mail. I had an idea it might happen, but I heard first through a friend.
I read you made it specifically for her. Did you have a sense that she'd choose it?
That's what is kind of amazing about the experience. I did design it for the day, but I didn't really know. She's so supportive of so many American designers; I'm sure I was one of many asked to create something. And that's what made [her choosing mine] that much more special.
Did her people specifically ask you to make a coat, like the Isabel Toledo one from last Inauguration?
No, I knew she was going to be outside, and I know what she's worn before. I've designed some dresses for her in the past. But this time she was going to be outside, and so I decided to make a coat and a dress. I really wanted to design something that was going to be appropriate for the day, but that reflected her strong sense of style.
Most of us just saw the coat, which she didn't take off. What's underneath?
It's a dress that's similar in shape to the coat. It is sleeveless, and also a silk-tie jacquard. It's not navy [like the coat]; actually, it's a jacquard grey, loden green, pink, blue, and white, with triangles.
Did you know from the beginning you were going to use men's tie fabric, which carries its own symbolism?
I always like to incorporate my men's sensibility into my women's collections. For this one, specifically, I had been developing silk-tie jacquards for my men's collection that I showed yesterday. I was in the middle of developing the fabric for the men's clothes when I made these two [for the first lady's outfit].
What did you think of her wearing it with a J.Crew belt?
Well, I designed a belt for it myself and that's what is so great about this experience. She has such a strong sense of what she likes and that's a true testament to her personal style. The belt I designed was very similar to the belt she wore, but it was made in the same fabric as the coat.
Now that she's worn it, do you eventually plan to make the look available for consumers?
Well, I designed it specifically for her. So, no.