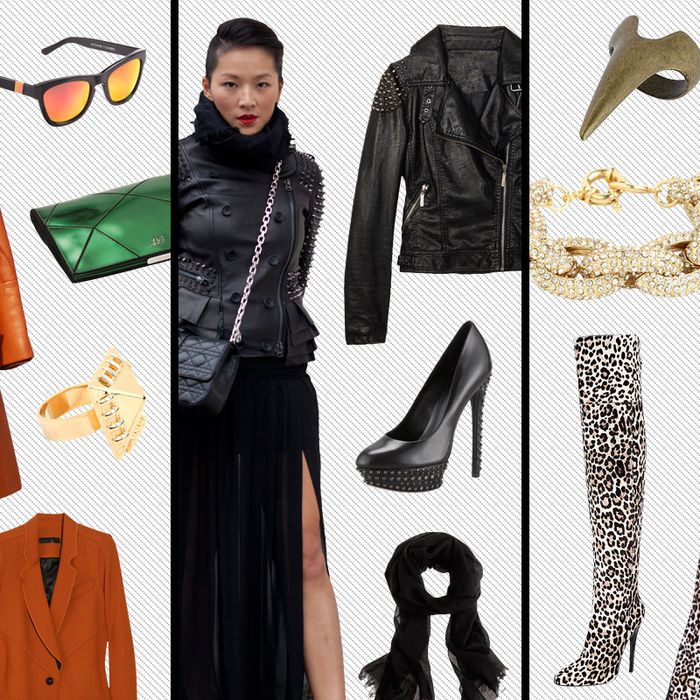 Stylist and blogger Tina Leung emerged on the street-style scene with her half-shaved locks and eclectic style: One day it's head-to-toe menswear with a shirt and tie, another day a floor-length gown paired with a motorcycle jacket. Born in Hong Kong, Leung moved to the suburbs of Los Angeles at age 2 with her family before they moved back to Hong Kong when she was 12. She spent a year at Bates College, in Maine, and then decided to transfer to Bristol University in the U.K. to pursue drama. "I thought I was going to be an actress until I had a realization that I didn't want to kiss anyone," says Leung of her decision to pursue fashion instead. "My friends all said 'Tina, didn't you realize this?!' but I didn't really think about it."  
After spending a year studying styling at F.I.T. and assisting various stylists in New York City, Leung returned to Hong Kong where, while getting her hair done, she showed her stylist her portfolio and he began to suggest her for jobs. This led to gigs doing runway-show styling, choreography, writing articles, styling Hong Kong celebrities, and hosting in-store events and trunk shows. Leung has also collaborated with brands Valentino, Loewe, and Georg Jensen within Hong Kong and has recently signed on to be the fashion and beauty blogger at HK Tatler. She also manages her personal blog, Tina Loves, which chronicles her fashion week adventures, outfits, and backstage snaps.
Despite living in a very brand-conscious city, Leung doesn't rely only on designers and can be spotted in a mix of high-street labels like Zara and J.Crew along with luxury pieces from Givenchy and Carven. She also supports local Hong Kong labels like Season 4, Blues Heroes, and S. Nine. "I dress the same whether it's in Hong Kong or elsewhere, [and] I really believe that anything goes and I find there are no rules," she explains. Unlike her peers, Leung also doesn't plan her outfits in advance for fashion month, choosing to pack her favorite pieces into two suitcases and deciding on her look each day. Click ahead to hear Leung break down some of her fashion week looks, plus how you can create similar looks on a tighter budget.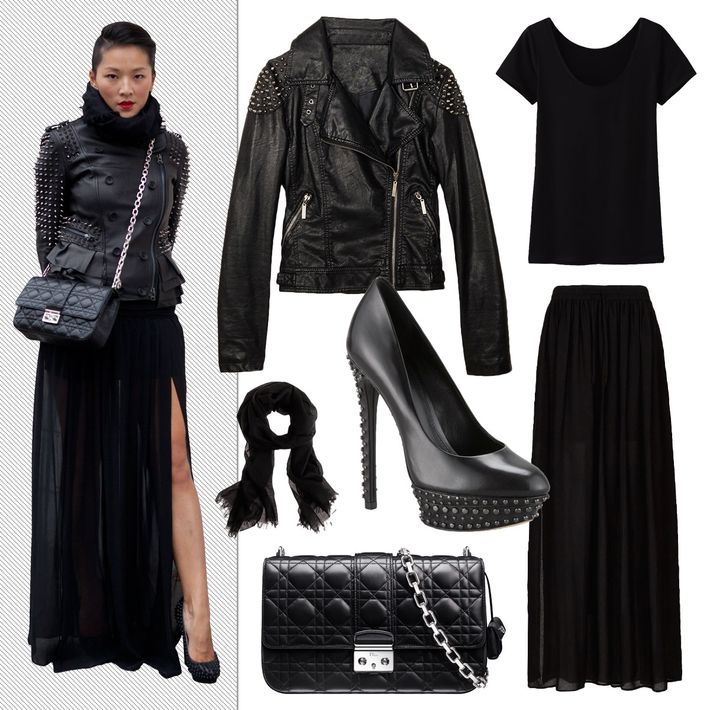 Paris Fashion Week FW12
"I had just gotten off the plane and I was headed to the Dior show, which is why I'm wearing the Miss Dior bag. The leather jacket I saw on a friend and I had to have it for myself: It's by Season 4, a local Hong Kong brand, and has all these spikes. The dress is Zara and the shoes are Christian Louboutin." ———- Forever 21 spike shoulder moto jacket, $47.46 at Forever 21; Uniqlo scoop neck tee, $12.90 at Uniqlo; Mango slits sheer maxi skirt, $59.99 at Mango; J.Crew refined silk-cashmere wrap, $75 at J.Crew; B Brian Atwood Finvarra studded platform pump, $177 at Neiman Marcus; Christian Dior Miss Dior bag, $3,400 at Dior locations.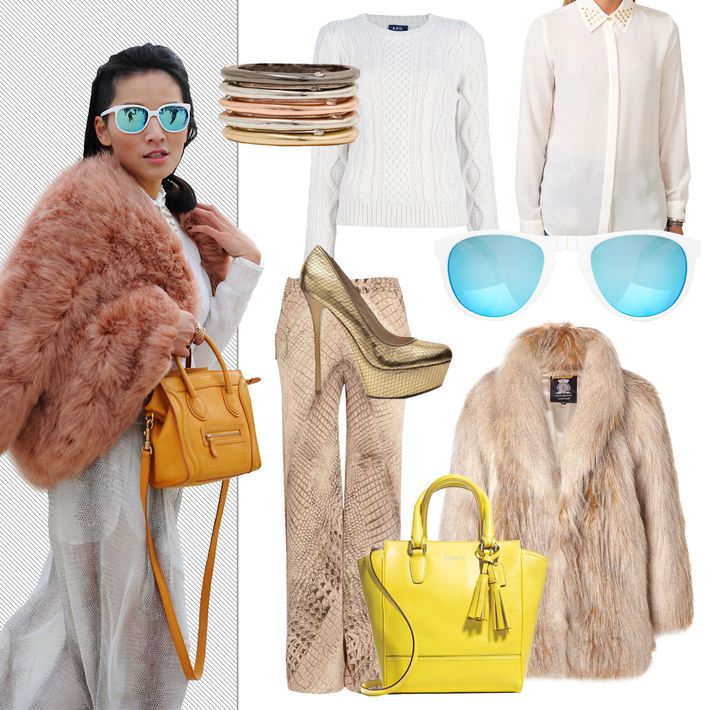 Paris Fashion Week FW12
"The fluffy jacket is Armani, the pants are Zara, and the sweater is Ralph Lauren. My sunglasses are by Sunpocket and the bag is Céline. I tend to dress around a particular item and I never plan my outfits until the day of, even when I'm on shoot. I'll bring two suitcases with pieces I love for fashion month. When people ask me my motto it's really anything goes, wear what you feel like. In this case, I wanted to dress around my jacket." ———- Juicy Couture blonde striped faux fur jacket, $321 at Stylebop; Forever 21 studded collar button up, $19.80 at Forever 21; A.P.C. crewneck sweater, $148.67 at Farfetch; Willow croc-print silk-chiffon wide-leg pants, $690 at Net-a-Porter; Coach legacy leather mini Tanner bag, $258 at Coach; Sunpocket II sunglasses, $65 at Opening Ceremony; Mix No.6 tiptoe pump, $49.94 at DSW; Forever 21 stackable triangle ring set, $3.80 at Forever 21.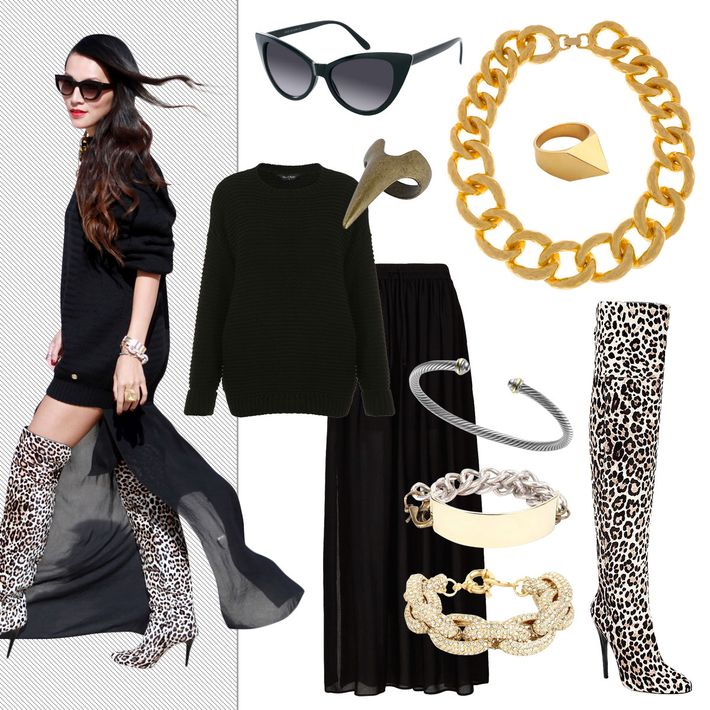 Paris Fashion Week SS13
"I'm wearing a dress by Acne; it's a one-shoulder piece that I've also worn to cocktail events but I chose to add a big sweater because it was chilly. I like to mix in long dresses to my everyday outfits. Since the Jimmy Choo boots were such a big statement, I kept the rest of my outfit simple. The necklace is Kenneth Jay Lane; the bracelets are J.Crew and Margiela. The big crazy ring is by Lotocoho. They're a cool Spanish company that found me through my blog." ———- Miss Selfridge black garter stitch sweater, $61 at Miss Selfridge; Mango slits sheer maxi skirt, $59.99 at Mango; Jimmy Choo Titan boots, $1,448 at Jimmy Choo; ASOS cat eye sunglasses, $17.54 at ASOS; Kenneth Jay Lane 22-karat gold-plated oversized chain necklace, $106 at The Outnet; David Yurman cable bracelet 4mm, $395 at Neiman Marcus; Urban Outfitters Imperial ID bracelet, $16.98 at Urban Outfitters; Bauble Bar pave links bracelet, $78 at Bauble Bar;  Tom Binns Clash studded ring, $132 at Shopbop; Topshop spike fang ring, $18 at Topshop.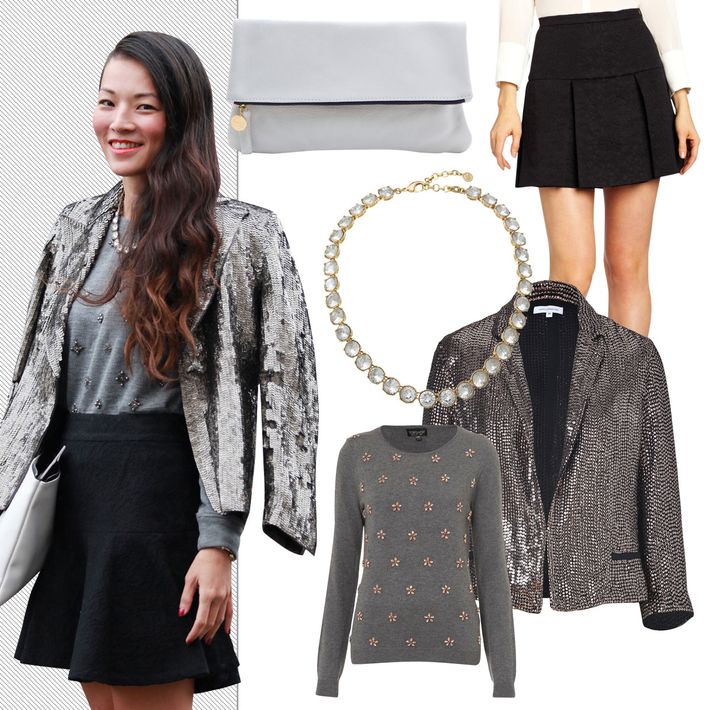 Paris SS13
"The jacket is Dries Van Noten, the sweater is J.Crew, the skirt is Zara, and the clutch is Alexander Wang. Since it was raining that day, I wanted to wear something a little more sparkly to cheer me up! I've had my hair shaved for the last few years. I first saw it on Alice Dellal maybe six years ago but I didn't do it until three years later. I freaked out at first but then I loved it. It's a nice contrast to my clothes. I thought about growing it out but everyone says it's my signature now." ———- Faith Connexion black/metallic sequined jacket, $860 at Stylebop; Topshop embellished flower sweater, $90 at Nordstrom; Robert Rodriguez brocade flare skirt, $325 at Amazon; Clare Vivier fold over clutch, $156 at Shopbop; C.Wonder round stone bling necklace, $58 at C.Wonder.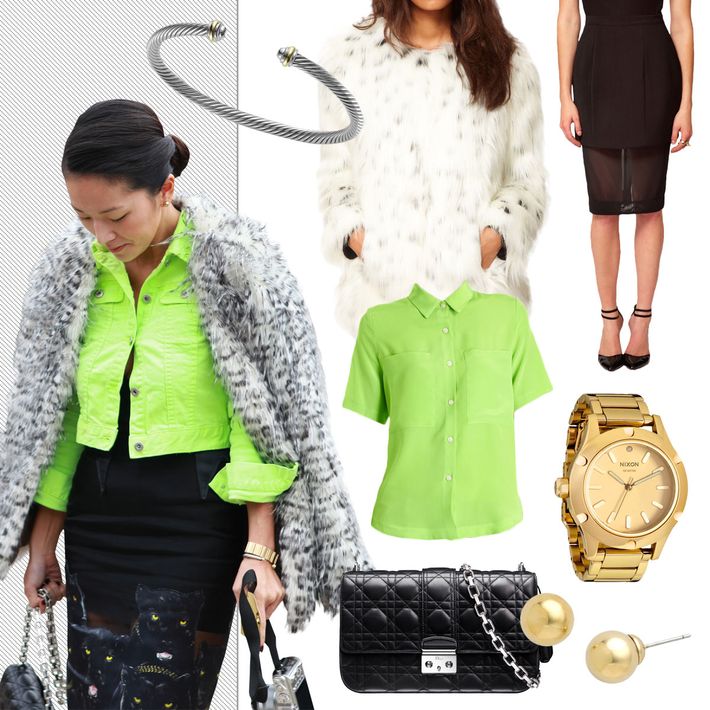 Paris FW13
"I was running late to the Louis Vuitton show, which is why I have no makeup on! The coat is Club Monaco and the green jacket is an inexpensive find from a local Hong Kong store. I thought it matched the panthers' eyes on my Givenchy skirt. Underneath I'm wearing a Victoria's Secret bustier because the skirt is sheer and I couldn't go walking around in my underwear! Generally I dress more conservatively in Hong Kong, less low-cut and sheer items, but anything goes when I'm traveling." ———- ASOS snow leopard fur coat, $92.09 at ASOS; Wayne button front blouse, $310 at Barneys; Aqua Shade Lantern & Mesh Skirt, $49.99 at ASOS; Christian Dior Miss Dior bag, $3,400 at Dior locations; Nordstrom ball stud earrings, $18 at Nordstrom; Nixon The Camden bracelet watch, $275 at Nordstrom; David Yurman cable bracelet 4mm, $395 at Neiman Marcus.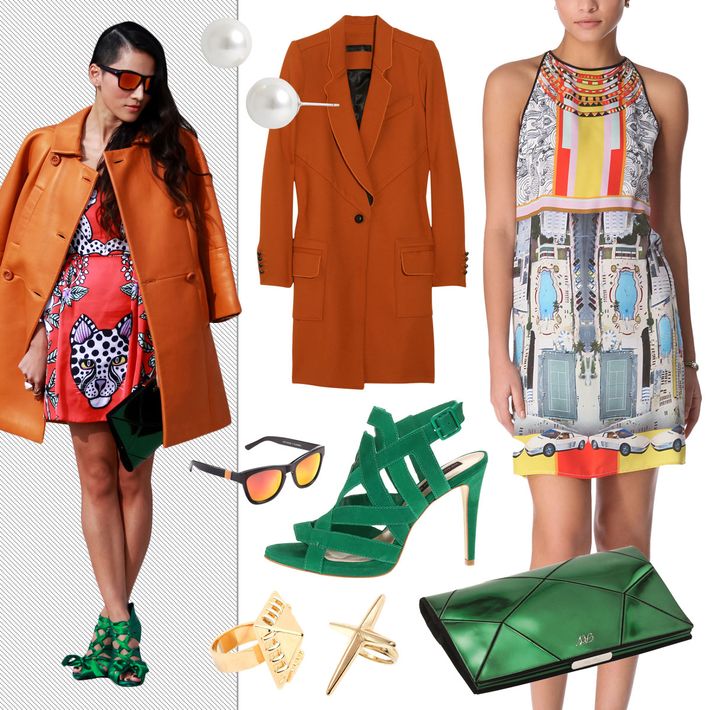 Paris SS13
"The dress is by a Spanish designer named Maria Escoté, the coat is Loewe, and both my shoes and bag are from Roger Vivier. The sunglasses are by Dita. When I saw this dress, I knew that I had to wear it for fashion week. She was actually in town showing to press and buyers so I borrowed her only sample and returned it right after." ———- Proenza Schouler twill coat, $1,250 at The Outnet; Clover Canyon Miami Streets tank dress, $207 at Shopbop; Roger Vivier Prismick clutch, $1,725 at Roger Vivier locations; Steven Jesssy heels, $169.92 at Zappos; Westward Leaning No.9.3 Color Revolution sunglasses, $165 at Westward Leaning; Bauble Bar Sophie Blake gold stitch ring, $44 at Bauble Bar; ASOS cross ring, $10.52 at ASOS; Givenchy Kalahari 12mm pearl stud earrings, $32 at Nordstrom.