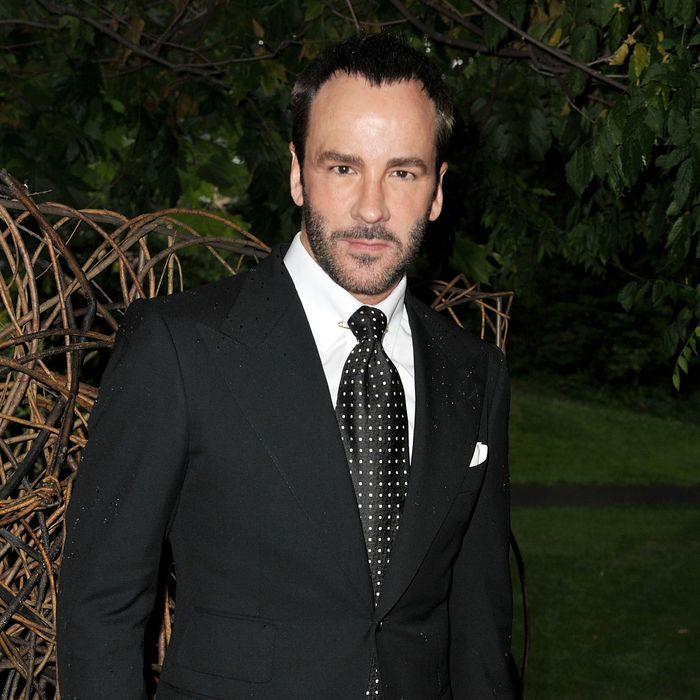 Tom Ford.
Photo: Harold Cunningham/Getty Images
Tom Ford, the Internet's last enemy in fashion, has finally seen the light (or, rather, the cool glow of iPads) and will invite photographers and bloggers to his fall 2013 show at London Fashion Week. The Sunday Times quoted Ford as saying, "[It's] going to be for 500 to 1,000 people. Photographers, bloggers —  a regular, real show." Not a top-secret, 100-person presentation with Beyoncé on the catwalk, in other words. But still, just imagine — pictures! Tweets! Information in a timely manner!
Although Ford's last womenswear show appeared on the London schedule like everyone else's, he still declined to invite photographers and many journalists, choosing instead to sprinkle around his own photos of the collection to various newspapers afterward. The result was just confusing: a hodgepodge of images scattered piecemeal around the Internet for the press to put together days after the show had taken place, when it felt a little too late to pay much attention (the fashion news cycle is particularly breakneck during show season). 
So what made Ford finally admit that the Internet is mightier than the tiny presentation where cell phones are confiscated at the door? No, he did not concede that technology might be more significant than he first thought or that his label couldn't survive on the novelty of its exclusiveness alone. Instead, he attributed it to his own success. "I now have 100 stores worldwide," he said. "The company has jumped and I can no longer service the stores by not showing. So I have to love it and embrace it." 
Well! Now he'll have to really do it up with a sexy, blowout spectacle in London this February. After all these years of trying to imagine what we're missing, a high bar has been set.