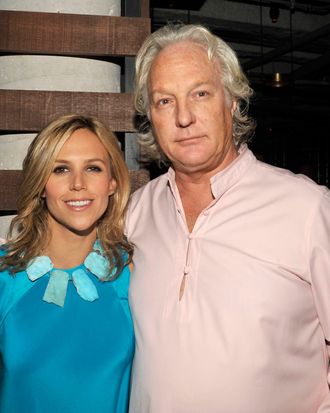 Tory and Chris Burch.
Photo: Patrick McMullan
When ex-spouses Tory and Chris Burch announced on New Year's Eve that their multiple lawsuits had ended with a "peaceful" settlement, they were pretty tight-lipped about it. WWD initially reported that Chris Burch had sold an undisclosed portion of his stake in Tory's eponymous company, but remained a significant shareholder. This was the crux of their compromise: Chris had originally wanted to sell all of his shares, but Tory supposedly objected out of fear that Chris's business would become too competitive with hers if he severed their business ties.

Today, Bloomberg reports that Chris sold about half of his shares in Tory's company to BDT Capital Partners and General Atlantic, leaving him with a 15 percent stake — still a significant chunk. Tory still owns her original stake of 28.3 percent.
In addition to ending the messy lawsuit drama, this arrangement also means that Tory is now a billionaire, according to PrivCo Media LLC, who crunched the sale numbers and determined that Tory's company is now worth $3.3 billion. Via Bloomberg:
Her stake is worth about $935 million, based on the transaction. Her net worth exceeds $1 billion after accounting for more than $70 million she received from equity sales and dividends in the past decade, according to PrivCo.
Another interesting tidbit: The fact that Chris sold his shares before the end of 2012 means he saved a bundle on capital gains taxes, which Congress raised from 15 to 20 percent on January 1. This might explain his eagerness to settle before the year was up.