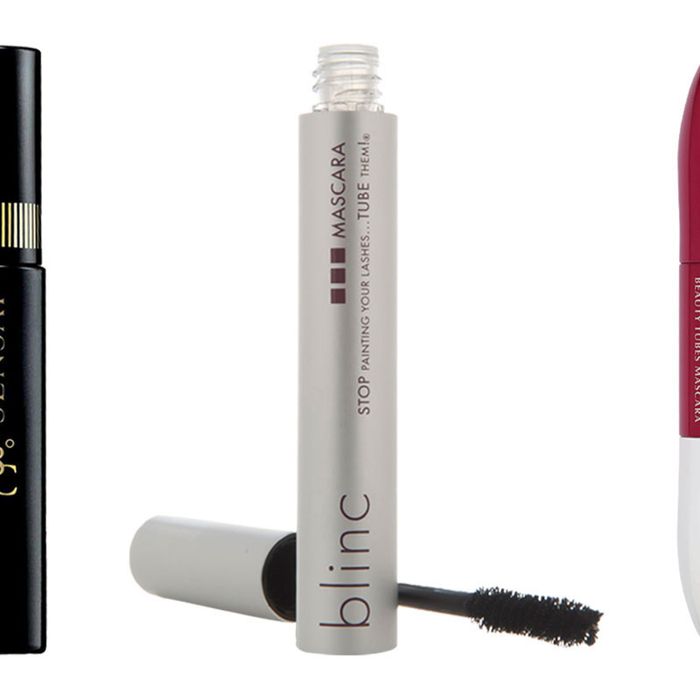 If you live in a humid climate, plan on vacationing in the tropics, or your name is Carrie Mathison, then the tube-forming mascaras shown above are the only things that won't run down your face. These mascaras use polymer-based formulations to create tiny tubes that wrap around each lash. Virtually water- and sun-proof, they will usually only come off with the help of eye-makeup remover and a cleansing warm-water rinse. Even then, these can be really stubborn to remove, so be prepared for that two-step removal process to leave your under-eye region sprinkled with tiny flecks of tubular mascara. Despite all this, they'll last through a day at the beach and a dance-off session at night. You know, priorities.
Blinc Mascara, $26:  This brand is touted as being the first to have invented mascara tube-forming technology. It's a cult favorite amongst seasoned makeup artists.
Kanebo Sensai Collection Mascara 38°, $25 : The 38° stands for 38 degrees Celsius  (100 degrees Fahrenheit), which is the temperature water has to be to remove these lash-hugging suckers. Instead of burning your eyelids off, it's safer to leave a makeup-remover-soaked cotton pad on eyes first, then rinse off with warm water.
L'Oréal Paris Double Extend Beauty Tubes Mascara, $10.95: This two-in-one mascara also comes ready with a lash primer which can help add thickening power to each little hair.
Mascaras that are packaged in squeezable tubes (more commonly associated with lip gloss) are a pretty rare sight. They might look like child's play, but if you squeeze it like a toothpaste, you're really getting every last drop of lash-thickening goodness on your brush. It's a total bang-for-your-buck moment. In a hard plastic tube, you can swirl around that wand as much as you want, but the restrictive casing will only give you so much wiggle room. Just remember to give the tube a good squeeze before you open it each time, as product tends to settle at the bottom.
MUD Black Cream Mascara, $14: This mascara was first developed by actual makeup artists at the Make-up Designory school for easy product sharing, like paint tubes, between students. It's now one of their top-selling products.
Eyeko Skinny Brush Mascara, $19: All of the mascaras created by British eye makeup company, Eyeko, are packaged in sleek, silver tubes. What's not to trust about a brand who says their sole inspiration is Twiggy, the queen of crazy-good lashes.
Lash Control Mascara, $20: While these mascaras are packaged in a hard case, there's a bendy-flexy aspect to the bottle that allows you to control how much product dispenses. The more you grip it, the more dramatic your lash look will become.