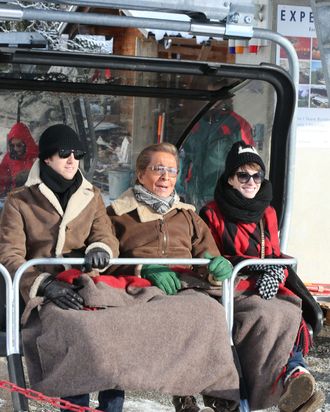 A Valentino sandwich.
Photo: INFphoto.com
Everyone knows the etiquette for throwing loud parties: You extend a courtesy invite to the neighbors, and hope that they don't come. The couple downstairs has a newborn baby? Leave a friendly note saying, "We're having a few friends over. Come on up!" They won't, and if they give you the stink eye while wheeling their stroller past the empty beer cans in the hallway the next day, smile and say, "So sorry you couldn't make it!" But apparently the rules are different at a private ski chalet in Gstaad. Especially if you're Valentino, and your guests include Anne Hathaway and Madonna, and it's New Year's Eve. Then your neighbors are left to listen to your loud music, grind their teeth, and finally call the police, as Valentino's did.
Reports the Post today:
A number of residents complained to the police as it was echoing around the mountain, and one officer went to speak to someone at the gate of Valentino's chalet. But it didn't seem to make much difference, and the music just carried on.
To be fair, you can't exactly turn down a Madonna song when Madonna's standing right there.