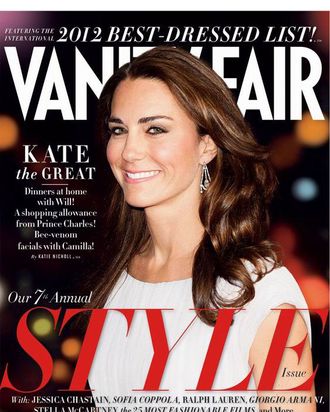 Last July, we joked that everyone made Vanity Fair's 2012 International Best-Dressed List, citing the range of names from Kate Middleton to Alice + Olivia's Stacey Bendet to CBS News correspondent Morley Safer. In recent years, the B.D.L. — as it's referred to outside of our circles — has lost its prestige, becoming a compilation of starlets, first-lady-types (the duchess of Cambridge, Michelle Obama, Sheikha Mozah of Qatar), a few guys who actually look good (Jay-Z), and old men who are absolutely adorable, but in no way best-dressed. In fact, the most exciting part of the 2012 issue came from an interview with K-Mid's friends, in which we learned that the royal couple "own[s] a sausage-maker (!) to make their own links, and for the holidays, Kate puts away jars of homemade strawberry jam and plum preserves to dole out as gifts." Fascinating. And we're not even breakfast people.
But Vanity Fair plans to shake things up this year! From the Times:
Beginning this week, anyone can upload pictures to Vanity Fair online (details at vf.com/bestdressed) to be considered for inclusion in a weekly slide show and a monthly prize from sponsors like Giorgio Armani, Neiman Marcus and Clinique. And then two winners — one man and one woman — will be included in the ultimate 2013 list, published in the September issue. It could be anyone.
It could be, but the Gallery page already resembles a budget Lookbook.nu — good luck to the intern who has to go through all of those. Of course, VF is in it (at least in part) for the web traffic, but while the Times writes B.D.L. founder Eleanor Lambert would've "loved it" for the publicity, we disagree. Lambert wouldn't have added someone to her coveted list based on one selfie and the ability to pair ASOS with Marant wedge sneakers.