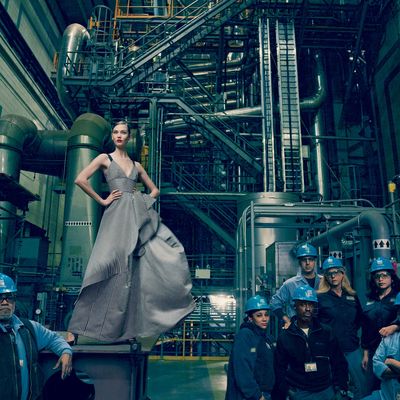 Karlie, meet Con Ed.
Photo: Annie Leibovitz/Vogue
Although many New Yorkers are still dealing with the aftermath of Sandy — some haven't been able to return to work, thanks to damaged office buildings, and others are still homeless — the employees of the FDNY, Con Ed, National Guard, NYPD, Bellevue Hospital, and U.S. Coast Guard found the time to pose with Karlie Kloss, Liu Wen, Joan Smalls, and other models for Vogue's February issue. Now, Vogue has dedicated a lot of time and effort to raising money for Sandy recovery, and their contributions shouldn't be belittled. What's more, it's a nice gesture to glamorize these relief workers with beautiful Annie Leibovitz spreads. But still, isn't it ridiculous to see all of these people, along with their helicopters, boats, and equipment, taking valuable time away from their jobs to splash through puddles with Chanel Iman?
The pictures are captioned with Sandy stories from recovery workers, which are interesting. But the juxtaposition of hardhat-wearing, drab-looking Con Ed employees posing next to Karlie Kloss astride power plant equipment in a shiny Oscar de la Renta gown is jarring, and unflattering for all parties involved. While a spokesperson from Con Ed assures us that the photo shoot occurred on December 4, well after power was restored to customers whose properties were able to receive it,* this story still feels wrong at a time when Sandy's aftermath continues to be felt. Bravo to Vogue for raising all that Sandy relief money; maybe they should've left it at that.
UPDATE: Con Ed has reached out with the following statement about the Vogue shoot: "This photo is a great tribute to all of Con Edison employees who worked to restore power to our customers after Sandy devastated New York. We were extremely proud to be a part of it."
* This post has been corrected to show that Vogue's Con Ed shoot took place in December, a later date than initially thought.