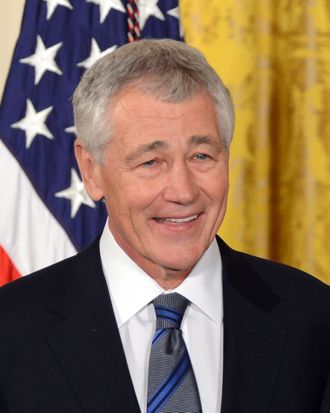 Photo: Christy Bowe/Corbis
Before Chuck Hagel was President Obama's nominee for secretary of Defense, he was a U.S. senator from Nebraska and decorated veteran who said unkind things about gay people and opposed abortion, even in the case of rape and incest, because it was so rare. Hagel has since apologized for the bigotry "insensitivity," but we're left wondering how to feel about his decade-old pro-life credentials. Not thrilled, obviously. But it's not like he's running to be legislator, à la Todd Akin, or being nominated to the Supreme Court. The Internet outrage machine is still well-oiled from our time with the GOP "rape caucus" last fall. But must we hit the on button, in this case?
Last month, representatives from Planned Parenthood and NARAL Pro-Choice told Mother Jones that they expect Hagel to fall in line with President Obama's position on abortion, not to mention the law. New Hampshire Senator Jeanne Shaheen's amendment to the Defense Authorization bill, which Obama signed earlier this month, will ensure that military health care — paid for by the taxpayers — covers abortion in the case of incest and rape, a no-brainer that is unfortunately urgent owing to the prevalence of sexual assault in the military.
According to the New York Times, New York Democrats Senator Kirsten Gillibrand and Representative Louise Slaughter will soon reintroduce legislation that would allow women on military bases to obtain abortions for reasons besides rape, incest, or life-threatening complications (you know, as is their constitutional right), using private funds, as is currently, bafflingly illegal. As a senator, Hagel repeatedly voted against such amendments, according to BuzzFeed, but then, he won't be there to vote on it. No one, including the Service Women's Action Network, seems willing to suggest that Hagel would flout the Obama administration's position on LGBT rights or reproductive health and block this long-overdue progress.
Until then, all the Cut can glean from Hagel's record on abortion is that we do not endorse sleeping with the guy. Now, back to drones and Israel.