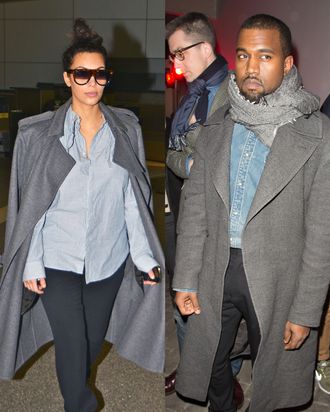 Photo: Corbis, Getty Images
Today, while clicking through pics from Paris, we found a photo of Kanye West at Raf Simons's fall 2013 men's show. His attire: a denim button-down, black pants, fringed shoes, a scarf, and a gray coat. Wondering what the Kim in Kimye was up to, we did a quick search and discovered on Saturday, she wore a pretty similar outfit at LAX, minus the scarf, plus a pair of sunglasses that seem to have a fashion-police-like DON'T bar built in. At first, we chalked the matchy-matchiness up to Kanye West's indubitable style savvy — he gave Kim a full clothing makeover on television — but could it be that this is part of their conservative parenting plan? Is Kimye dressing alike because KimyEmbryo's going to drop?
It's possible. Charlotte's parents "totally dress alike."
Me: What do they wear?

Charlotte: They both wear jeans and Patagonia fleeces pretty much every day.

Me: Interesting.

Charlotte: And when they're feeling fancy they put on dress pants and collared shirts.

Me: Niiiiiiiiiice, Mr. and Mrs. Cowles.
But my parents totally do not dress alike.
Me: Do you think parents dress alike?

Mother: That's not true.

Me: I've heard it before.

Mother: Do dad and I dress alike?

Me: No. Do you think your friends do?

Mother: No.
Admittedly, my parents haven't been Chateau Marmont–ing lately, and have been together for slightly longer than Kimye, but what do you think, dear readers? Do your mom and dad (or mom and mom/dad and dad) dress the same? Differently? Were you raised by wolves?