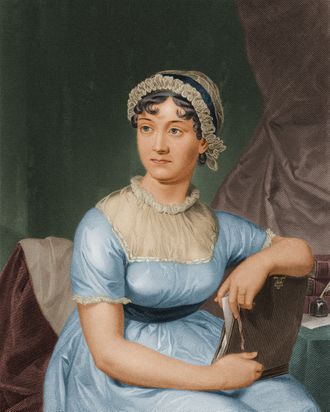 Photo: Stock Montage/Getty Images
As anyone who's ever debated the finer points of Colin Firth vs. Laurence Olivier as Mr. Darcy will tell you, women have a bottomless appetite for the small oeuvre of Jane Austen. Every generation gets the Pride and Prejudice adaptation it deserves, each version performs well and reliably reignites sales of her books. She's backlash-proof. Now the 200th anniversary of Pride and Prejudice is upon us, and the Wall Street Journal reports that a whole new cast of publishers and producers are lining up to cash in.
Universities are reportedly closing doors to Austen scholars, but Austen mania, and its direct descendants, Twilight mania and Fifty Shades mania, continues to prop up some corners of the dejected publishing industry. First, there are the cross-genre spin-off books: Death Comes to Pemberley (murder-mystery), Pride and Prejudice and Zombies (gore-parody), and Mr. Darcy Takes a Wife (erotic). Then there are the nonfiction homages — What Matters in Jane Austen? Twenty Crucial Puzzles Solved, Jane Austen: Game Theorist, and Jane Austen's Guide to Thrift — all due this year. HarperFiction has commissioned remakes of all of her novels by well-known writers, including Prep author Curtis Sittenfeld.
Now, onto the forthcoming film and television adaptations.
• Sense and Sensibility modern remake for CBS, written by Boardwalk Empire's Margaret Nagle
• Darcy's Town, a Pride and Prejudice contemporary retelling for Lifetime, by Jennifer Love Hewitt's production company
• "The Lizzie Bennet Diaries," a web series in which Mr. Darcy has Twitter.
• Austenland, a movie based on the novel of the same name, in which a "lonely Jane Austen fan who falls in love at an Austen theme park," starring Keri Russell and produced by Stephenie Meyer.
• Movie based on British series Lost in Austen, a "current-day Austen fan who magically switches places with heroine Elizabeth Bennet," written by the late Nora Ephron and produced by Sam Mendes.
For diehards, there are cottage industries of Austen memorabilia, Austen fan conferences, and Austen pilgrimages to her hometown. And the richer the woman, the more insane a purchase she will make to feel closer to Jane. Kelly Clarkson, for example, paid $244,000 for a ring that once belonged to her. Sandy Lerner, the founder of tech heavyweight Cisco Systems (and, improbably, Urban Decay cosmetics), used the fortune she made when Cisco went public to buy Jane Austen's brother's estate. There, she founded a library and publishing house, dedicated to books about Austen and her peers. Under a pseudonym, Lerner wrote the imprint's first title, "a sequel to Pride and Prejudice, which follows Elizabeth and Darcy on a trip through Europe ten years after their wedding." Reader, she spent 26 years researching it.