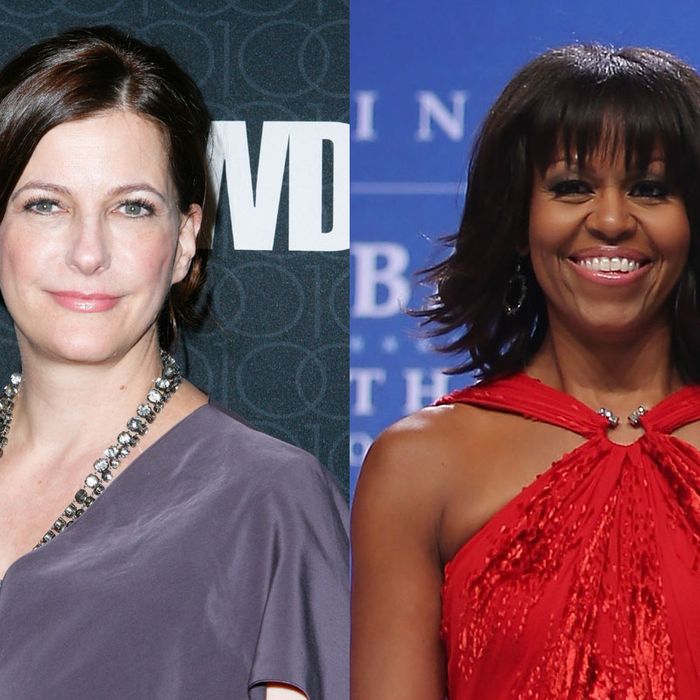 Photo: Corbis, Getty Images
In today's WWD, executive editor Bridget Foley explores the secrecy — or lack thereof — surrounding the First Lady's inaugural gown designer. She writes that the designer announcement became a news event during Michelle Obama's tenure, whereas her predecessors were more forthcoming ("Laura Bush didn't seem to care. In 2001, her designer, Michael Faircloth, was accessible, serving up an illustration well in advance"). And she admits that "WWD jumped" into "Michelle Mania" four years ago, covering her big reveal when she stepped out in the now-famous Jason Wu gown at the ball. However, after bearing witness to a second round of "Who Will Make the Dress?" Foley is annoyed.
The rampant speculation should have been handled differently. First, how about having a prepared press person in play? WWD's Rosemary Feitelberg was all over this story. Last week, she spoke to Semonti Stephens, deputy communications director for the First Lady, asking multiple specific questions about the process for determining Mrs. Obama's inaugural wardrobe in front of a world. "I don't mean to be difficult," Stephens told her. "This is part of Mrs. Obama's private life. We're trying to help her [protect that.]"
Poor Semonti. She was likely instructed not to talk about Michelle's fashion decisions, as has been the edict all along — how many times has Ikram Goldman declined to comment? And what do we really know about Obama's unofficial stylist Meredith Koop? — so no one should be surprised, much less Foley. She continues, noting that fifteen designers sent garments to the White House:
From the human standpoint, clothes should not have been solicited from so many people. That's right, not brands, firms or houses, but people. Sketches, fine. Conversations, fine. But to have had so many designers put effort, resources and emotion into making clothes is just not nice. And 15 or more designers? What woman in search of an event dress has a short list of 15 favorites?

Mrs. Obama isn't an indulged starlet primping for the Oscars, nor should she behave like one. Women everywhere have big events for which they select a single dress in advance of the moment. Some of those women and some of those events are high-profile. (See: Kate Middleton; wedding to presumptive future king.)
Well, we haven't heard complaints from any of the fifteen designers thus far. Those who were invited to submit garments should — and probably do — take it as a compliment from one of the ultimate champions of the American fashion industry. As for behaving like a starlet, there are a few too many differences between the Oscars and a presidential inauguration to list here. (One ends up in history books and one ends up in Us Weekly.) It sounds as though Foley's simply pissed off that WWD didn't get the scoop on the Wu repeat. Oh, the horror, to be wandering aimlessly around the blogosphere with the rest of us!