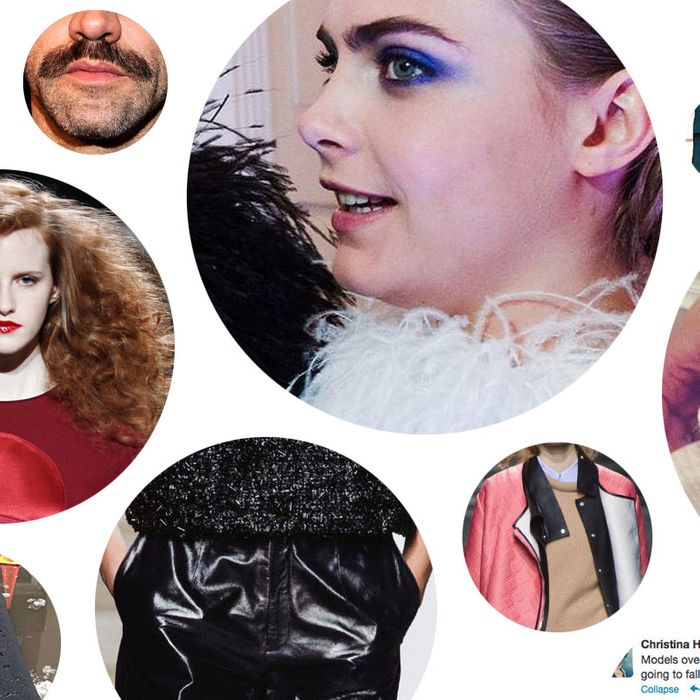 By Monday, one look around at the bedraggled fashion crowd — many of whom were still preening in open-toed shoes for the cameras, despite the rain — and it became clear that everyone was starting to feel a bit over it. The Row soothed some of that with an utterly calm and elegant scene, while Thom Browne and Marc by Marc Jacobs chose a different tactic to keep their guests happy: distraction. Much of the crew around town seemed laser-focused on the roster of male designers who showed up today, as they cut their mustaches, brooded, or — like Marc when he bowed at the end of his show — looked like they just wanted to get back to a normal schedule. Us, too. In the meantime, here's what stood out from the backstages and front rows on Monday.
1. First, we'd like to offer a very civilized, uh, shout-out to the Row for holding a calm, serene, editor-friendly show with tea included. They also rolled out a rubber carpet for the rain.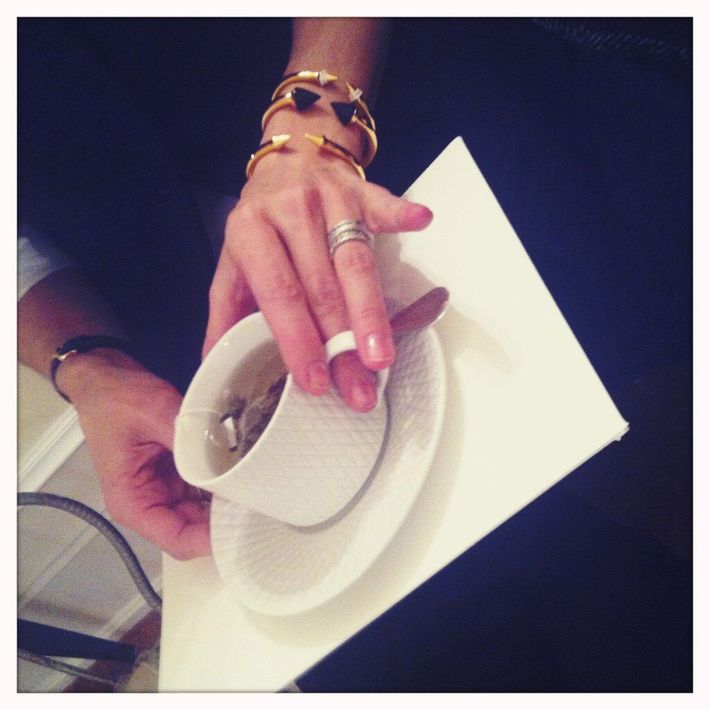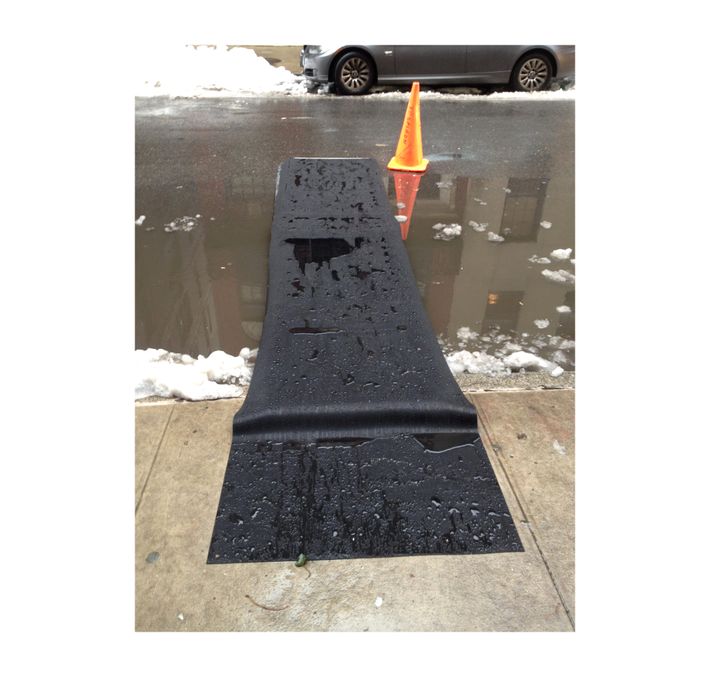 2. And speaking of nice things, Ricardo Tisci unveiled his new mustache today at the Met's punk press conference. Too many references/sex jokes to make here.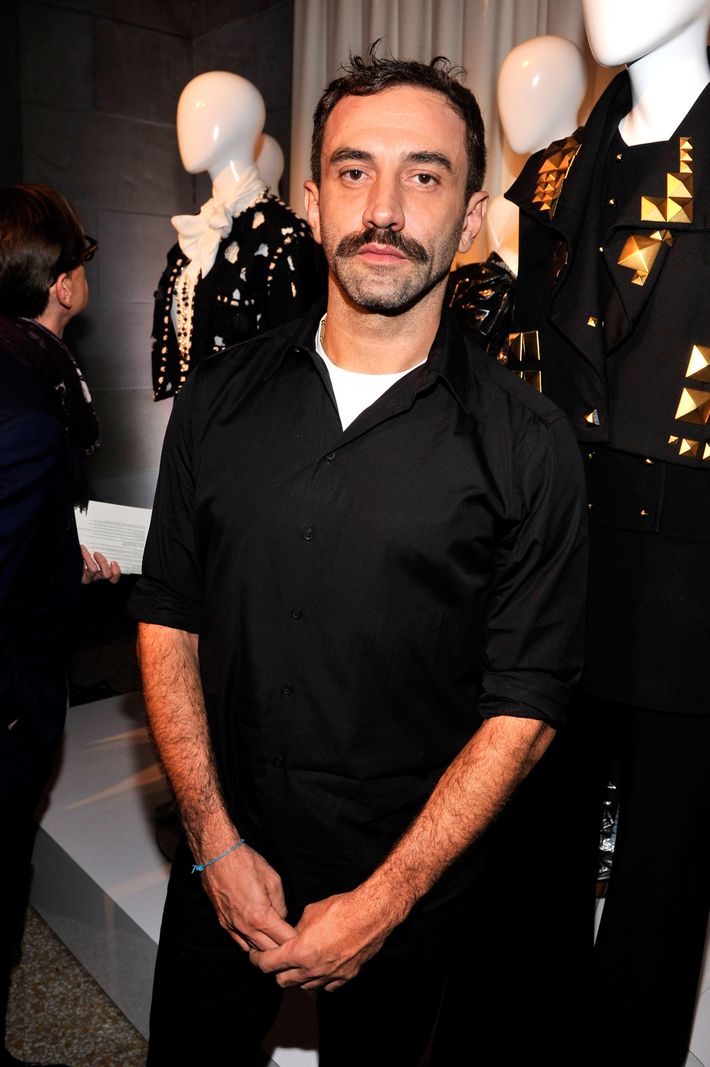 3. Of all the street-style-friendly clothes at 3.1 Phillip Lim — there were patched jeans, for instance, as the final look — the biggest attention-getter will be the swingy, bitchy outerwear. That's a compliment.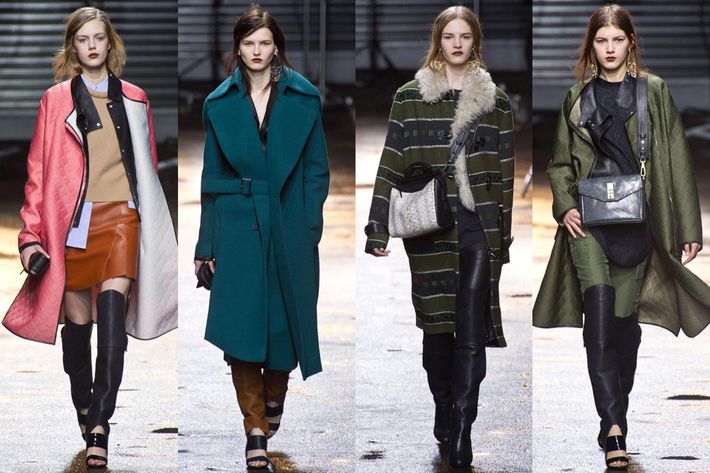 4. And speaking of compliments? High-fashion wind pants at Belstaff. As they walked by, the swoosh swoosh conjured up what we'll call our "less fashionable middle-school days." Don't Google that.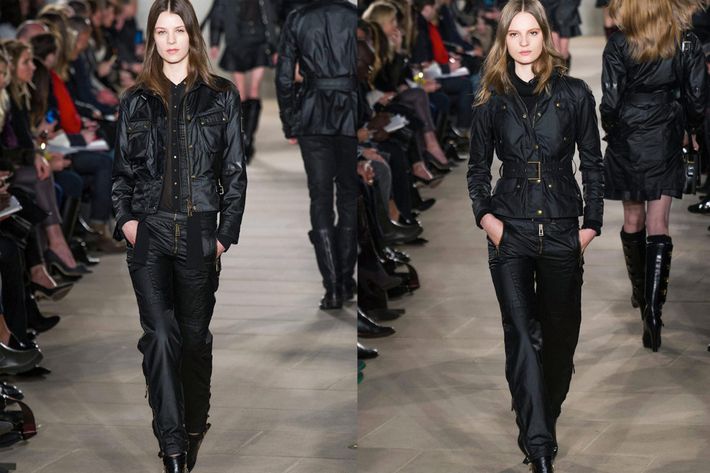 5. And, not long after, a pair of leather pants at Theyskens' Theory that are the most beautiful pair of JNCOs we've ever seen. Hey-o, middle school (sorry, we'll crawl our way out of this nostalgia hole).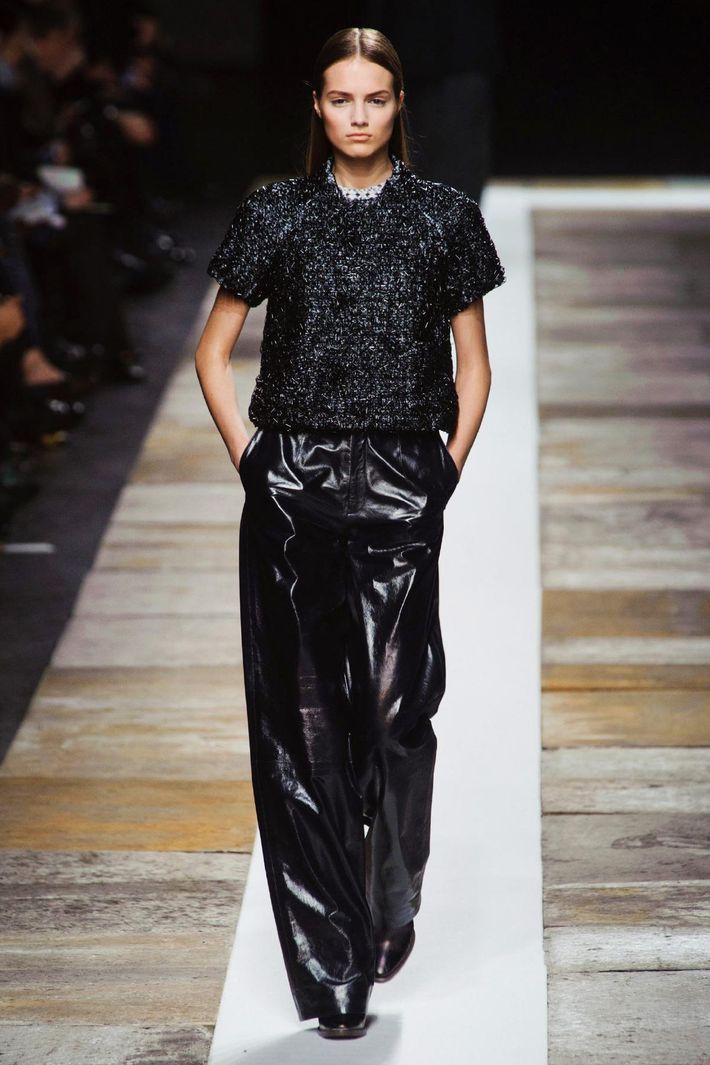 6. Also at that Theory show, there were unisex bathrooms. We learned something! Olivier likes to brush his teeth before his show. Good manners.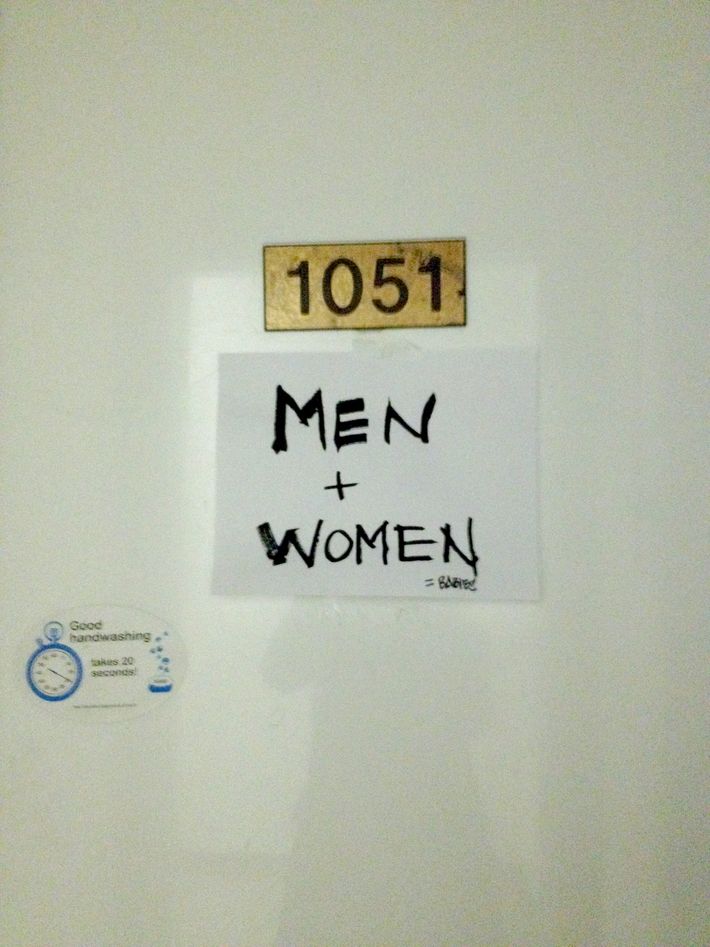 7. We got an e-mail from a new juice-cleanse company. Good timing. We would look up the name in our in-box, but that would involve getting up to get a candy bar, and there's simply no time.
8. Cara Delevingne is having quite the week, having walked in tons of shows. Or maybe we just recognize her because she's the one with really incredibly cool eyebrows. Hair envy has found a new home on her forehead (and, yes, this is still a guy writing this).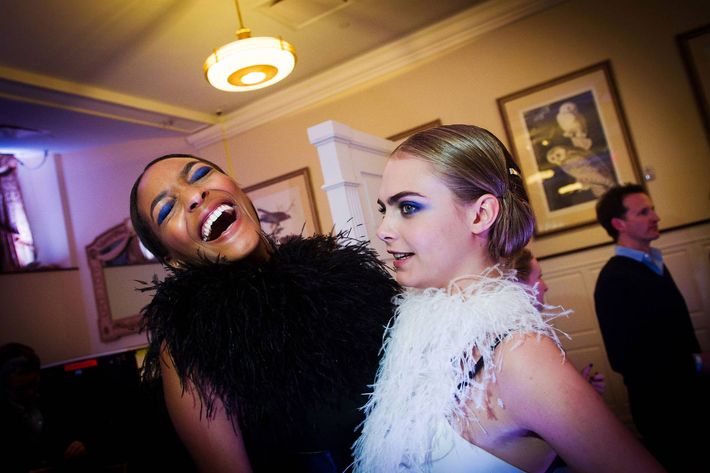 9. We caught Anna Wintour singing again.
10. Pretty hair at the Donna Karan show, right? Just don't ask the models that question.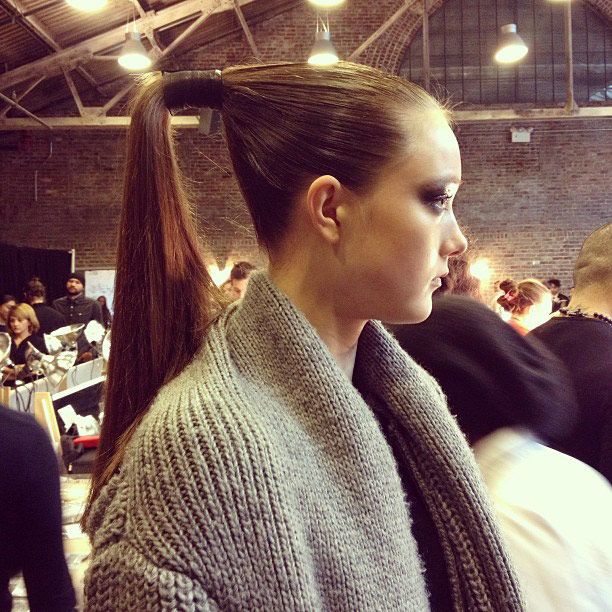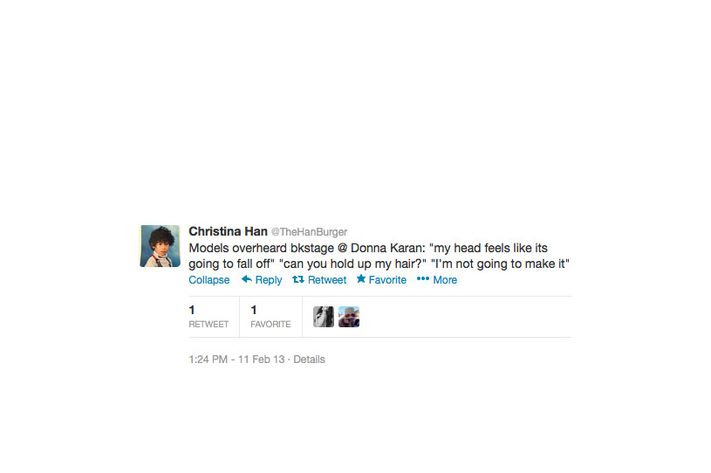 11. And speaking of models! Here's your blind item of the day: Who was the imposter backstage at Vivienne Tam who almost walked in the show — hair and makeup included — until the casting guy realized she wasn't quite right? Comments below, e-mail address on Google, office on Hudson. Find us.
12. Also, not to harp on the above, but is that what it takes to become a model these days? Gumption.
13. Thom Browne was, as predicted, quite a show. (Even if we caught one of the dead zombie models moving; beside the point.) All the gorgeous girls waltzed along slowly, carried roses, wore similar jacquards as the MObama moment, and (we think) were supposed to be zombie brides. Or Alice in Wonderland fan girls from the Antoinette Era?*
14. And then, at Marc by Marc Jacobs, we were distracted by clouds of cotton candy hair.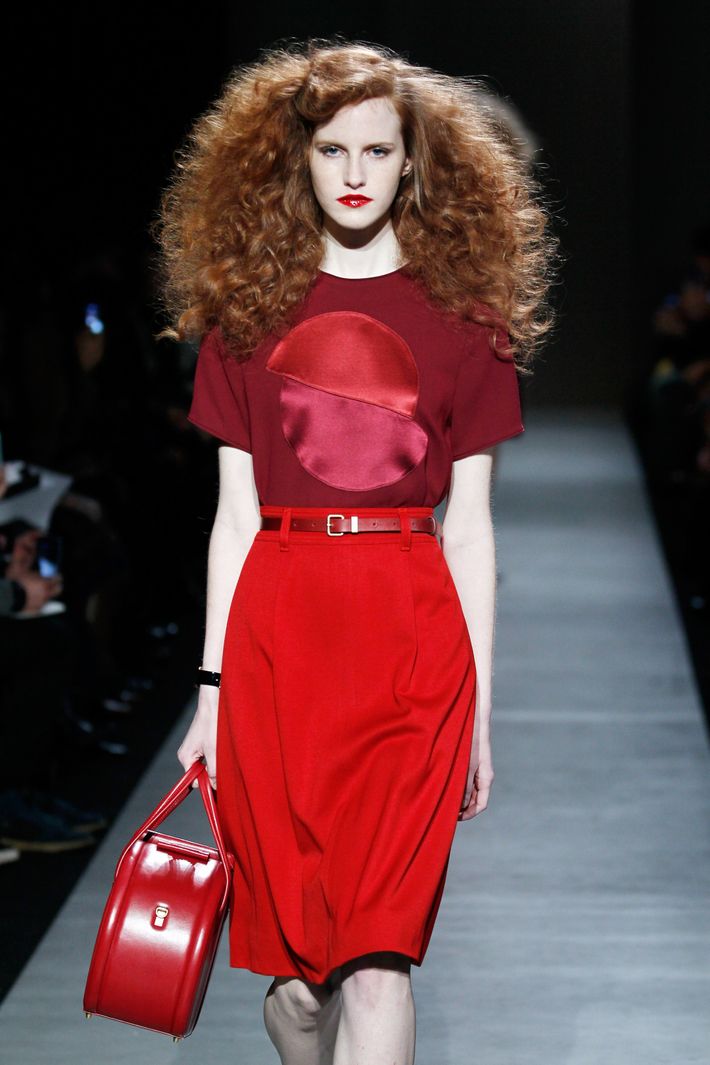 *Yes, we realize this doesn't make sense timeline-wise. Calm yourself with one of those Thom Browne girls sauntering away, into another day of fashions.