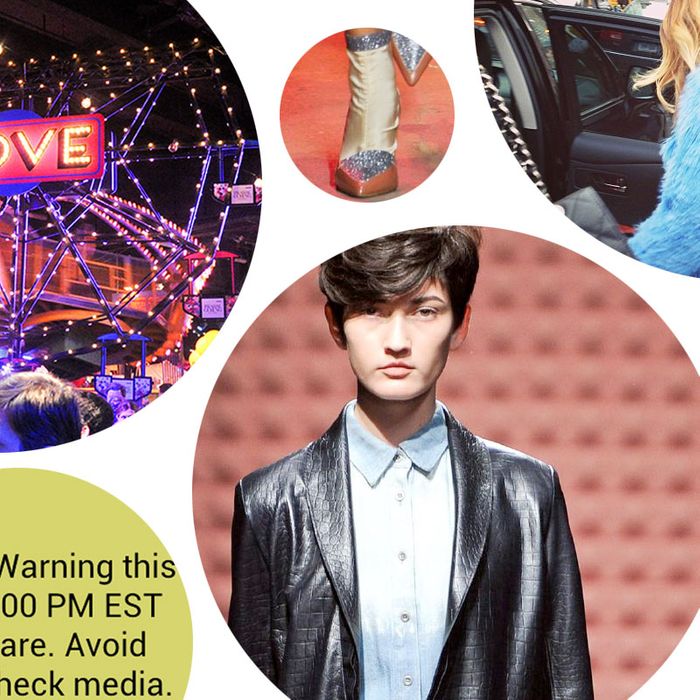 Photo: Courtesy of Imaxtree, @collagevintage, Neil Rasmus/BFAnyc.com, and Clint Spalding
Even as we try to keep up with Fashion Week ourselves, it's fantastically impossible to follow all the new clothes, the editor swaps, and every front-row moment that happens throughout a typical day at the shows —  and we mean just one day. That's why we're introducing the Hit List, a quick and dirty compendium you can read while rolling out of bed or planning your latest look for Jason Wu's sure-to-be snowy show, whether you're watching from the front row or totally insulated in your cubicle. Below, you'll find the gossip and photographs and bits of news that kept the fashion world amused, bemused, and frustrated as the first shows (and stylish characters) started trickling into fall 2013. As with all other things in the fashion world, they'll soon be deemed totally yesterday, so amuse yourself now while they're still fresh on stylish minds, souls, and Vine feeds.
1. A few bloggers were surprisingly hung-over thanks to Prabal Gurung's Target carnival bash that unofficially kicked off fashion week. Despite the boozing, lots of jaded and well-dressed attendees were still like, "Meh, remember that time Alex Wang did the same thing in 2010?" As in both cases, everyone played games, but no one rode rides.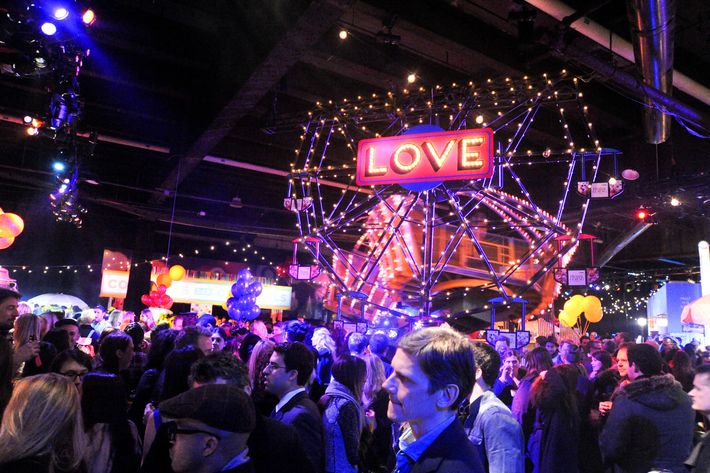 2. Even before Gurung got all tilt-o-whirl'd, Rachel Comey showed her collection on a blissfully calm pre-NYFW evening. The highlight: a crocodile-embossed leather blazer. 'Datchu, Melanie Griffith?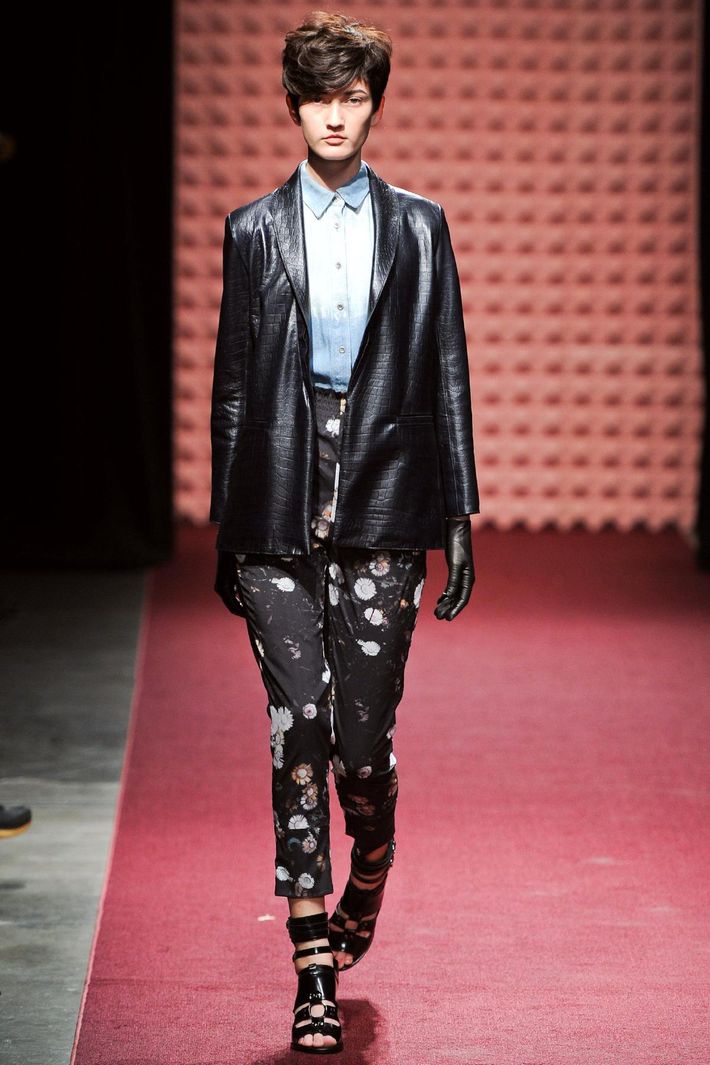 3. In the morning, the models were very jolly at Richard Chai, perhaps because the designer always mixes boys and girls in the same show (good for flirting), or because they hadn't yet found out they would have to stay in their New York model apartments indefinitely, thanks to the impending storm.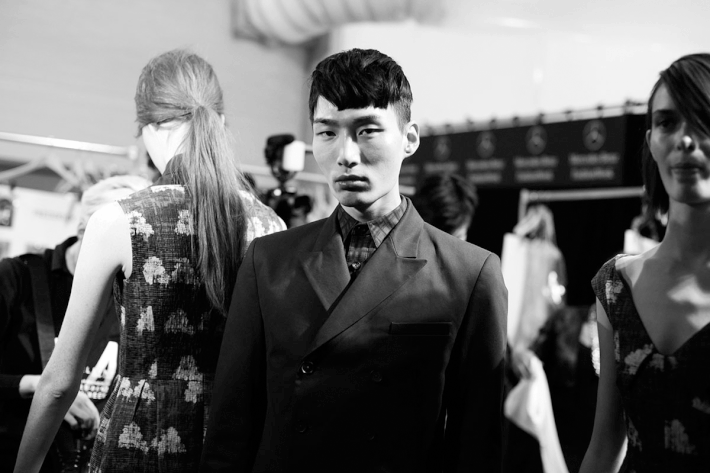 4. We ran into Lynn Yaeger, who told us she was excited for the snow. Marc Jacobs was so excited he decided to postpone his collection's show. Lesser fashion people, who were obsessed with Vine and still talking about Google glasses or whatever all day, were particularly into this text message, sent out by select New York cell carriers: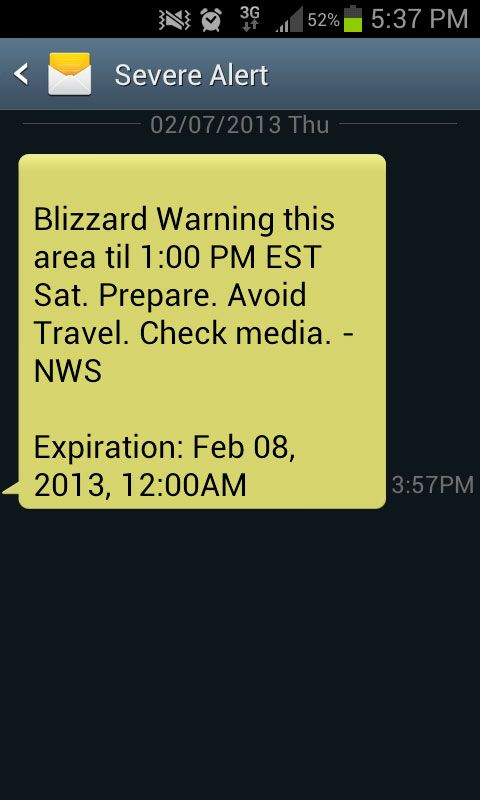 … Scary as this was, it was much scarier for those of us who didn't get it. Uggs, anyone?
5. Leigh Lezark — the Misshapes brunette — is now a blonde. And Cathy Horyn got the Lena Dunham haircut. We'd make this some sort of competition, but no enterprising wire photographer has yet shot the critic's new locks/look. Maybe they don't recognize her? Here's Leigh: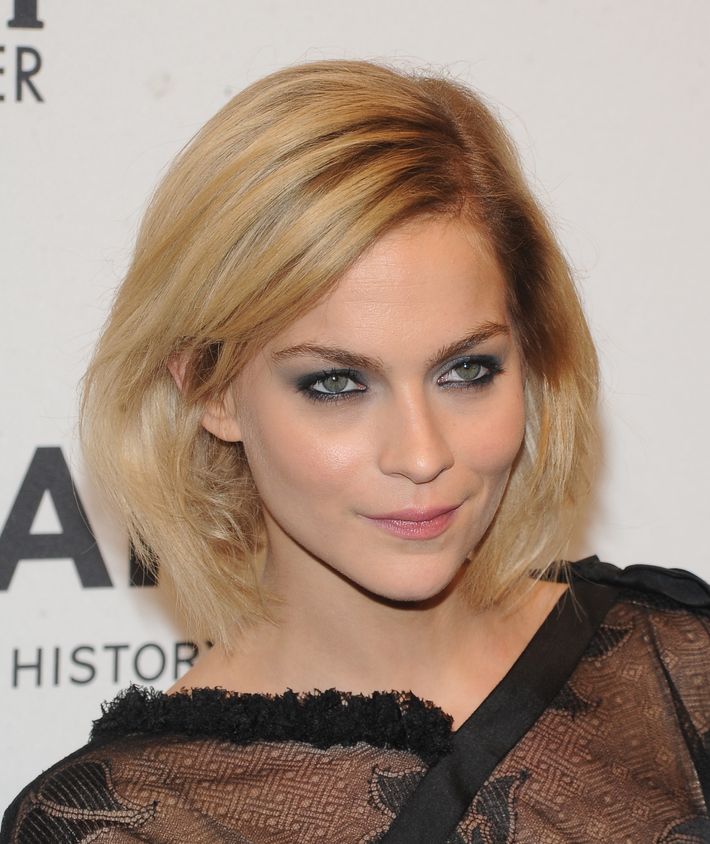 6. On the subject of face-offs, the only one that people care about thus far is between WSJ. and T. It certainly doesn't help that the former's cover is all white and says "pure elegance" while the latter one is pitch black and says "true elegance." We're not sure of the difference. We do know, however, that elegance reminds us of drag queens. And that the two new magazines also duked it out at competing parties last night. A note to those with seating charts: Please sit the teams across from each other all week — it's better for scowling (and Instagram!).
7. Coco Rocha is already winning social media.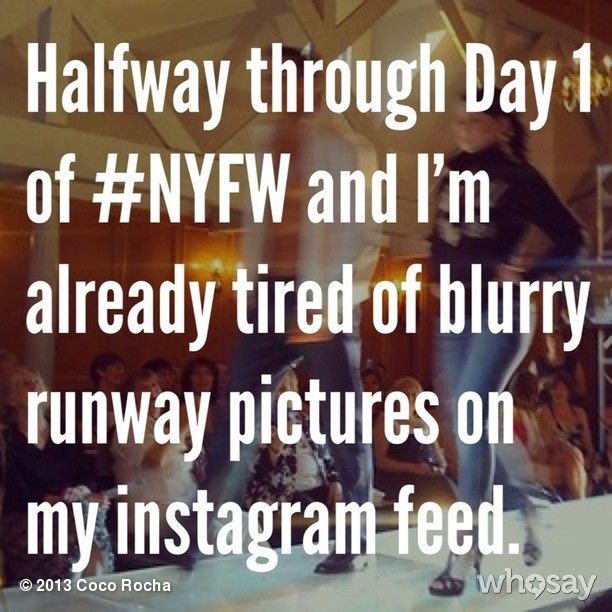 8. Across town, Sarah Jessica Parker skinned a muppet. C is for cookie?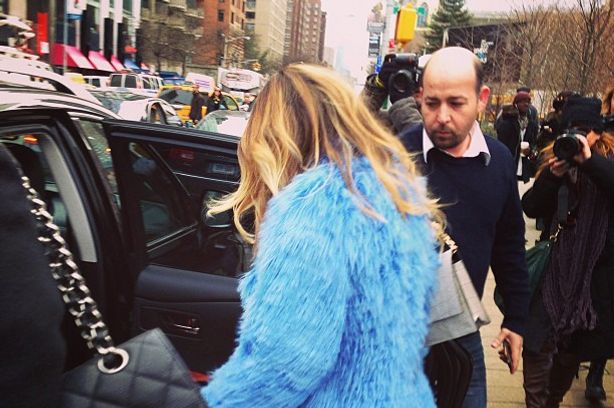 9. At the Hermès x Comme des Garçons party, the mannequins were covered in horsey scarves and graffiti. Beautiful, actually.
10. The Fug Girls are joining us again this season, but it seems they've lost their talent for celebrity-spotting from the front row. Either that, or BCBG couldn't find enough in the budget to pay recognizable stars to come this season. Let's play a game: Who are these two women below? (Only you can decide if identifying them means you're winning or losing.)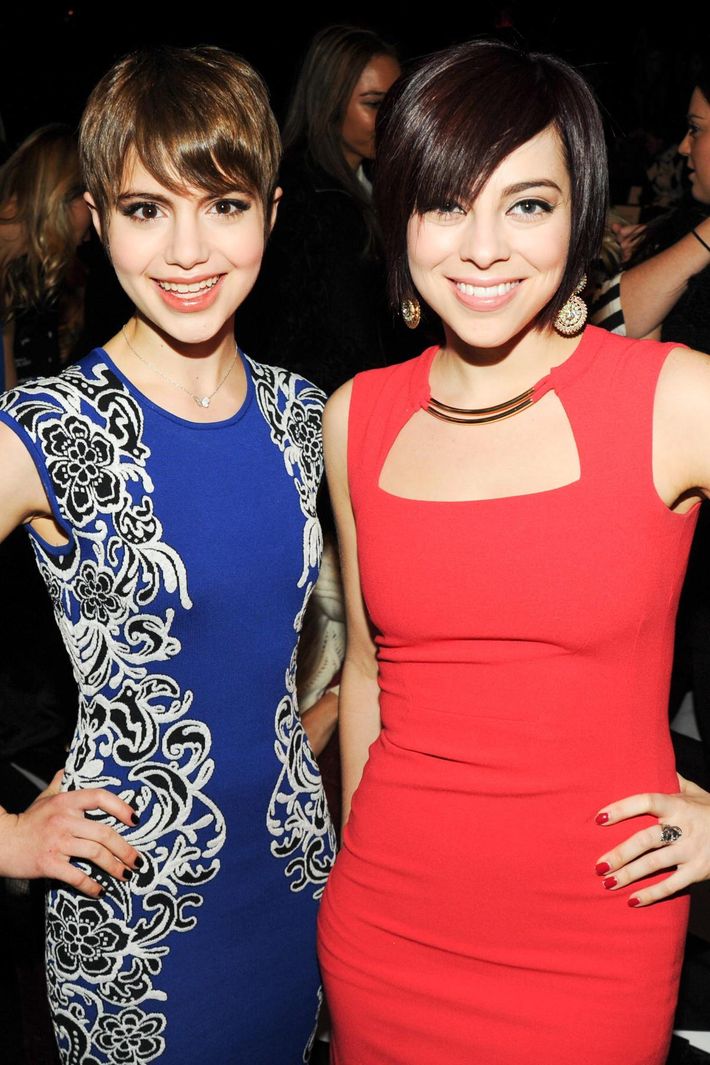 11. At Creatures of the Wind, an ongoing collaboration with shoe designer Tabitha Simmons meant that the heels were not only gorgeous, but also totally sparkly (another partner: Swarovski). Insert hashtag here about how women will #want these or are #coveting them or something like that. Even Kate Lanphear loves them (and, yes, she's now blogging).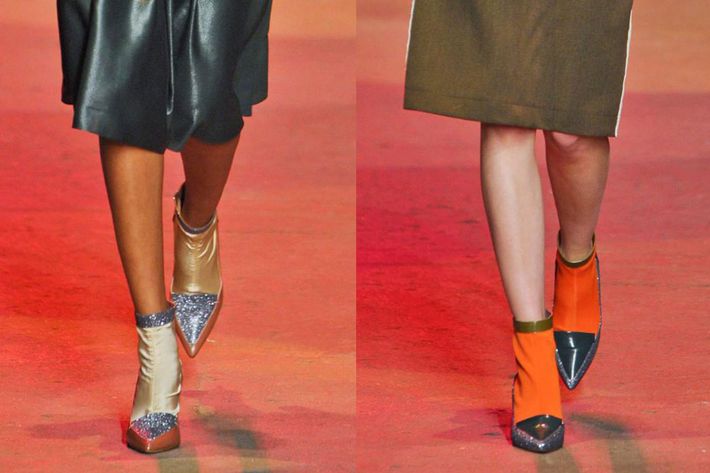 12. A question from our Lincoln Center bureau: "Overly accessorized forearms:  Still ripe for street-style, or more whore of Babylon?" Discuss.
13. We gotta hand it to Jeffrey and Robert, the delightfully bearded bears who design Costello Tagliapietra. Somehow, they managed to get a bunch of awesome men (with beards, kinda) to come and watch chic draped gowns come down a runway. Progress.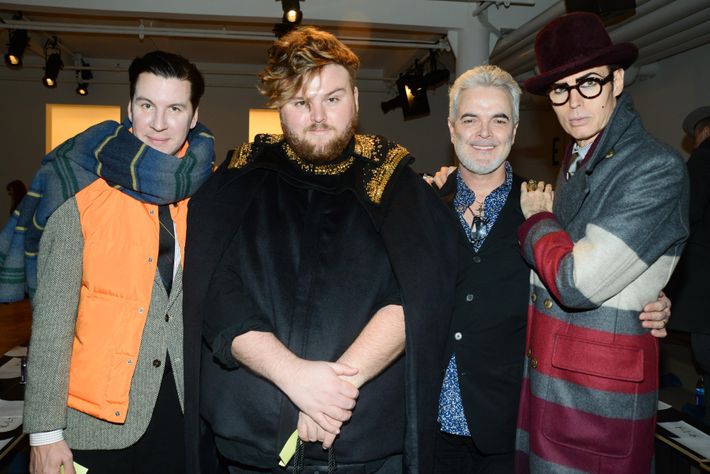 14. Scott Sternberg held a party at the Monkey Bar to conclude his Band of Outsiders model scavenger hunt that was roaming around the city — an idea he dreamed up so he didn't have to do another actual runway show. Turns out he's not so into runway shows for men. "Doing a runway show for women, it's so powerful —  the walking and the models and the lights — but doing a runway show for guys? I don't know who really cares about that other than us," he told the Cut, referencing the royal-we fashion community, as the Cut decided that day one was kind of sort of over and the Cut needed a drink.
15. We can't fully wrap up "Day One" without mentioning the AmFar Gala. Good cause. Carine let us follow her around and take pictures. And Lindsay Lohan proved to us that things are looking on up.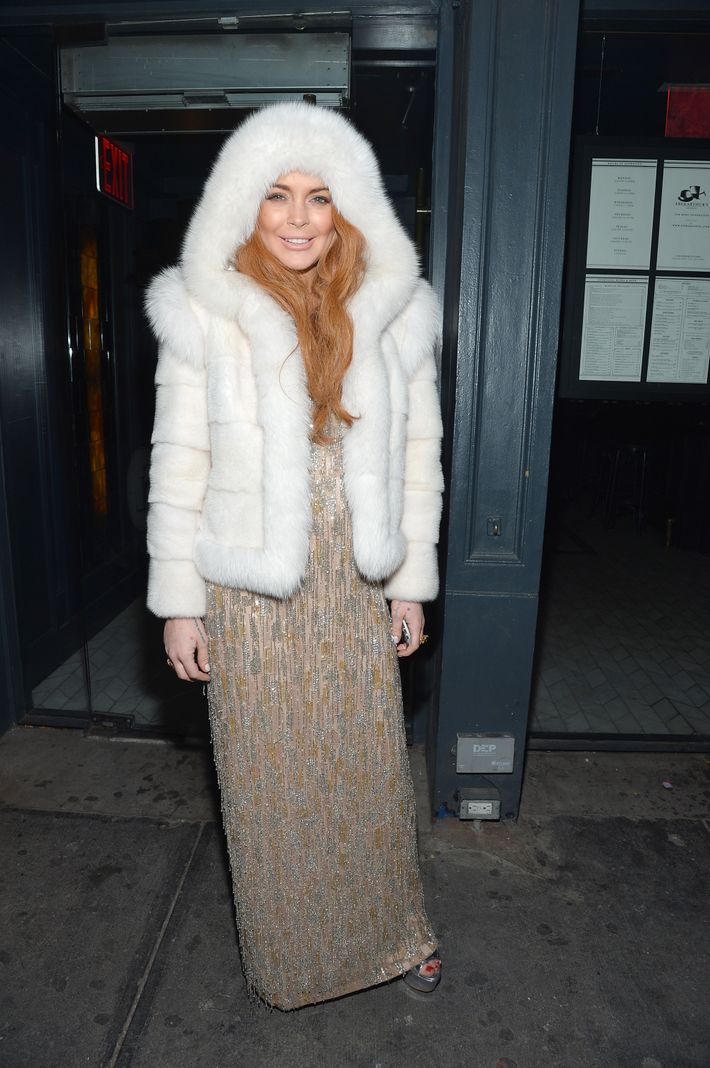 16. And, in a brief moment of self-congratulation, the Cut would like to point out that fashion's true diehards still keep asking us who they really are.
Yesterday's Shows:
BCBG Max Azria
Costello Tagliapietra
Creatures of the Wind
Edun
Kimberly Ovitz
Lisa Perry
 Nicholas K
Organic by John Patrick
Richard Chai LOVE
Tadashi Shoji