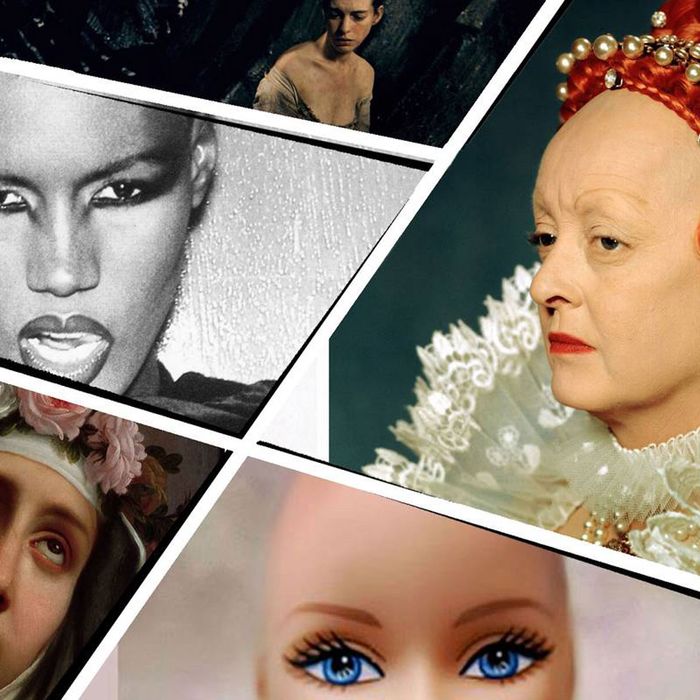 The turning point in Anne Hathaway's Oscar-nominated Les Misérables performance occurs after she sells her teeth for money, but before she begins to sell sex. "Life has killed the dream I dreamed," Hathaway sings, followed by the actress's real hair getting "hacked" off. The experience, Hathaway says, was among the most intense of her acting career: "I've now done backflips out of windows. I've jumped off buildings. And cutting my hair reduced me to, like, mental patient-level crying. I was inconsolable."
A woman's hair has historically been one of the most emotionally and socially fraught parts of her body (no easy feat), located at the nexus of identity, sexuality, and control. In the Book of Isaiah, God punishes the excessively sexy women of Zion by "making their scalps bald." In medieval Europe, knocking a woman's cap off her head to reveal her hair was considered a type of sexual assault. Even in modernity, sexual shame may be tied to hair: Earlier this month, Japanese pop singer Minami Minegishi posted a Youtube video in which she tearfully apologized for being seen exiting her boyfriend's apartment — and then, to prove her penitence, shaved off all her hair. (AKB48, the 87-person girl group Minegishi belongs to, prohibits smoking and significant others.)

Removing one's own hair, however, can signify empowerment, a rejection of social norms. Figures like Grace Jones and Sinead O'Connor use their shorn heads to announce a willful rejection of mainstream femininity. But even when actresses like Hathaway discard their coifs in the name of their art, they are thought of as self-sacrificing. Head-shaving — like wearing a nose prosthesis orspeaking in a British accent for the duration of a film — is a sign of commitment. "What you see on screen was a little bit of a mixture of my real emotion and acting," Hathaway explains, noting that she had one rule: "If it doesn't grow back, CGI."

From Queen Elizabeth's wig to Britney's meltdown to Grace Jones's defiant buzz, click to see our guide to the most badass (and occasionally heartbreaking) baldies in history.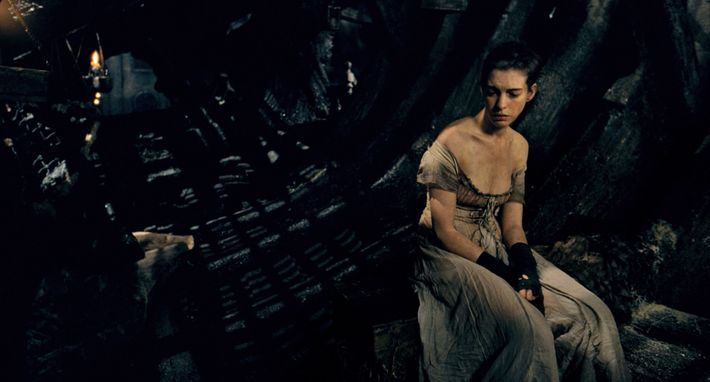 Anne Hathaway
Anne Hathaway's shaved head may pay off with an Oscar, but the act of cutting it reduced the gamine actress "to, like, mental-patient-level crying. I was inconsolable." Her personal hairstylist shaved her head live during the shooting of Les Misérables. The 30-year-old actress told Radar, "When I eventually looked in the mirror [after they cut her hair] I just thought I looked like my gay brother."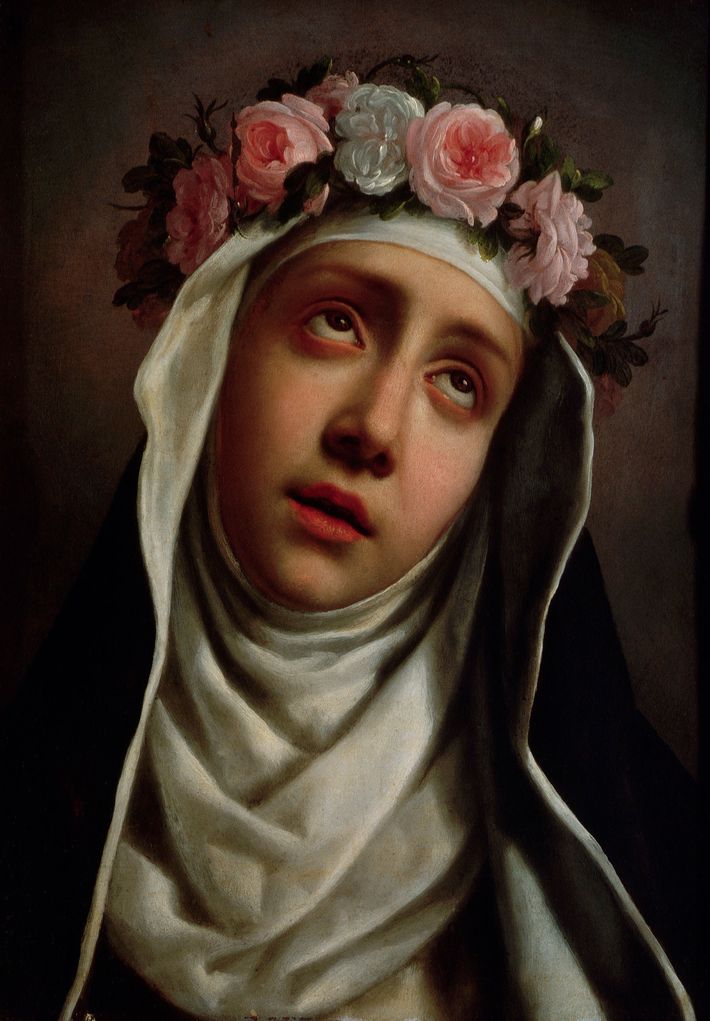 St. Rose of Lima
In the late sixteenth century, Rose of Lima was the first saint born in the Americas. She was devoted to suffering. As a young woman, Rose thwarted sexual attention by shaving her head and smearing pepper on her face. Later in her life, she wore a metal spiked crown concealed with roses every day, and slept on a bed of broken glass every night. Here, head-shaving is both sexless and selfless.
Cleopatra
Cleopatra's history has been the subject of almost constant revision, even while she was alive. She probably wasn't bitten by a snake, nor did she seduce men by falling naked out of rugs. Modern depictions from Liz Taylor onward show Cleopatra as a light-skinned woman with a full head of square-shaped hair. But like most Egyptians of her time, she probably shaved her head, then wore a wig of tight curls over it.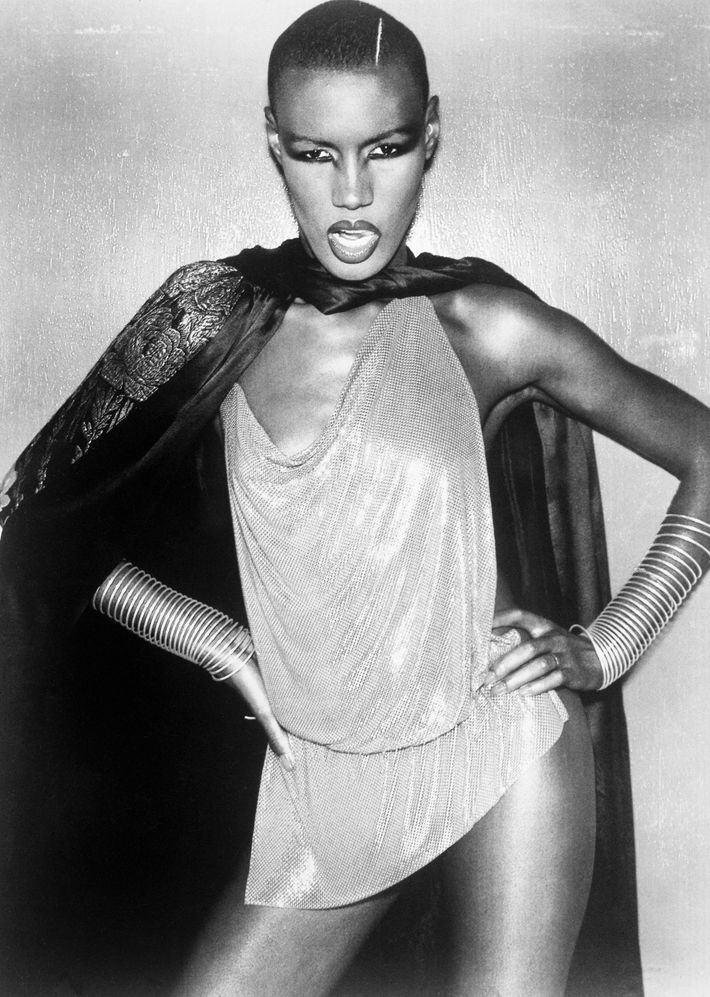 Grace Jones
Grace Jones continually tries to defy gendered and sexual norms, especially with her hairstyle. She sported a traditionally male flat top in the James Bond movie A View to Kill, and routinely shaves her head. There was once a rumor she lived on cocaine and oysters. When the Guardian reported in 2010 that Jones had switched to red wine and oysters, Grace rebutted, "You don't do oysters and red wine together. That's a no-no, you just don't do that. I love a nice white wine with oysters."

Lady Gaga
Lady Gaga — who, Grace Jones once said, "pissed [her] off" for copying her style — shaved the back of her head this year as a tribute to Terry Richardson's deceased mother. Then, at a party for the launch of her perfume, she got a tattoo on the shaved part in front of a room of people she invited to touch her hand. The tattoo is of an angel wearing a crown.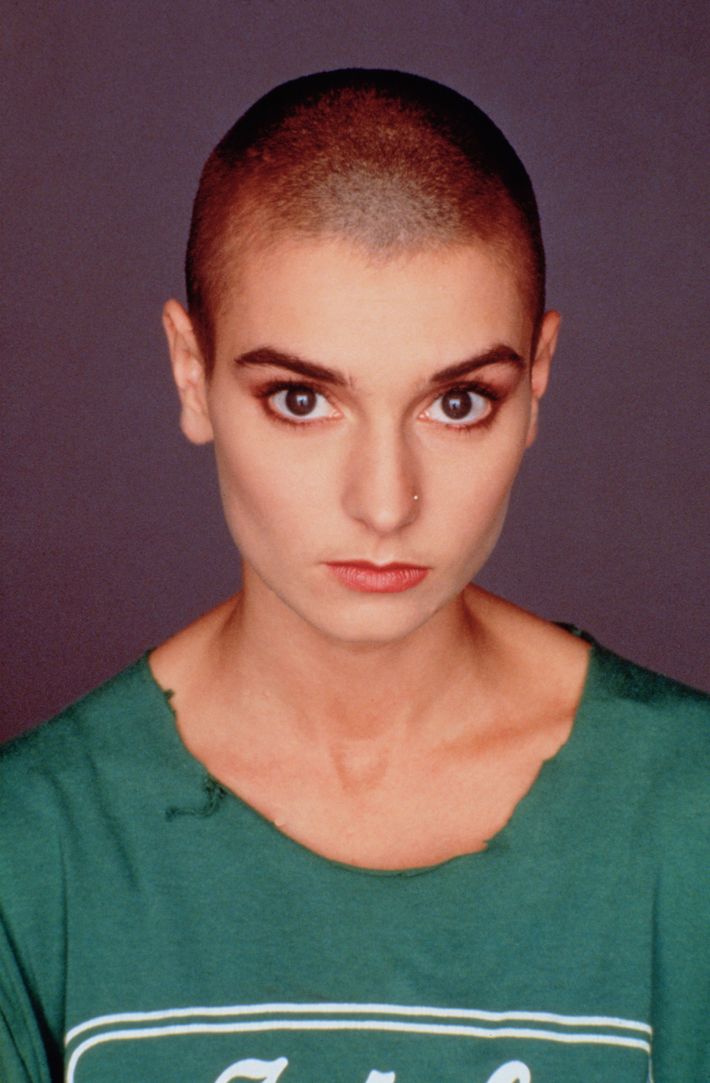 Sinead O'Connor
The "Nothing Compares 2 U" Singer has almost always worn her head shaved, mostly to "defy old-school rules about women," according to the LA Times. She once told a reporter, "I don't feel like me unless I have my hair shaved. So even when I'm an old lady, I'm going to have it."
Queen Elizabeth I
Though Cate Blanchett's portrayal in Elizabeth shows the queen shedding her red hair to prove her devotion to state, it is difficult to know what, exactly, the imperious Queen Elizabeth I looked like — and whether she had hair. "Many painters have done portraits of the Queen but none has sufficiently shown her looks or charms," her secretary of state Robert Cecil noted. "Her Majesty, in the meantime, forbids the showing of any portraits which are ugly until they are improved." A bout of smallpox at age 30 heightened Elizabeth's self-consciousness and allegedly led her to use white lead makeup to cover her scars. Both the lead and the disease could have caused her baldness. Some historians believe her baldness was merely legend; the Earl of Essex once claimed he saw a 60-something Queen Elizabeth with "her hair all-about her ears."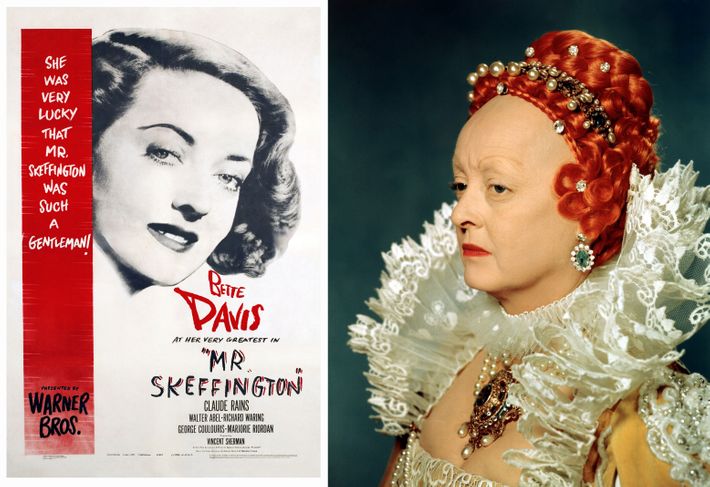 Bette Davis
Bette Davis shaved her hairline both times she played Queen Elizabeth I, in 1939's The Private Lives of Elizabeth and Essex and 1955's The Virgin Queen. New York Times critic Bosley Crowther described her baldness with revulsion and awe: "[H]er prominent noggin looks like an ostrich egg, surmounted by a thoroughly startling and incredible orange-colored wig. From behind all this ornamentation, Miss Davis projects a thing that seems part man, part woman, part monster, part suppliant and part freak." Davis also subjected herself to old-age makeup and hair loss for 1944's Mr. Skeffington, about a vain woman who loses her looks. Of that movie, the snide Bosley Crowther wrote, "Never, in our recollection, has Miss Davis devoted so much work to a character of so little importance as the one she plays in this film. And never has make-up borne so plainly the dramatic responsibilities of a show. … As an exercise in female frippery, this picture has its points. But you have to accept the original premise that Miss Davis is irresistible to men."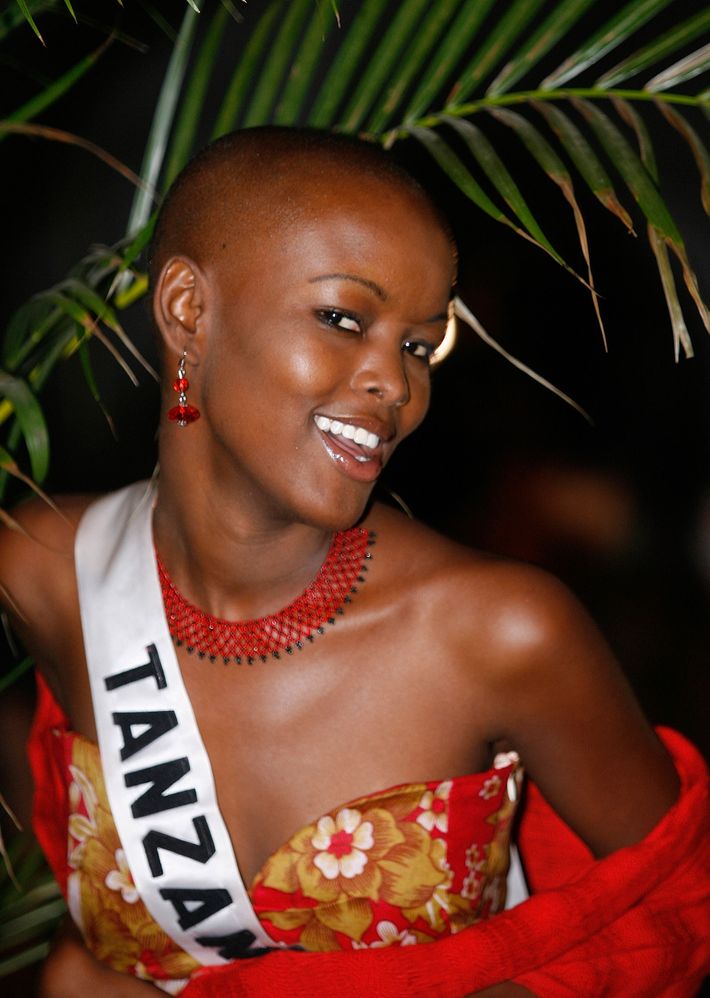 Miss Tanzania 2007
In 2007, Flaviana Matata was the first woman to compete in the Trump-owned Miss Universe pageant with a shaved head. Matata came in sixth and is now a model in New York.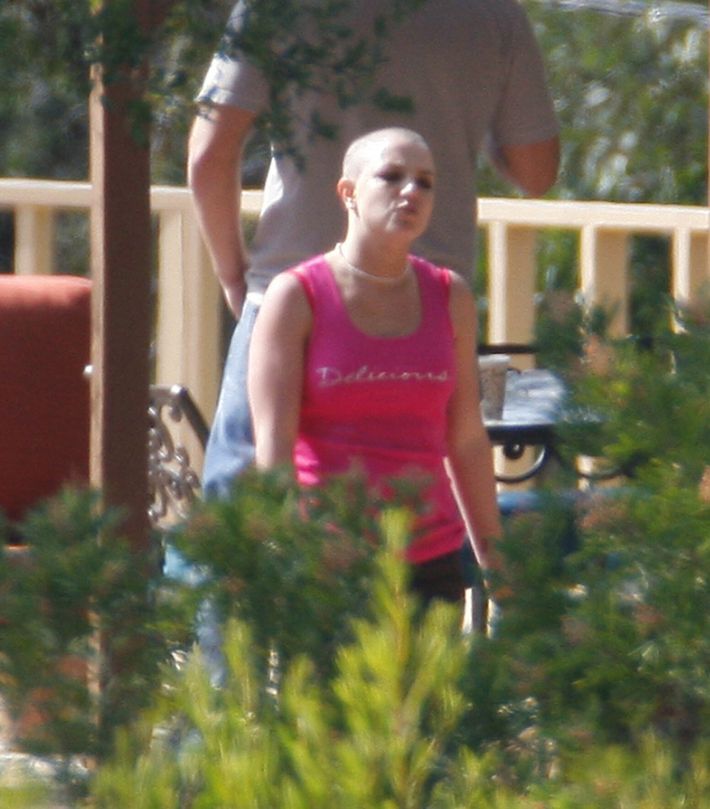 Britney Spears
In 2007, possibly in a half-baked effort to avoid a drug test, Britney Spears shaved her own head in a Tarzana, California, hair salon as the world watched in fascination. (Strands of her shorn hair reached 1 million dollars on eBay before the auction was removed because the hair could not be verified as Britney's.) Seeing Spears strip herself of hair in a moment of emotional duress seemed to crystallize her breakdown for the public. One psychologist speculated on theToday show that Spears was trying to "stay away from men a little while," while others interpreted her actions as "a major form of acting out." For her part, Spears told photographers she was "tired of everybody touching me."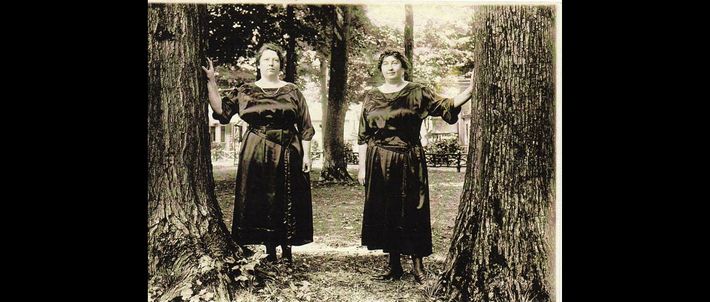 The Bangs Sisters and Their Bald Cat
Early twentieth-century spiritualists the Bangs Sisters (or the Notorious Bangs Sisters as they were eventually known) were "widely known" for their slightly shady practices for contacting "the other world," according to a 1908 report in the New York Times. The Bangs Sisters' act involved a hairless cat they called a "spirit kitten," the appearance of which represented presences from beyond. Lack of hair made the cat seem believably ghostly. Later, they became famous for "spirit paintings," i.e., portraits of dead people they had never met.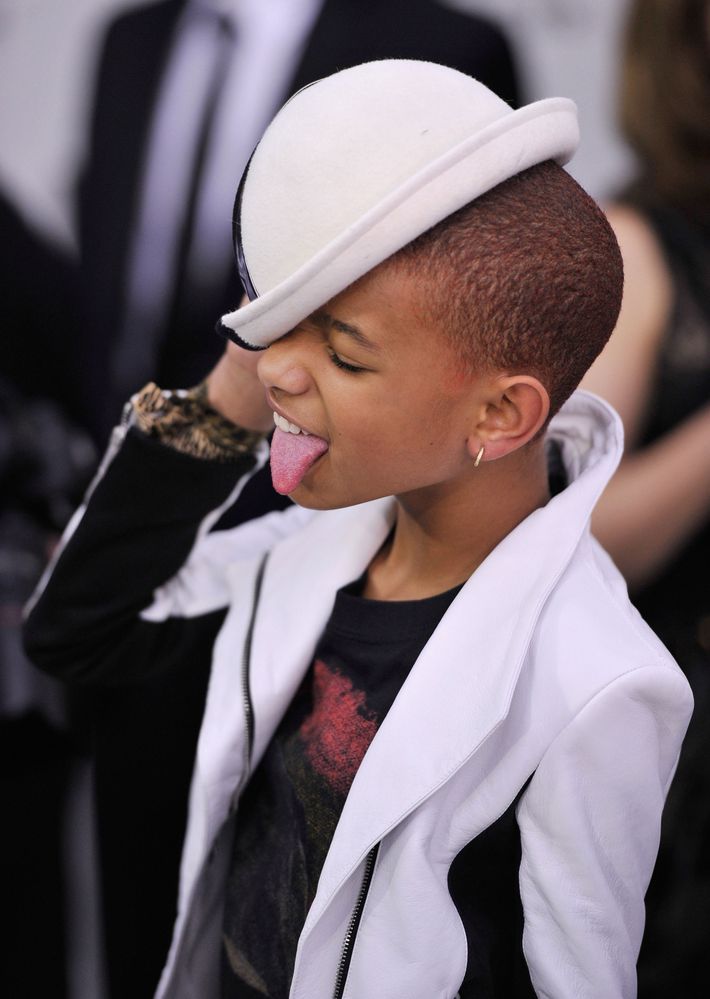 Willow Smith
Will Smith's 11-year-old daughter, who achieved viral fame with a song called "Whip Your Hair," shaved her head last year. The Internet predictably went berserk, with some bloggers wondering if the move was an "attention-getting ploy." Mother Jada Pinkett Smith defended her daughter on Facebook: "Willow cut her hair because her beauty, her value, her worth is not measured by the length of her hair. It's also a statement that claims that even little girls have the RIGHT to own themselves and should not be a slave to even their mother's deepest insecurities, hopes, and desires."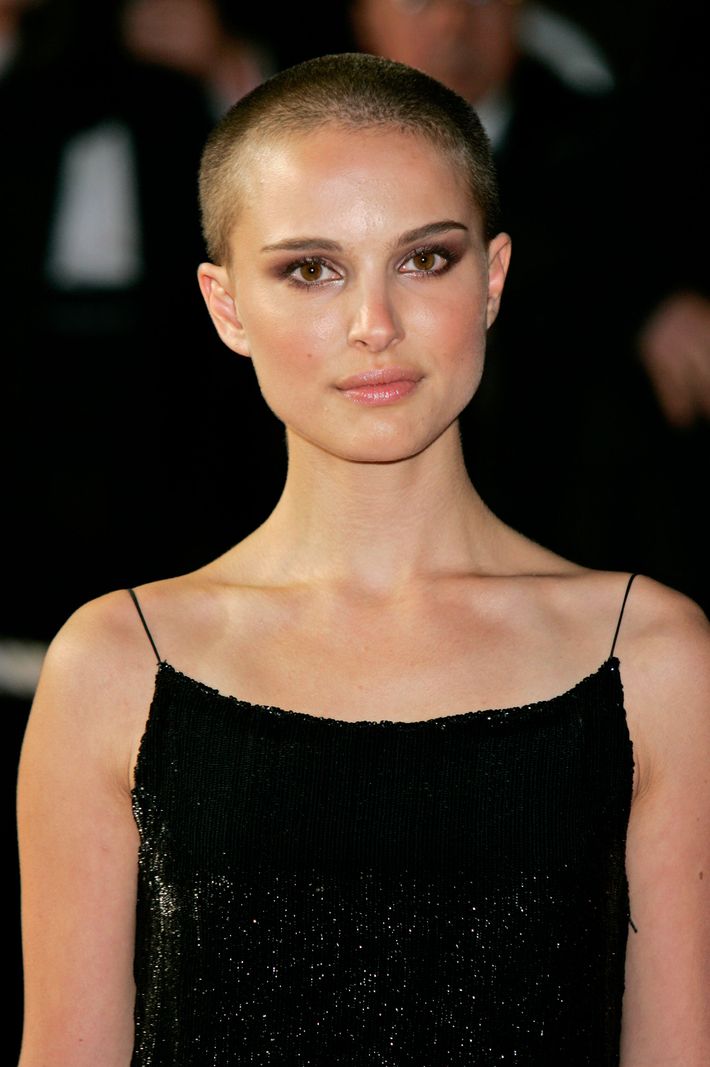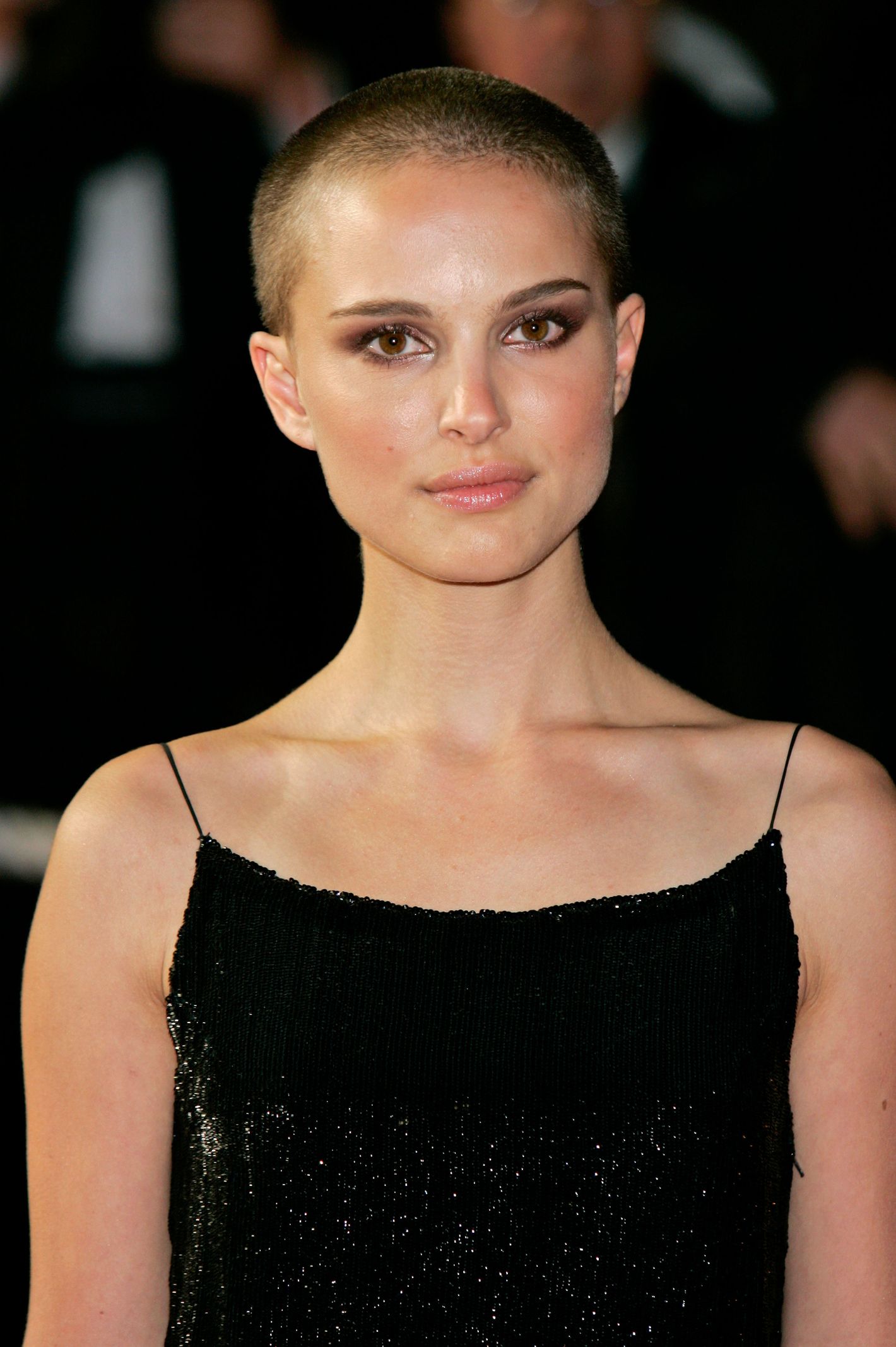 Natalie Portman
Natalie Portman shaved her head to play an anarchist in the 2005 film V for Vendetta, then kept it that way for several months. Portman called her new haircut "pretty fun" and used her new, slightly more badass image to great effect when she parodied herself on SNL in a skit called "Natalie Raps." Her short hair allowed her both to lampoon her good-girl reputation and to defy it believably.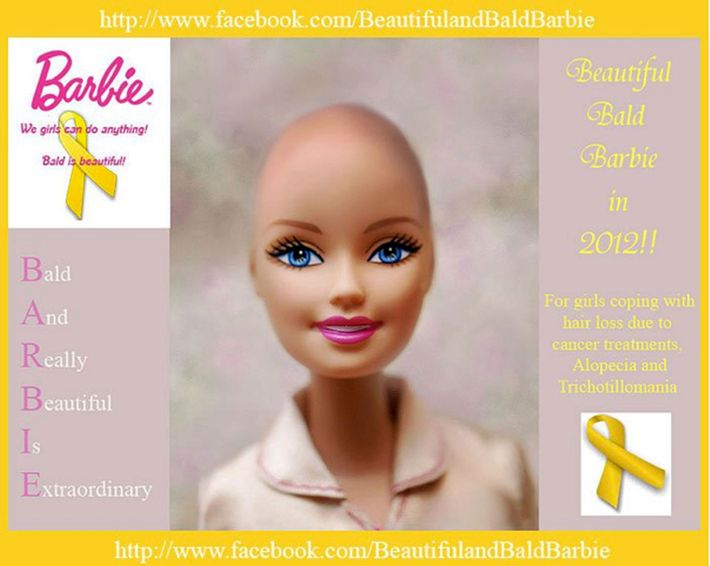 Bald Barbie
In response to a Facebook campaign, Mattel made a bald version of Barbie this year, which they will donate directly to cancer hospitals. Bald Barbie was a minor cause célèbre. The Vatican's official newspaper pleaded for Mattel to mass-produce the doll in their newspaper, though the clergy also took the opportunity to criticize the iconic toy for representing "plastic beauty and vacuous blondeness."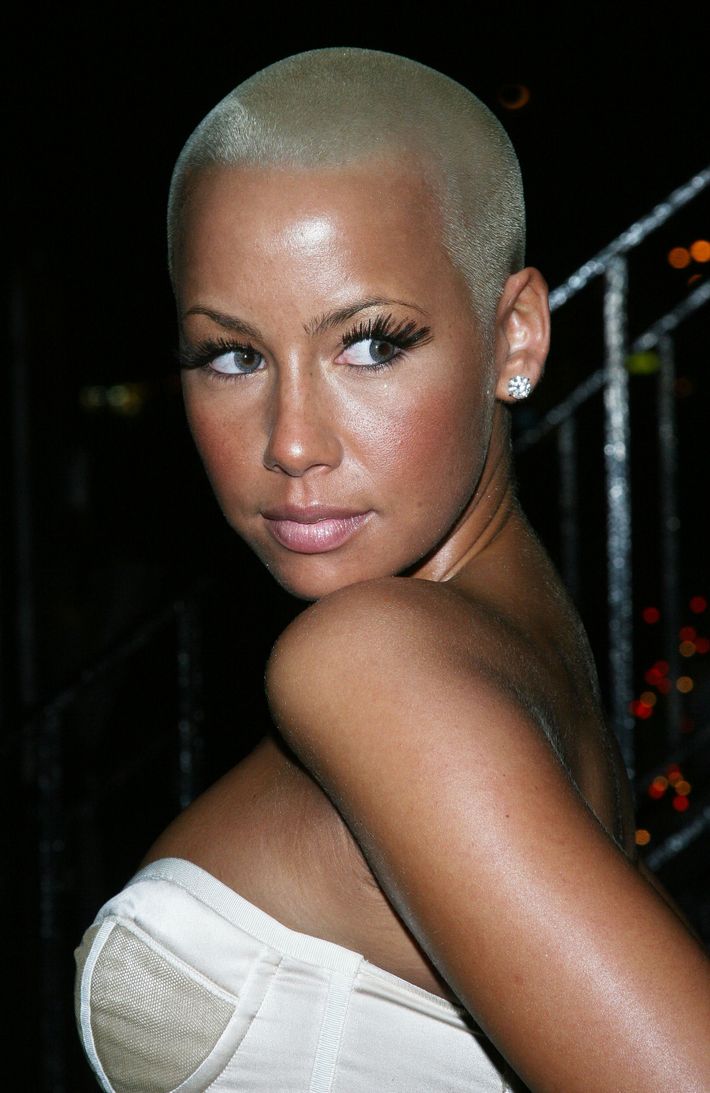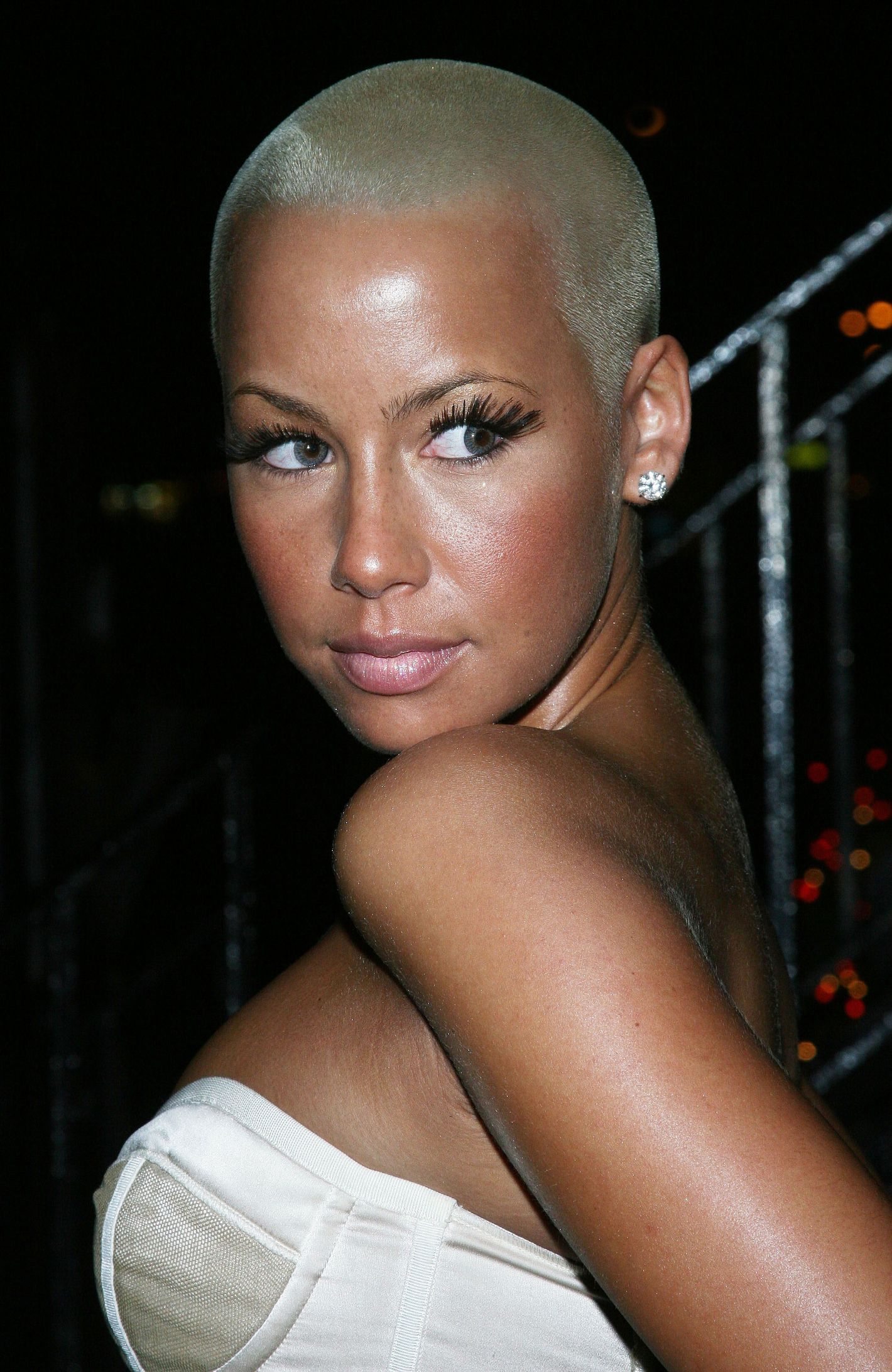 Amber Rose
Kanye West's ex-girlfriend and Wiz Khalifa's current paramour has continually rocked a shaved head for the duration of her public life. Not that the appeal was universal. Kanye, like all bad ex-boyfriends in history, apparently once told her he "didn't like her hair" and "didn't like her dress." After he apologized during a concert, Amber Rose responded, "He was an asshole. He was. I feel like he gets that now, and he's remorseful about being an asshole to me."
Natalie Darryl
Natalie Darryl had waist-length hair that was shaved completely off when she appeared in her one and only movie, The Girl From the Kremlin. This movie, by the way, is tremendous. It asks the question: What if Stalin faked his own death and moved to Greece? Then it asks another question: What if Zsa Zsa Gabor plays twins, and one of them is Stalin's nurse, and the other one is looking for Stalin? In case you're curious, here's the scene.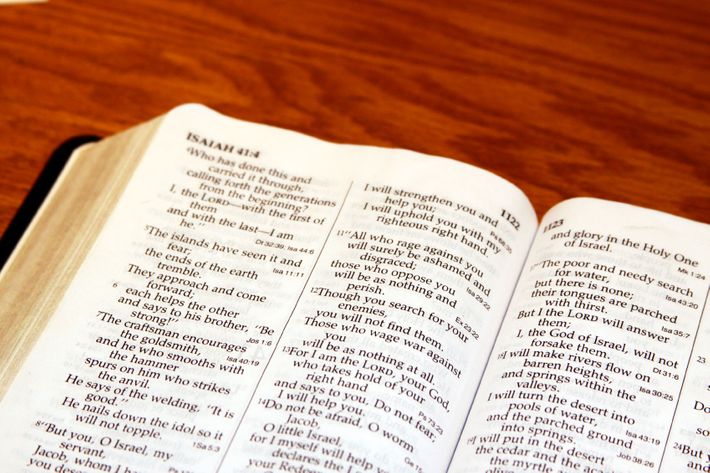 The Women of Zion
Among the earliest women to go bald out of sexual shame were the women of Zion, in the Old Testament book of Isaiah. The Lord announces in Isaiah 3:16 that women of Zion are "haughty, walking along with outstretched necks, flirting with their eyes, strutting along with swaying hips, with ornaments jingling on their ankles." So the Lord "made their scalps bald" and "snatch[ed] away their finery," including perfume, veils, anklets, and nose rings. "Instead of well-dressed hair, baldness; instead of fine clothing, sackcloth; instead of beauty, branding."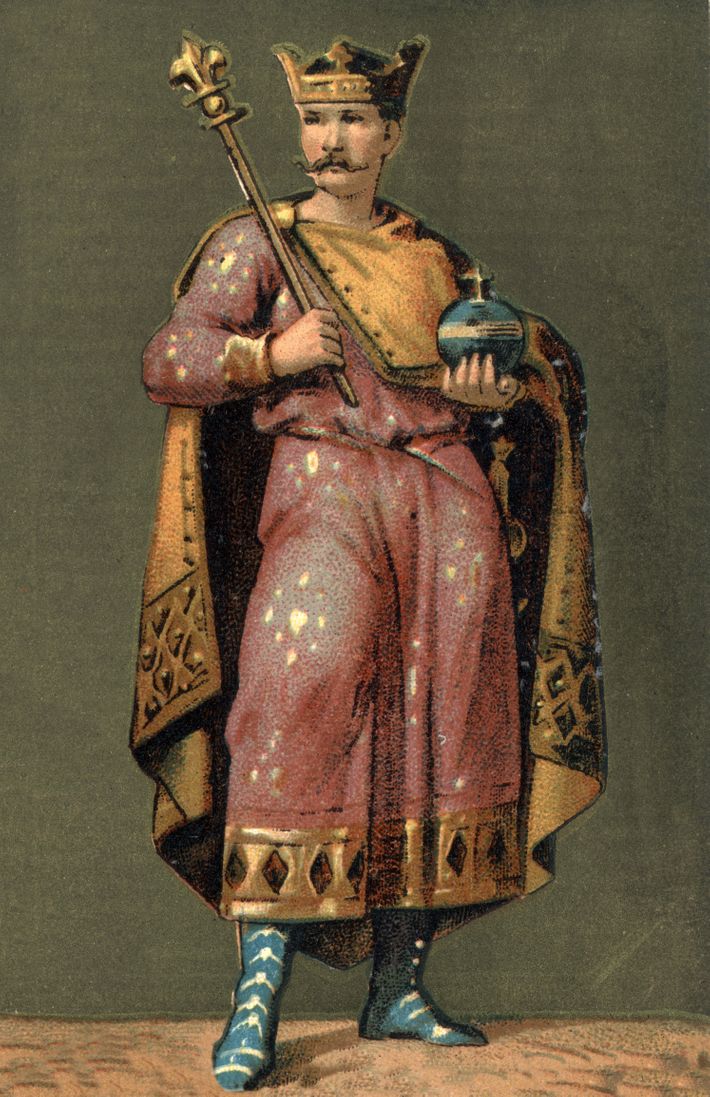 Charles the Bald
In 875 AD, a new holy Roman emperor ascended to the throne by the name of Charles the Bald. However, this epithet might have been used ironically. According to Time, contemporary depictions show Charles the Bald as quite hairy all over. Charles was evidently not a very nice man — he blinded his son Carloman — but quite virile, fathering fifteen children with two wives.
Cynthia Nixon
The usually redheaded woman sometimes known as Miranda kept getting a five o'clock shadow when she shaved her head for last year's Broadway production of Wit, a play about cancer. "I thought it was kind of gonna be no muss, no fuss, but I have to shave it every day!" Nixon told Kelly Ripa.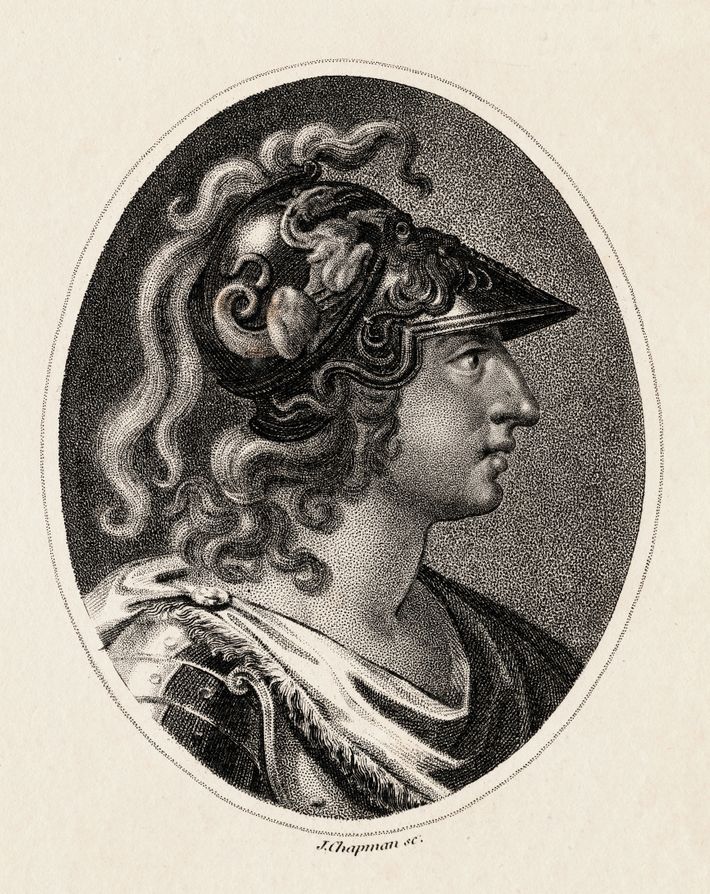 The Death of Alexander the Great
When Alexander the Great passed suddenly after a quick and debilitating illness, many of his different kingdoms reacted strongly to his death. Sisygambis, a woman in Alexander's court, starved to death out of grief. Subjects of an entire kingdom shaved their heads as a sign of despair. Alexander himself was eventually laid to rest in a golden coffin.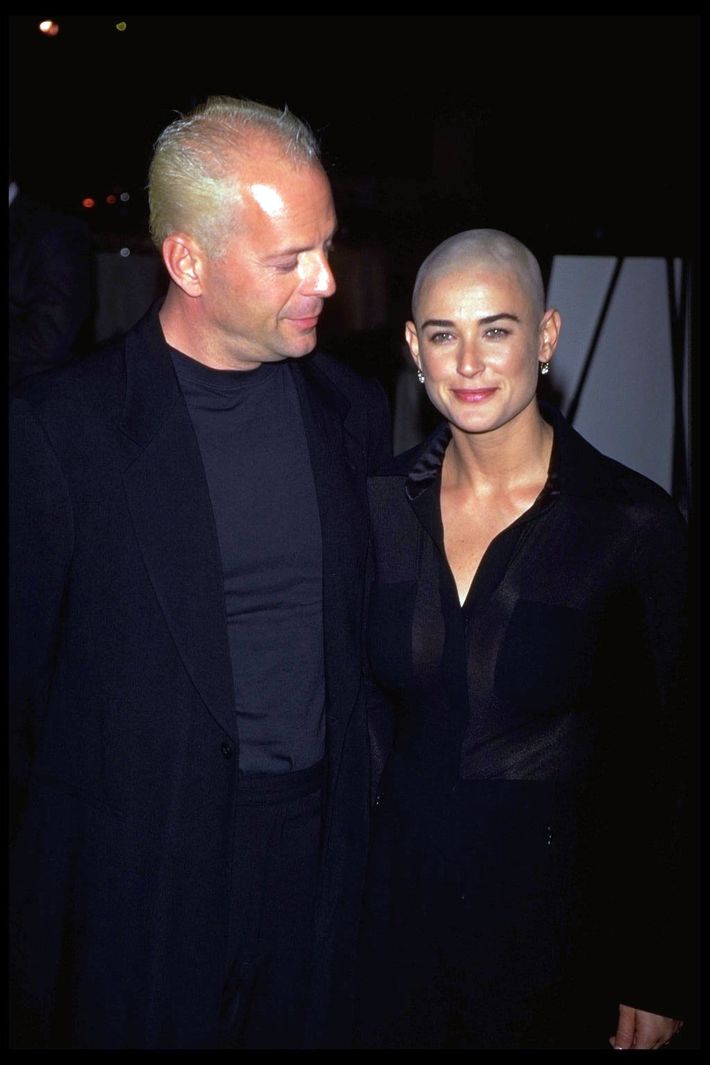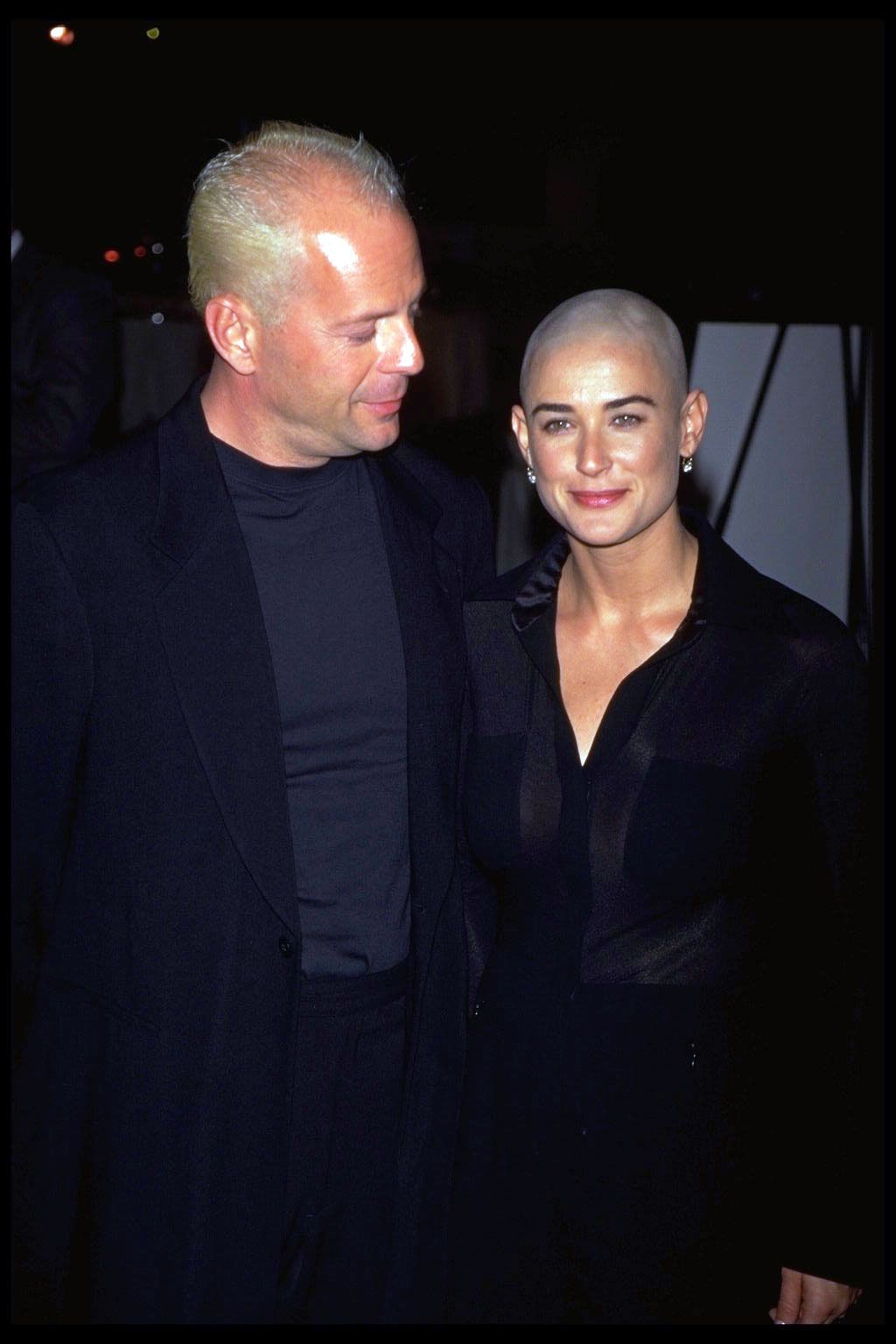 Demi Moore
Before Ashton Kutcher and Vito Schnabel were a glimmer in her eye, Demi Moore was married to Bruce Willis and shaved her head for the lead role in G.I. Jane, a flop of a movie about a woman who joins the Army. Moore won a Razzie for worst actress for her role, but was committed to it, even hosting a "shave your dome" party at a nightclub. Vintage gossip: Bruce never once visited the G.I. Jane set the entire time Demi was filming.