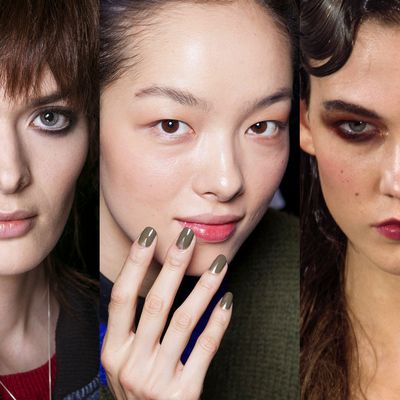 Some of the biggest names in the beauty industry can be spotted backstage during New York Fashion Week. Usually hidden by blow-dryers, brushes, and a model's head, there's an elite mix of nail experts (Jin Soon Choi, Tracylee), makeup artists (Pat McGrath, Gucci Westman), and a bevy of star hairstylists (Odile Gilbert, Paul Hanlon). Some of the more arresting runway beauty looks they dream up aren't so practical for everyday wear: There were the multi-step Art Deco buns at Jason Wu, the two-tone ponytails at Alexander Wang, and the glitzy eyes at Thakoon. These all take a team of assistants and years of craftsmanship to master. But while the Cut was reporting backstage, we still picked up some easy, everyday tricks that would be easy to pull off in your own bathroom. Click through find out how to elongate the appearance of nails, create a headband from your own hair, and more.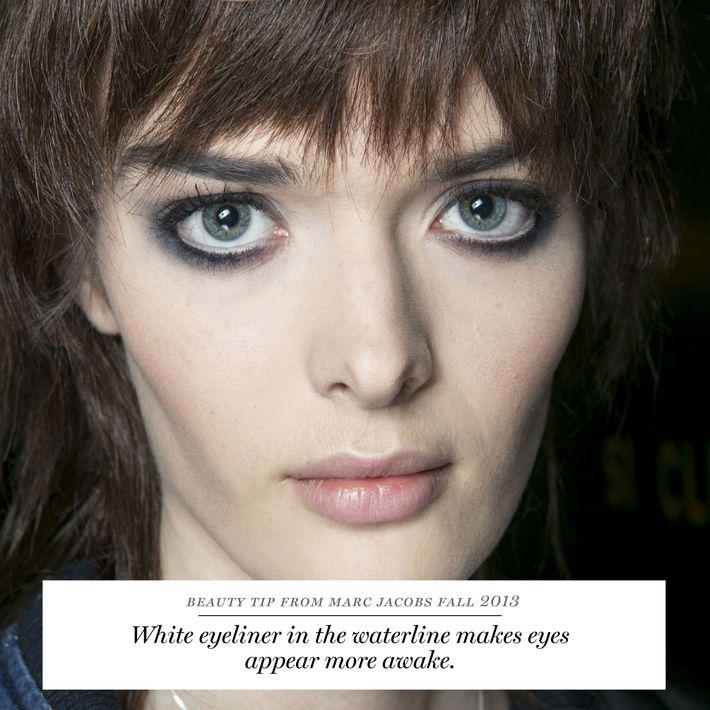 Look Wide Awake: Marc Jacobs
Tip: Francois Nars suggests filling in your waterline with white eyeliner to make eyes appear brighter and more awake.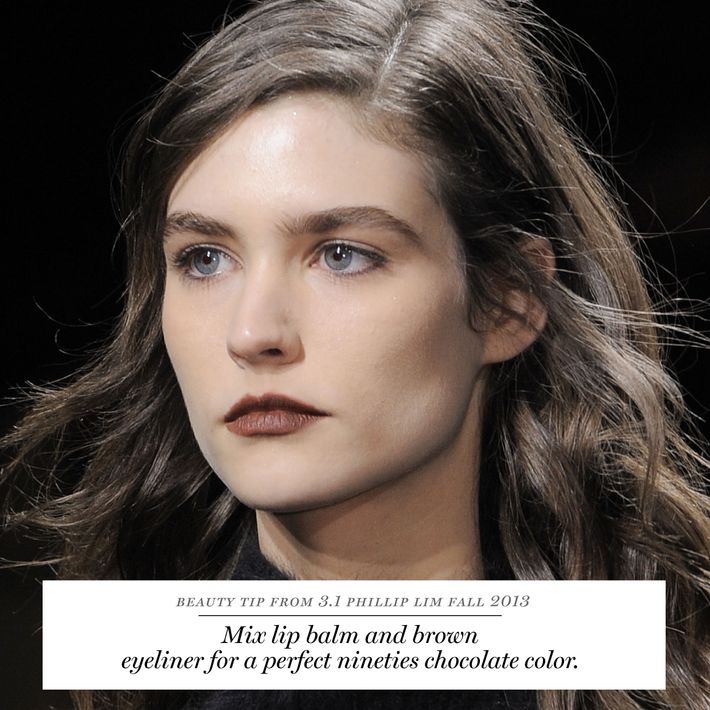 The Updated Nineties Lip: 3.1 Phillip Lim
Tip: Francelle Daly applied a red-brown lip liner all over lips, then followed with a darker, chocolatey shade found in an eyeliner. To keep lips from drying out, first hydrate the mouth with lip balm.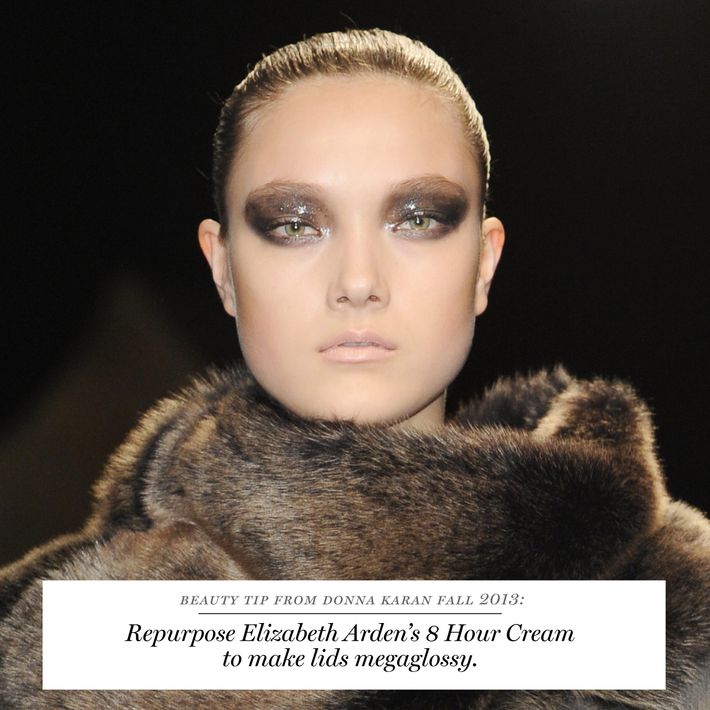 Get Reflective Eyelids: Donna Karan
Tip: Apply an eye-shadow primer to lids before shadow application to prevent any unwanted creasing. Then, for that megawatt shine, Carlotte Tilbury uses fingers to dab on Elizabeth Arden Eight Hour Cream (a little goes a long way) over the eye shadow.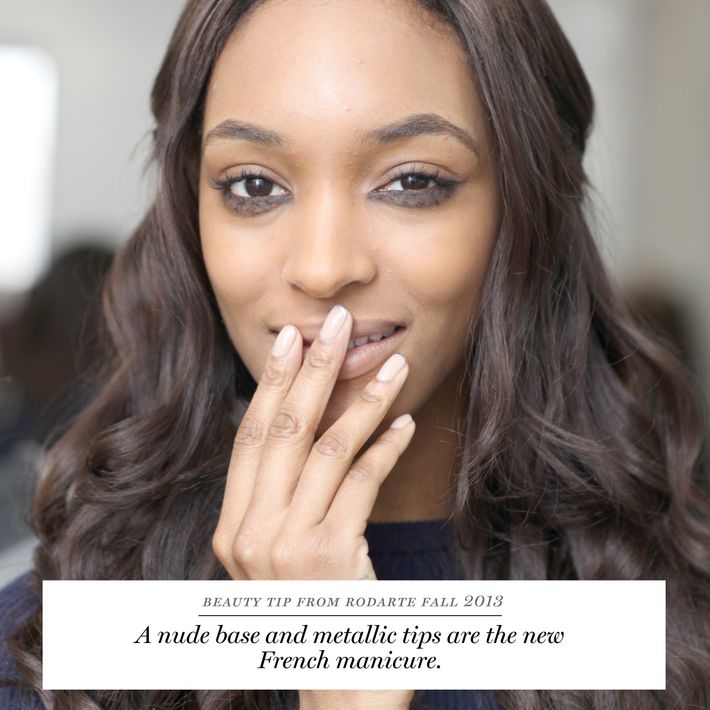 A Not-So-Obvious French Manicure: Rodarte
Tip: While the polishes from this Sally Hansen and Rodarte collaboration will not be available until fall, similar tones can be used for this nude and metallic-tipped manicure.
Dramatic Brows: Oscar de la Renta
Tip: Using a thin, angled brush, Gucci Westman applied cream eyeliner to brows for a bolder, more defined look with a touch of shine.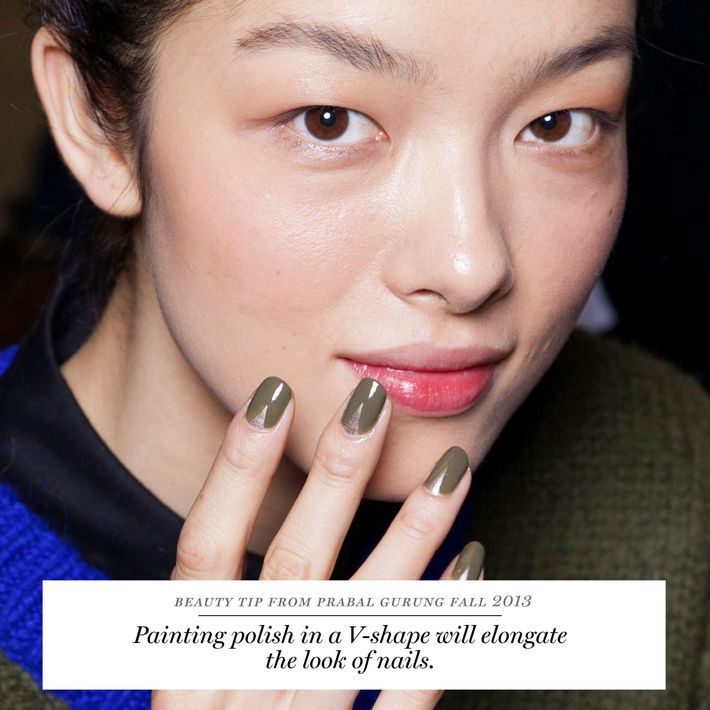 Make Nails Appear Longer: Prabal Gurung
Tip: Using two different colors (like gold and olive green), manicurist Jin Soon Choi painted the darker, olive shade in a V-shape to lengthen the appearance of nails. The skinner the V, the greater the illusion.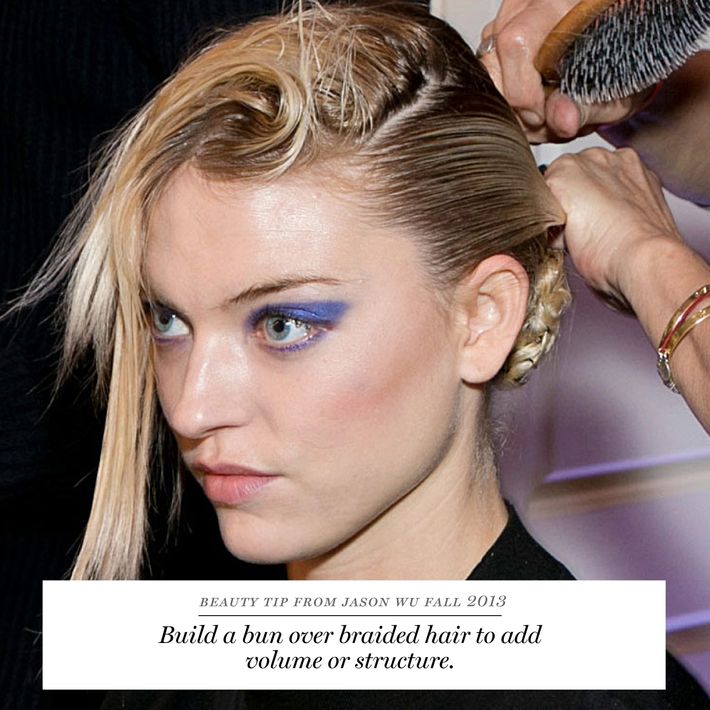 Hide Braids to Amp Up Bun Volume: Jason Wu
Tip: Odile Gilbert created multiple mini, horizontally running braids near the neck to form the "base" of a bun. Then layer and pin hair over this for a voluminous chignon.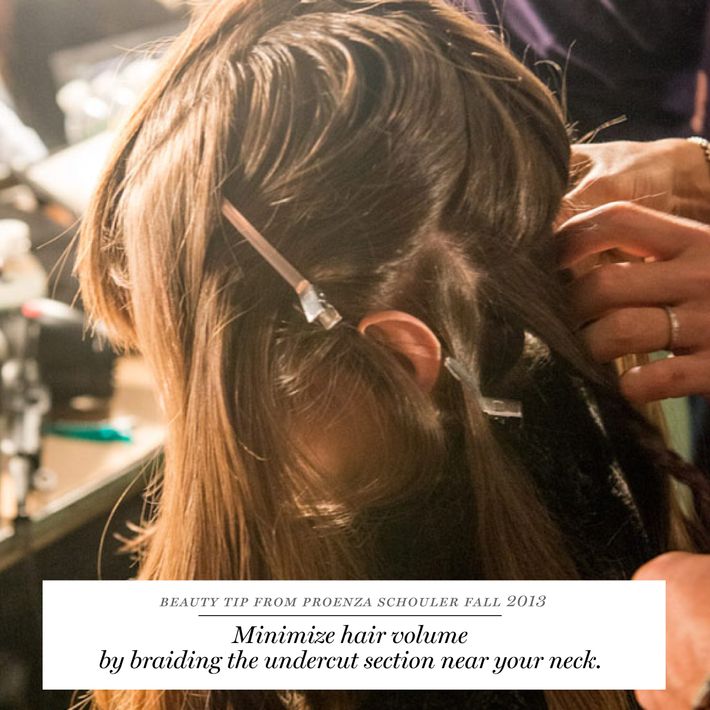 Hidden Braids to Devolumize Hair: Proenza Schouler
Tip: Paul Hanlon section off the bottom half of hair into multiple small parts. He then braided these into skinny, horizontally running rows, letting the rest of the loose, unbraided hair fall over this hidden section. It's an easier fix than shaving out a nineties undercut.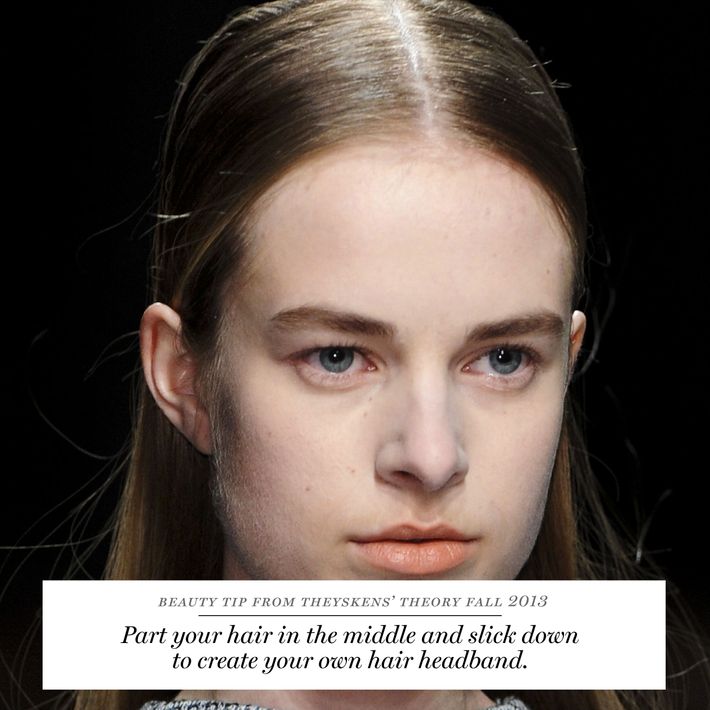 How to Create a Hair Headband: Theyskens' Theory
Tip: After straight-ironing your hair, take the two 1.5-inch sections closest to your face (on either side of the center part) and slick them behind your ear. Odile Gilbert used plenty of Kerastase's Ciment Thermique and Double Force hair spray to do this. She then secured these two sections underneath the rest, at the nape of the neck, with an elastic.