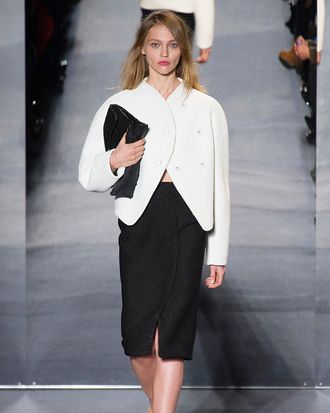 Everything about Proenza Schouler's show last night was adult. Those creamy white dresses? For sensible women who don't spill red wine on themselves. The elegant low-heeled shoes? For those who won't be referred to as "tottering." As Lazaro Hernandez told Hamish Bowles backstage, "We're not in our twenties anymore! We've grown up on a business level and aesthetically and we wanted [the collection] to feel that way." 
A few years ago, there was much talk of the Proenza designers joining the game of musical chairs at the major Paris fashion houses. Instead, they chose the alternate route, putting down deeper roots in New York. They forged ties with investor Andrew Rosen, opened their first store, and joined the board of the CFDA. According to a recent profile in the new T magazine, they also did a gut renovation of their house in the Berkshires, where they go every weekend. Rather than running around doing collaborations and "seeing how things go," they've constructed a strong, focused future. Their fall 2013 collection, which was much more restrained and sleek than anything we've seen from them before, was a mature new direction.
Sasha Pivovarova, who is 28 and recently gave birth to her first child, opened the show, which was fitting: These clothes are growing up with the fashion-forward women who have worn them all along. Even the soundtrack — a steady, measured clicking — resembled the beat of a sure-footed woman's heels on a marble floor. The clothes were also much more commercial. Gone were the crazy neons, retro crop tops, and peacocks. In their place were flattering knee-length dresses made of soft wool, tailored pencil skirts, and belted coats. As usual, there was an emphasis on texture, but it was more subdued: There was expensive ostrich leather, suede, and pony hair, all in a minimalist palette of black, white, mint, and lavender. The shoes — which will be more widely available, thanks to their new licensing agreement — looked like they could be worn all day and then out to dinner.
These designs might not be wildly eye-catching — they're not street-style photographer bait, in other words — but maybe that's the point. Perhaps this is partly Rosen's influence; all the brands he's affiliated with (Theory, Helmut Lang, and Rag & Bone) are very wearable, but not in-your-face "Designer [insert season here]." This is a collection that many women will want to buy and wear for a long time, not one that Zara will knock off in two weeks. It'll sell well. And at the end of the day, isn't pragmatism a big part of adulthood?
See the complete Proenza Schouler Fall 2013 collection here.