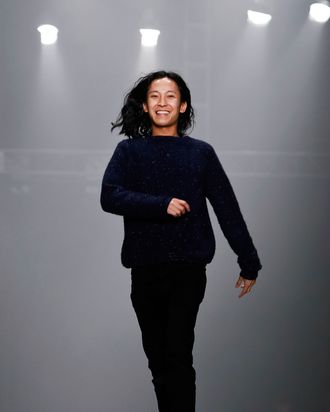 Photo: Brian Ach/Getty Images
Suzy Menkes of the International Herald Tribune sat down with Alexander Wang three days after his eponymous brand's show in New York to ask about his mental state pre-Balenciaga-debut. Marking his first words on the topic, the 29-year-old told Menkes, "I'm extremely excited. I am high on life. It's a dream come true … My first reaction was: 'I am so occupied, I give 110 percent to my brand.' Then I thought of elevating my team and being given a chance to do all those things I had at the back of my mind. I am doing something quite different from what I do here." Though he was nervous, Anna Wintour warned him that if he didn't accept the fashion house's offer, he'd end up regretting it for all eternity. As such, Wang's inaugural collection will be presented Thursday in the Avenue George V salons, once for editors and guests, and again for photographers.
The new creative director has been trying to commune with Cristóbal Balenciaga, going through the house's archives and finding "a lot of personal collectibles," but Wang sees a bit of himself in the man who gave exactly one interview during his lifetime: "He was always such a mystery. He managed to give the perception that he might be very private … The great thing about that is that there is a whole, unknown side of yourself. I know about me — but I save myself for my friends." Like Liberty Ross. Or A$AP Rocky. Or the Cut.