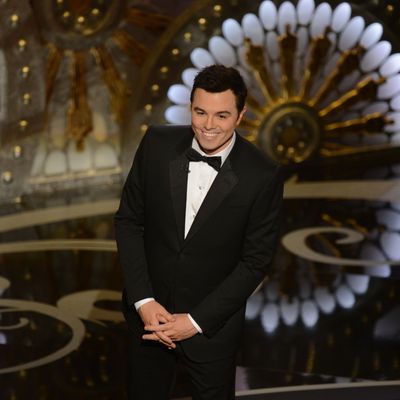 Photo: Robyn Beck/AFP/Getty Images
Were the Oscars always this sexist, or are we spoiled by Tina Fey and Amy Poehler's Golden Globes? Host Seth MacFarlane has been leaning on sexist punchlines all night, and people are noticing. Here are the transcripts, so you can calibrate your outrage and/or eye rolls accordingly:
Singing about seeing actress' boobs:
We saw your boobs in the movie that's what we saw we saw your boobs. Meryl Streep we saw them in "Silkwood" and Naomi Watts in "Mulholland Drive" and Angelina we saw them in "Gia." Anne Hathaway we saw them in "Brokeback Mountain." And Halle Berry in "Monster's Ball." Nicole Kidman in "Eyes Wide Shut" and Marisa Tomei but not Jennifer Lawrence's at all. We saw your boobs. We saw your boobs. Kristen Stewart we saw them "On the Road" and we saw Charlize Theron's. Helen Hunt we saw them in "The Sessions." Scarlett Johansson we saw them on our phones. Jessica Chastain we saw your boobs in "Lawless." Hilary Swank and Kate Winslet in "Heavenly Creatures" and "Hamlet" and "Titanic" and whatever you're in right now we saw your boobs. Ladies and gentlemen, the gay men's chorus of Los Angeles. We saw your boobs we saw your boobs, boobs. We saw your boobs, we saw your boobs.
Calling Jennifer Aniston a stripper:
Our next two presenters, at least one is honest about being a former exotic dancer. Please welcome Channing Tatum and Jennifer Aniston. 
Ridiculing the Kardashians for having "dark facial hair." (I thought we learned from Keeping Up that Kim et. al. have no body hair whatsoever?)
This man has gone from starring in "Gigli" to becoming one of the most respected filmmakers of this generation. I feel like we're six months away from having to call him le Benjamin Affleck.  I thought we'd cut this joke but really, want to do it? First time I saw him with all that dark facial hair I thought, my god, the Kardashians have finally made the jump to film. 
Joking about Chris Brown beating Rihanna:
This is the story of a man fighting to get back his woman who has been subjected to unthinkable violence or as Chris Brown and Rihanna call it, a date movie. Oh. Oh, no. No, that's what we were afraid he would do. 
Joking about Quvenzhane Wallis hooking up with George Clooney:
So let me just address those of you up for an award, so you got nominated for an oscar, something a 9-year-old could do! She's adorable, Quvenzhane. She said to me backstage. "I really hope I don't lose to that old lady, Jennifer Lawrence." To give you an idea how young she is it'll be 16 years before she's too old for Clooney. 
Zero Dark Thirty is about… nags? Psycho ex-girlfriends?
And how great was Jessica Chastain in "Zero Dark Thirty"? Yeah. Playing a woman who spends almost 12 years tracking Osama Bin Laden. Twelve years. The film was a triumph and also a celebration of every woman's innate ability to never ever let anything go.