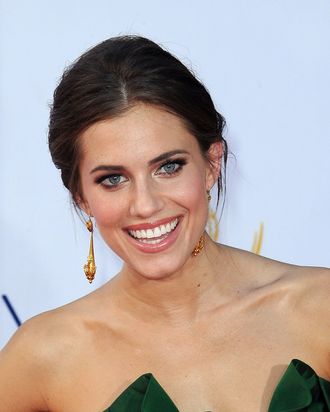 Girls star and sudden woman-about-town Allison Williams has penned an open letter to Twitter — published in Marie Claire — explaining why she refuses to join the site. Needing 3,333 characters to describe that decision, we doubt Twitter's dying to get with her either. Still, the letter, which insistently personifies the social network as an unsatisfactory but well-intentioned male admirer, is totally weird and neurotic and revealing.
Williams writes:
"In some ways, dating you would be good for my career. It's gross, but it's true. It's no surprise that a lot of other actors have gone out with you. Especially for newbies like myself, 'number of followers' is essentially currency. You would provide me with a quantifiable estimation of my popularity. That would help with brands, magazines, and movie studios. Even so, I just don't see the results justifying the risk involved."
By risks, Williams means being divisive, banal, or not as funny as she thought. "The thought that you would misread a joke makes me ill," she frets. Wonder where she got such crazy ideas about Twitter!