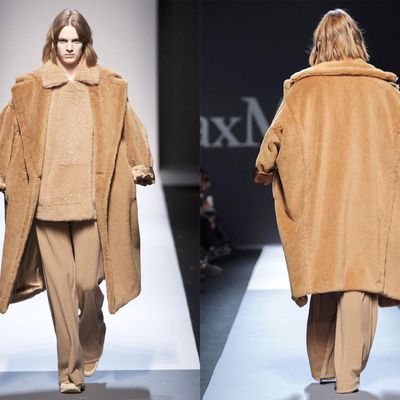 Max Mara's coat.
Photo: Imaxtree
Max Mara walked in Milan today, and although Hailee Steinfeld was wearing a cute pink outfit in the front row just after receiving the label's 2013 Women in Film Face of the Future Award, it was this enormous brown coat (shown above) that stole the show. Two parts grizzly bear, one part enormous stuffed animal, the coat was the collection's first look — a strong start out of the gate, and one of many fuzzy brown garments in the lineup.
It's obvious that furs are everywhere on the runways this season, to the point where if you want yours to make an impression, you have to really go for it. Technicolor stoles aren't outrageous enough anymore — designers are going bigger, fluffier, and ever more cartoonishly animal-like. Joseph Altuzarra took the honor of Most Outlandish Pelt at New York Fashion Week with his much-Instagrammed Cruella de Vil coat, but this Max Mara teddy bear getup gives him a run for his money.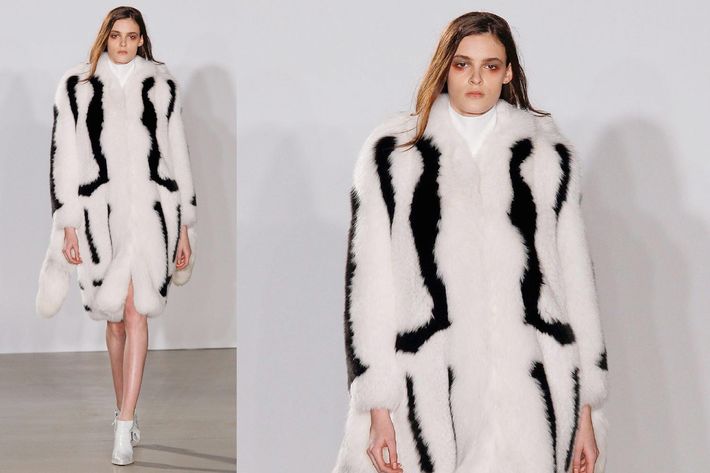 Indeed, this Max Mara coat is so over-the-top that it looks (and very well may be) faux, as did the stoles at the Marc Jacobs show, which had little eyes and ears. Perhaps that's the point, though — instead of muted fake furs that look real, we've turned to real furs so crazy they look fake (or are they even real to begin with?). Perhaps we'll all just walk around looking like Gund bears next fall. That actually sounds rather nice, doesn't it?