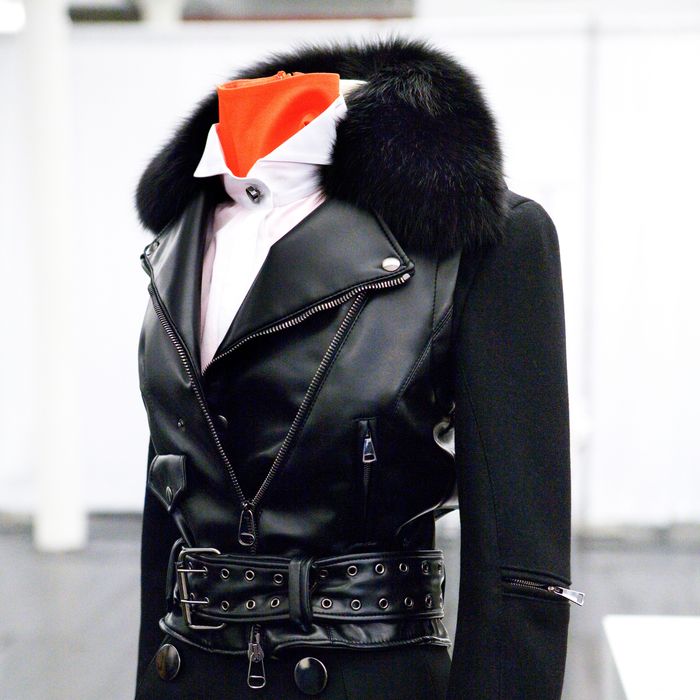 For fashion editors, the best part of Fashion Week comes after the show when we visit the various showrooms for a "re-see." Walking around through the racks, we get to nerd out on the fabric details and get a better understanding of the recent runway show — the hidden seams, the inner lining, the weight of a coat, and, of course, the back story behind each piece. At Altuzarra, always one of our first stops, we stroked the fox intarsia fur coat that launched a thousand Instagram photos into the virtual fashion sphere.
We learned about poly leather, a super-high-quality vinyl that the designer sourced for his line of motorcycle jackets and vests. Turns out it's just as warm, soft, and supple as the most buttery of leathers, but also lighter, waterproof, and wears down beautifully.
The collection, inspired by the textures of the street — gritty asphalt, glass, concrete, tar, and metal (and how they play together) — has a sense of  urgency. You can imagine a tough parade of Amazonian women clad in figure-hugging, black-and-white power outfits straight out of an early nineties supermodel spread, complete with towering dominatrix thigh-high boots. These boots do not take prisoners. Altuzarra's mom even named certain dresses after his favorite streets, like Varick, Hudson, Prince, and Spring. He also sometimes names pieces after his seamstresses in his studio and players on his team; the Jodie Dress, for instance, is a shout-out to his marketing director that we found super-touching. Click ahead for some highlights from our showroom tour.
See the complete Altuzarra fall 2013 collection here.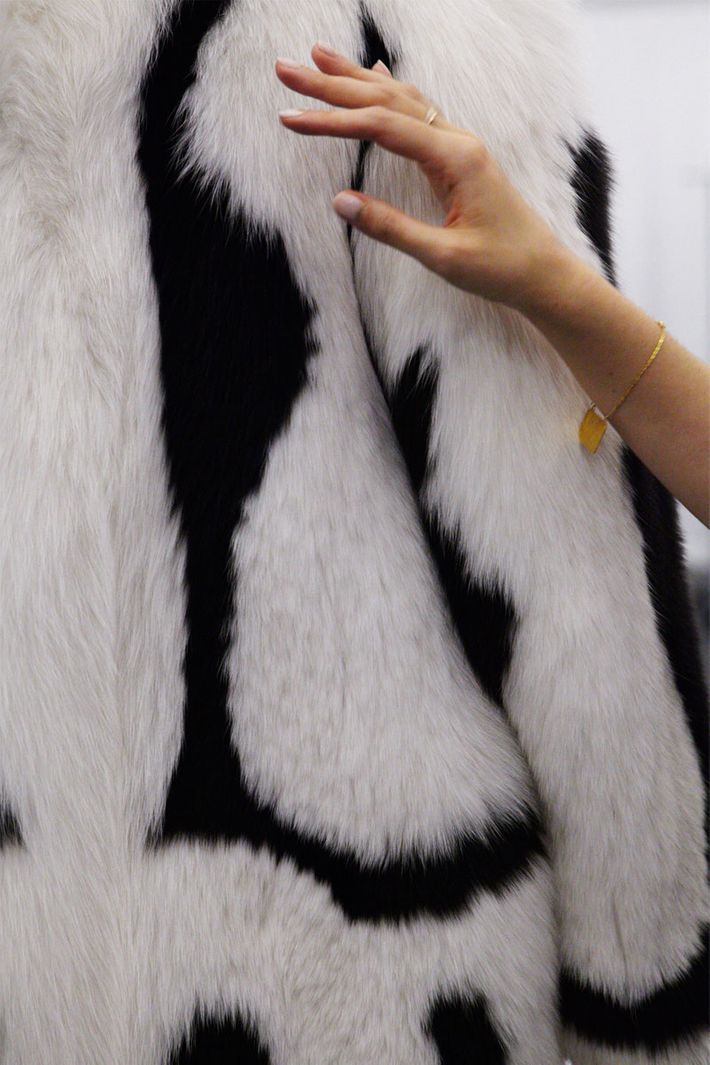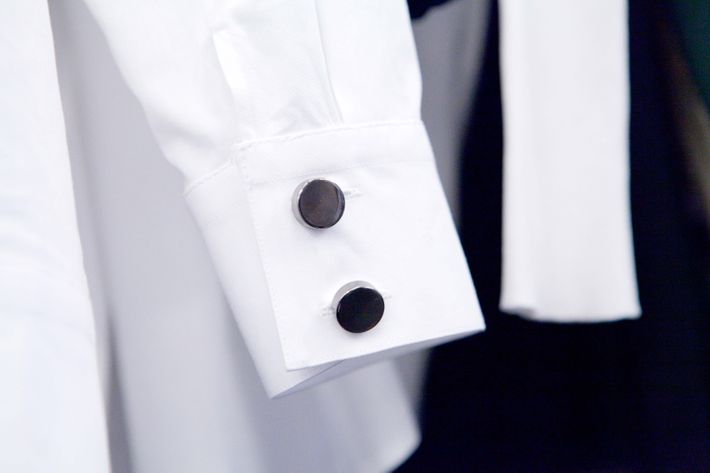 The buttons throughout the collection were large, rounded, metallic gunmetal that contrasted nicely against the crisp, white cotton shirts with corseted seams.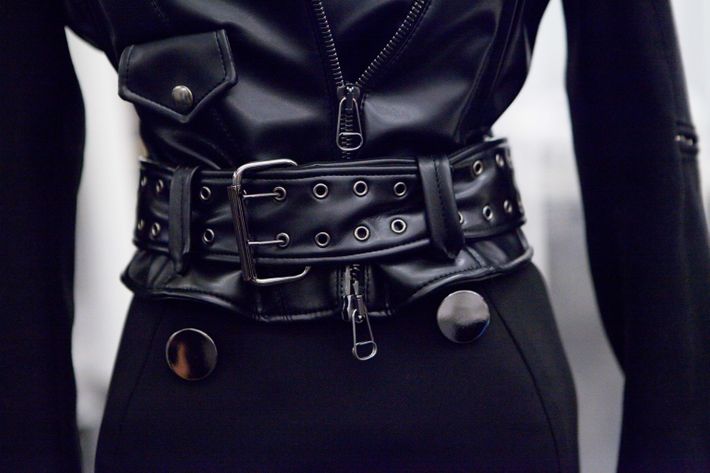 The details of the poly-leather motorcycle jacket, up close.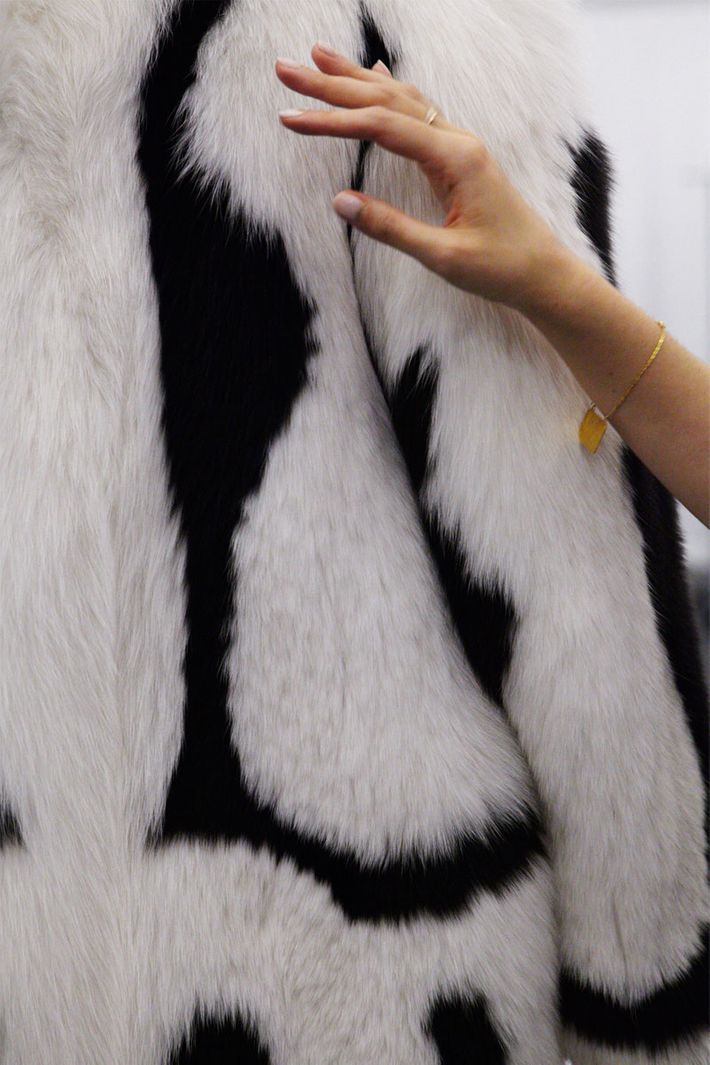 Just stroking the famous fox intarsia fur coat.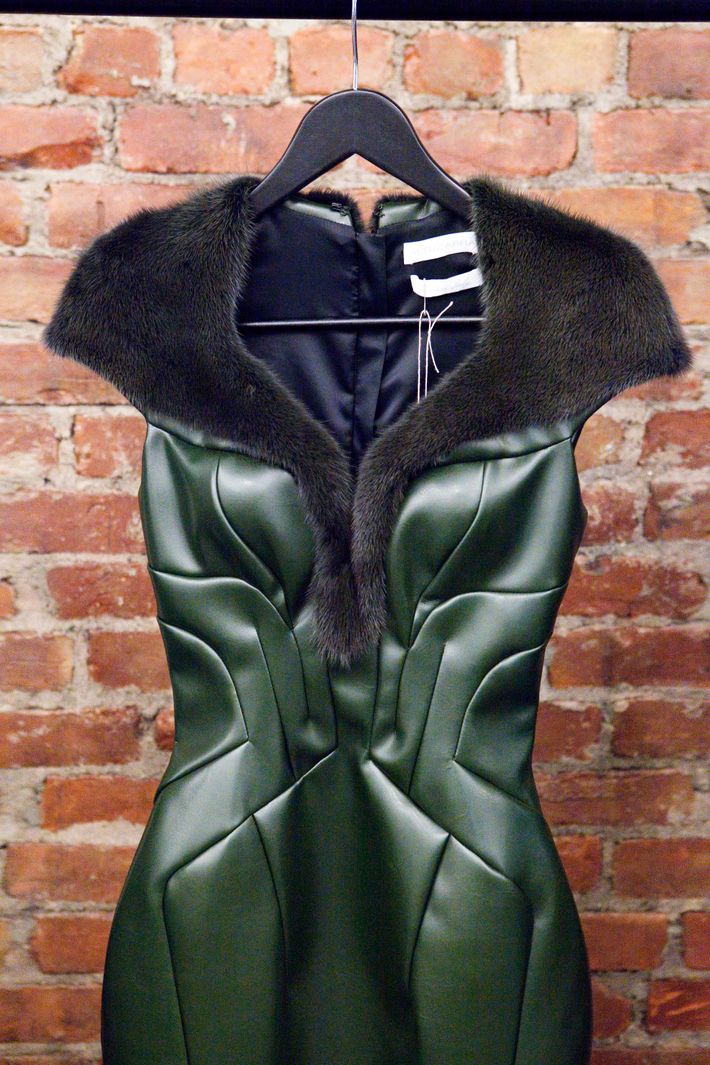 A poly-leather dress composed of inserts with padding molded at the hips. This trick gave the models a more exaggerated, figure-hugging curve on the runway.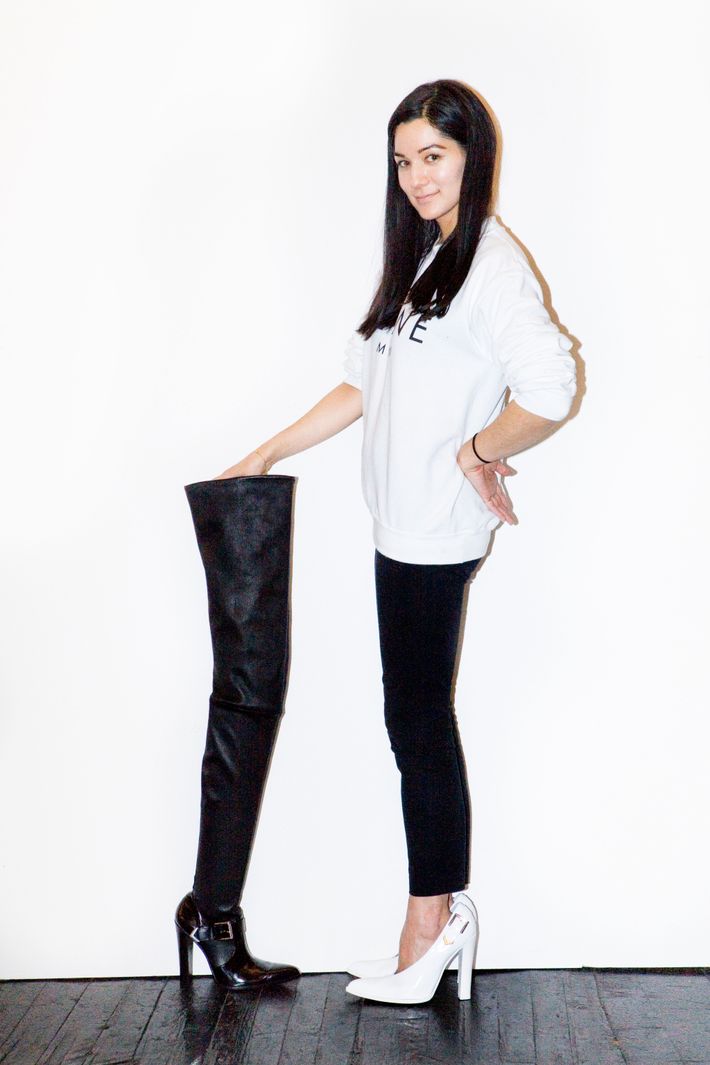 So you can see how tall these dominatrix boots are (or how short I am).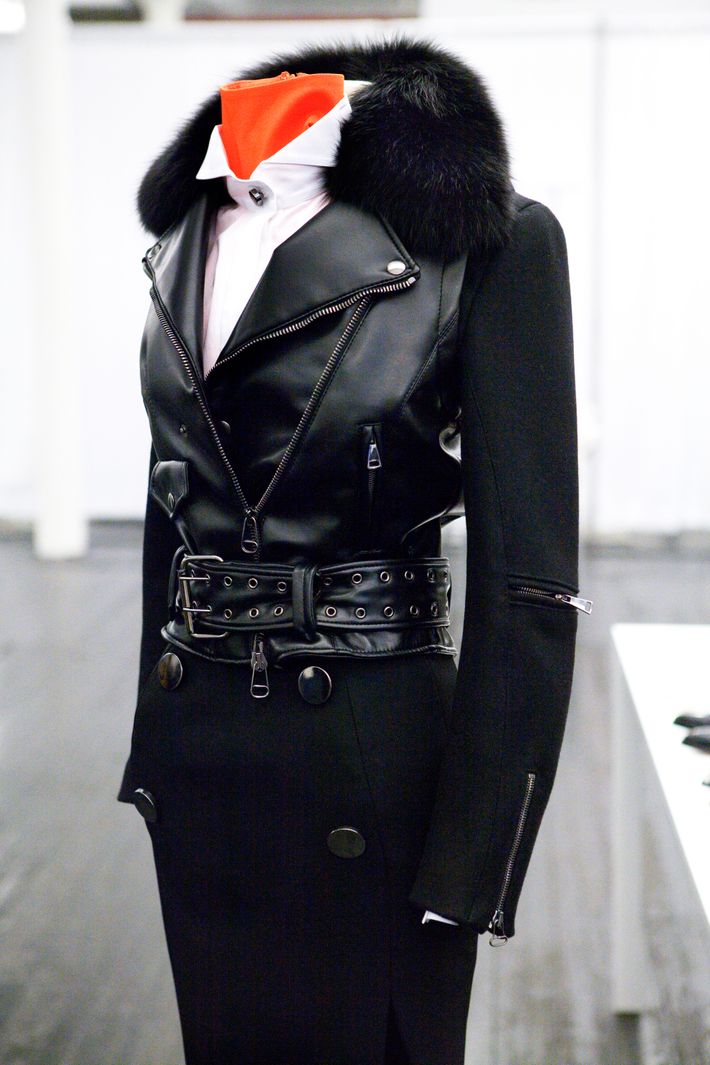 Altuzarra is a master at making tailored jackets that fit the back and shoulders perfectly. That's why we anticipate his poly-leather motorcycle jacket being supremely popular this fall.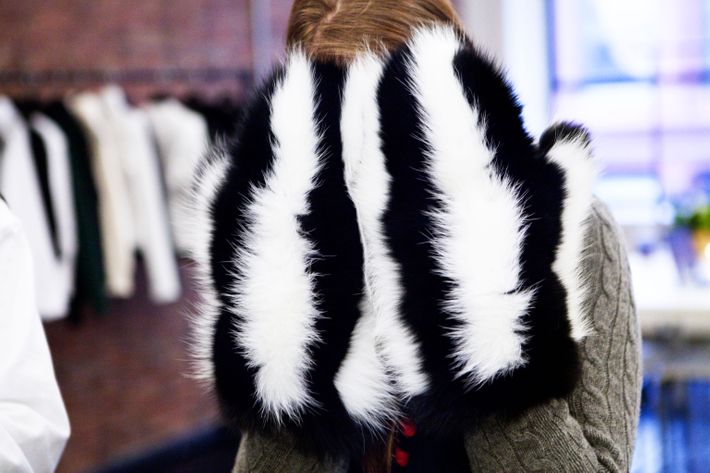 The lovely Margo hiding behind fox-fur boxing gloves that appeared on the runway.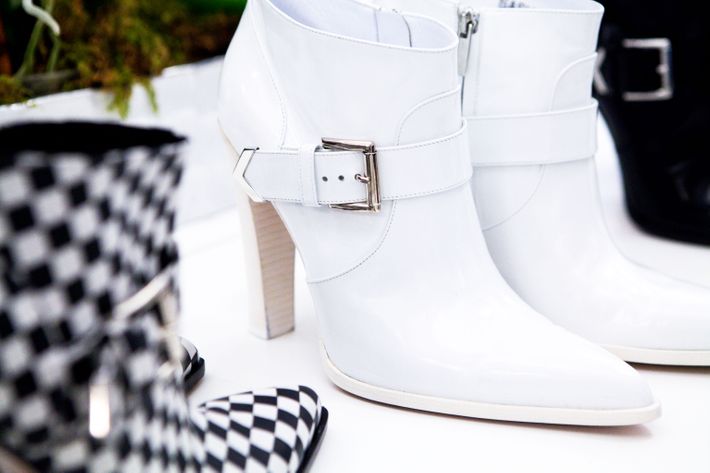 Black boots, white boots, and black-and-white-checked boots.