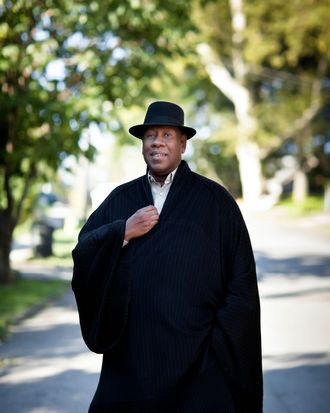 André Leon Talley took a break from a "typical André Sunday" yesterday — "waking up, going to Balducci's in Scarsdale, going right back home, staying on the computer, looking at Meet the Press, looking at TCM for an old movie, and just chilling," as he told the Cut — to host a discussion with Anjelica Huston and Donna Karan at Karan's Urban Zen. Huston had directed a short film to help launch Karan's new Hosiery Evolution collection, and we caught up with Vogue's editor-at-large shortly before the screening.
"I think what intrigued me was that they both have great legs, and I think this is a story about legs," he explained of the film. "I think legs are something that a woman uses in a certain way — that men can't use their legs the way women do." And what makes for nice legs? "What makes great legs," he continued, "is when a woman knows how to suggest a kind of sensuality with her legs in the way she walks, the pace of her walk, the way she sits, the way she crosses them at the ankle, the way she may curl in a chair with her legs under as Donna does, the way Anjelica perhaps sits in a very regal pose. I think that legs are very, very much a dynamic moment in a woman's life that can convey something very powerful."
So will he be looking forward to anyone's legs in particular on the red carpet at the Oscars? "Well, I'm looking forward to Jennifer Lawrence, whatever she wears," he added. "She's my favorite of the season. She'll be in Dior, and it will be brilliant. She's the new Dior girl. So far, she's done beautifully." But now, the only thing we'll be paying attention to is how she places her gams in that chair while waiting to accept her big award.