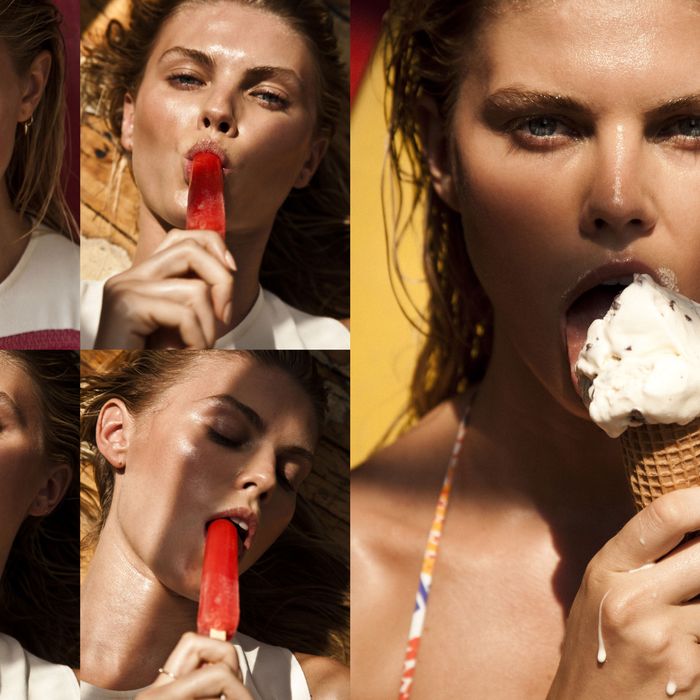 Maryna Linchuk shot by Victor Demarchelier for 25 magazine.
Photo: Courtesy of 25 Magazine
"Anja Rubik, 25 magazine in the house," boomed the D.J. "These people legit."
Crammed into the Darby at well past midnight on Sunday (or really, Monday morning), people were indeed legit, on many levels. Pink-haired Abbey Lee Kershaw, a jeweled bindi stuck to her forehead, bounced around and posed for pictures with Cara Delevingne, who kept her black beanie on all night. Natalie Massanet took tequila shots with Derek Blasberg. Model-slash-editor Anja Rubik bit into one of the many pomegranates scattered on the long dinner table, which was laden with apples and grapes and dripping candles. In the wee hours, Ryan Phillippe materialized quietly in a banquette. "It's very warm in here," said one of the guests, rolling up his sleeves. "Anja probably just wants everyone to take their shirts off."
Nobody wound up topless, but there was a lot of nudity in the room. The walls were plastered with pages ripped out of 25 magazine, the fashion/art/erotica publication that Rubik took over last year with the help of Italian backers Gabriele Moratti, Daniele Sirtori, and Giuseppe Modesto. Focusing on sexuality from a women's point of view, the magazine is a small operation run almost entirely by Rubik and her husband, Sasha Knezevic, who navigated the crowd at his wife's side.
Titled "A Woman Is Present," the second issue opens with a quote from artist Marina Abramovic, "Sexual energy is the source of creation." Rubik added in her editor's letter:
For me, starting this magazine has helped me channel the kind of sexual energy I find every woman to possess… The media operates on a paradox—it's no secret—where selling the notion of unobtainable beauty is allowed, while portraits of women just being women are simultaneously shunned. However, I still want to continue pushing the boundaries of what a female fashion magazine can be.
While the magazine's first issue was dedicated to and shot entirely by female photographers, the latest one focuses more broadly on female artists and designers, and includes profiles on Stella McCartney, Isabel Marant, Clare Waight Keller, Gaia Repossi, Tabitha Simmons, and Rick Owens muse Michèle Lamy. Rubik included male photographers this time as well, like Markus Jans and Victor Demarchelier (whose erotic images of Maryna Linchuk are shown in our NSFW slideshow, here). We grabbed a few minutes on the phone with Anja this morning — she's been up since 7a.m., and admitted she barely slept — to discuss her latest issue and the backlash against the publication's sensual content.
You mentioned that there was a negative reaction the erotic nature of your first issue. How do you mean?
The way that people reacted to it — even journalists — everyone was shocked and found it very provocative, which I really don't think it was. And a lot of places wouldn't sell the book because they said it was too extreme. We had to tone down the original layout because people wouldn't print it. I thought that was really funny, because there's really no vulgar imagery in there, or anything aggressive or violent. It was about celebrating beauty and women and their sensuality and achievements. Even some people our age didn't know what to do with it. And meanwhile, my mom was really cool about it, and she loved it and thought it was fabulous.
That's interesting, considering how much porn and violence is sold everywhere.
Yes. I actually read Fifty Shades of Grey this year, and I was really disturbed by how popular it was. I really didn't connect with it all, not because of the sexuality, but because I thought it was bad literature. [Laughs.] And that book was really graphic, but 25 magazine wasn't okay?
What other disconnects do you see between sex in pop culture and the kind of sexuality portrayed in 25? 
Well, my Instagram was canceled three days ago for posting "inappropriate content." They objected to an image that a photographer sent to me that was really beautiful, but in the corner you could see maybe three quarters of a nipple. They took my Instagram down immediately. And Instagram is supposed to be a platform for creative outlets, but in the meantime it's very conservative and there are so many restrictions. So it's funny to see that kind of reaction. It's so strange to me that people are opposed to that, while there are so many other things in the media that are directly a bad influence on society, like images with very young schoolgirls and things like that.
Update: 25 magazine's party was produced by Anthony Coppers from WCMG Events.
25's second issue comes out today, and is available here. Warning: Slideshow NSFW.