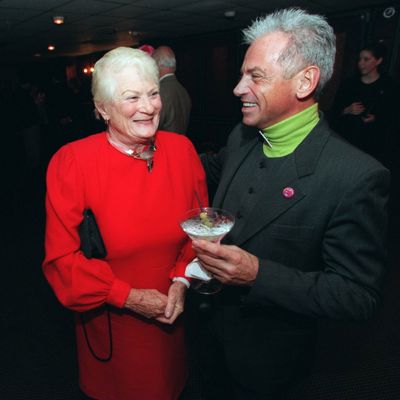 Fiandaca (right), with client Lois Torf in 1998.
Photo: Boston Globe/Getty Images
Alfred Fiandaca, the 72-year-old designer favored by Ann Romney on the 2012 campaign trail, died in New York on Saturday after suffering a stroke, the Times reports. He is survived by two children, Michelle Fiandaca and Alfred Fiandaca, and his spouse, floral designer Carl Bartels, whom he married in Massachusetts five months ago.
Born into a family of garmentos, Fiandaca dressed politicians' wives on both sides of the aisle, including Nancy Reagan, Lady Bird Johnson, Muriel Humphrey, Kitty Dukakis, and several of the Kennedys. When the Cut interviewed him in October, he described his preferred aesthetic:
My clothes are clean and classic. I have always said that a man wears a suit for seven to ten years, so why shouldn't a woman be able to? If you're spending good money for an outfit, then there's no reason you wouldn't wear it again and again.
Although he characterized himself as "apolitical," he did support Mitt Romney, whom he knew personally from years spent living in Boston. He told the Cut:
I vote for the man, not for the party…  I just go with my gut, and I know this man, and he's funny and he's an honest person. He's not someone who's just giving us B.S. and telling us what he thinks we want to hear. Yeah, this abortion issue offends me. However, I don't really think that's him in his heart, and it may be just the Christian right pushing him, but once he gets in, he'll be the man he is and true to himself.
Despite his social prominence in Boston and Palm Beach, Fiandaca was always humble about his well-heeled clients. "I'm really very happy doing what I do and being appreciated for what I do, but I'm not a public person," he said.
Update: After three months of silence following the presidential election, Ann Romney returned to Twitter to memorialize Fiandaca: "Heartbroken over the loss of my dear friend Alfred Fiandaca. My thoughts and prayers go out to his loving family and dedicated staff."