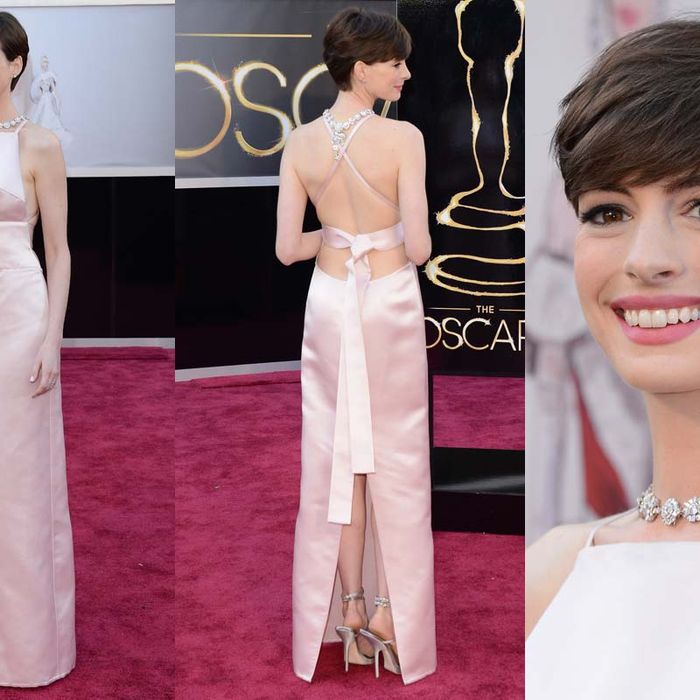 Anne Hathaway.
Photo: Getty Images
Anne Hathaway told reporters at the Oscars that she decided to wear her pale pink Prada dress just two hours before the show, which is practically equivalent to getting dressed in the car on the way there, as these red carpet looks often take weeks of planning. Her decision was so last-minute that Valentino's team thought their dress was in the bag, and jumped the gun with their press release before Hathaway actually appeared on TV, causing some outlets to misreport her look's designer credit. Awkwardness ensued, and Hathaway released the following apology about the whole situation yesterday. Via WWD:
It came to my attention late Saturday night that there would be a dress worn to the Oscars that is remarkably similar to the Valentino I had intended to wear, and so I decided it was best for all involved to change my plans. Though I love the dress I did wear, it was a difficult last-minute decision as I had so looked forward to wearing Valentino in honor of the deep and meaningful relationship I have enjoyed with the house and with Valentino himself. I deeply regret any disappointment caused.
So what was the "remarkably similar" dress that made her "change plans"? Perhaps it was Jennifer Aniston's, another red Valentino gown. (Of note: Best Actress nominee Sally Field also went with Valentino.) Interestingly, both Aniston and Hathaway share the same publicist, Stephen Huvane.
Many were surprised that Hathaway chose Prada, as she has a long-standing relationship with Valentino (they shared a ski-lift ride over New Year's!) and has worn his designs on many hallmark occasions, including the 2011 Oscars and her own wedding. But why would an actress feel the need to apologize for her own outfit? It appears the problem was her team's miscommunication with Valentino, not her ultimate choice to wear a different designer. Although some might argue that pink dress merited an apology in and of itself.