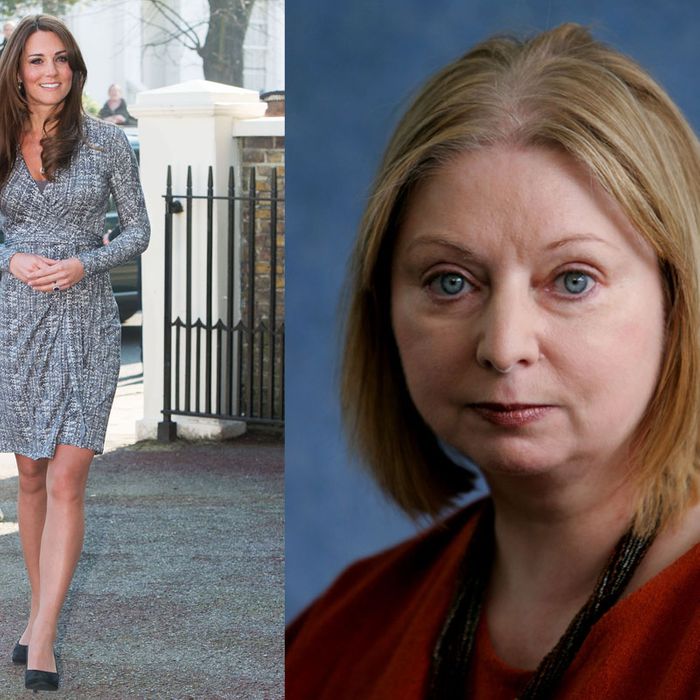 Photo: Getty Images, Corbis
If you slept late this morning, you might have missed an exciting couple of hours when our friends in the U.K. were forced to choose, in a Twitter battle royale, between two female national treasures: award-winning novelist Hilary Mantel and Catherine, Duchess of Cambridge. It all started when Mantel gave a lecture earlier this month about the history of the female body in monarchy, which was then printed in the London Review of Books. When Mantel reanimates dead British monarchs in novels like Wolf Hall and Bring Up the Bodies, she gets lots of medals, including one from the Queen herself. When she applied her descriptive powers to the living Duchess Kate, the tabloids sniffed out a controversy worth glossing over Mantel's subsequent, sympathetic critique for.
To make hay, outlets from the Daily Mail to the BBC quoted Mantel's more colorful descriptions of Kate ("She appeared to have been designed by a committee and built by craftsmen, with a perfect plastic smile and the spindles of her limbs hand-turned and gloss varnished"), conveniently ignoring her larger point: Vacuous media coverage of the monarchy perpetuates the sexist tradition of reducing royal women, and most women, to their biological functions. (Is it safe for a baby bump to play field hockey?) Instead, the catfight coverage presented everyone a chance to choose sides. Are you Team Pretty Pregnant Princess, or Team Shrewd Old Novelist?
Predictably, CNN's Piers Morgan chose Team Bullied Pretty Lady. "Painfully vile > Hilary Mantel," he tweeted. Stranger is that Prime Minister David Cameron entered the fray to say that even though Mantel's books are "great," she's "completely wrong" about Middleton. She's so not, as Mantel put it, a "shop-window mannequin" who's been restricted to her duties as "royal vagina." He told the BBC:
"What I've seen of Princess Kate at public events, at the Olympics and elsewhere is this is someone who's bright, who's engaging, who's a fantastic ambassador for Britain. We should be proud of that, rather than make these rather misguided remarks."
It would be a lot easier to be proud of bright Kate if she were allowed to talk, but as long as the Prime Minister is responding to London Review of Books articles, can he please tell us what he thinks about Mali, William Styron's letters, and the San Francisco tech boom?
The episode demonstrated the perennial frustration of being a woman who writes about women. If she criticizes, even sympathetically, the choices women make in a sexist world — like, in Kate's case, entering a relationship that unjustly requires her to be a mostly silent clotheshorse and biological vessel to the heir — the writer is dismissed as "catty." Or, to the real reactionaries, misogynist. To one critic, Mantel having an opinion makes her, no joke, uppity: "Would she have dared with only one Booker!?" (Mantel was the first woman to win the prize, the U.K.'s top literary honor, twice.) Even Hugo Schwyzer, that bro who writes for Jezebel, called the lecture "ugly and shamy and indefensible" before he bothered to read it. As if Mantel — who concluded her lecture by saying we should ignore the implicit invitation to treat the royal family like zoo animals — were Kate's enemy. Above, like, tabloids like the Daily Mail. She said:
"We don't cut off the heads of royal ladies these days, but we do sacrifice them, and we did memorably drive one to destruction a scant generation ago. […] I'm not asking for censorship, I'm not asking for pious humbug and smarmy reverence. I'm asking us to back off and not be brutes."
Predictably, the episode ended with people who didn't read the lecture but think they're clever concluding that "fat, ugly, old crone" Mantel must be jealous of Kate's looks. "Ugly women should never, ever criticise beautiful women," is something a real person appears to have tweeted, in 2013, although we pray it's just a very advanced bot. To that end, one small consolation is that Mantel wrote a memoir in 2003, which included the thyroid problems that caused her weight fluctuations. So anything nasty you could think of to say about her appearance, she's already said herself, and much more eloquently.