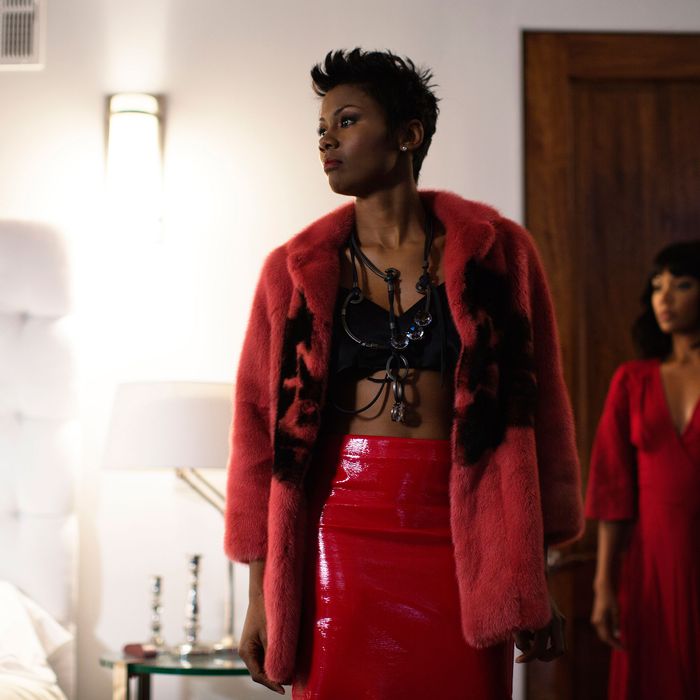 Photo: Brigitte Lacombe for Miu Miu
"Every time a woman makes a film it is a political act, in my view, whether we mean it to be or not," says Ava DuVernay, the latest director to collaborate with Miu Miu on its Women's Tales film series (airing Monday on MiuMiu.com). A career PR exec., DuVernay was a dark horse at last year's Sundance film festival but took home the Best Director Award for her second feature film, Middle of Nowwhere — and was the first African American ever to do so. Her new collaboration, The Door, is technically a fashion film, but what caught our eye was the beautiful (all-African-American; all-female) cast — Gabrielle Union, Alfre Woodard, Emayatzy Corinealdi, and Adepero Oduye — who deliver strong and emotional performances — especially for a fashion film. We took a break away from the hustle of NYFW to talk with her about friends, taking chances, and being a female director in a male-run industry.
The Cut: So how did this collaboration start?
Ava DuVernay: I got a call from my agent saying that Miu Miu had called. This was maybe two months after the Sundance win (this time last year) and they called and basically offered it to me. I had never worked in the fashion-film side of things.
The Cut:  But you do usually tell stories from the perspectives of women?
AD: Maybe that's it. It was a totally fresh opportunity, something that I had never thought about wanting to do. It's kind of cool when something you never fathomed doing drops into your lap.
The Cut: Can you describe the narrative you're trying to tell? You have an amazing cast of actresses.
AD:  It's really a story about friendship among women. I think that women definitely have a special bond as friends that is hard to describe to men, and we don't often see that portrayed narratively. There is a certain magic and mystery to the friendship of women, and that's really what I wanted to portray. I think I am a little jealous of women who have great girlfriends as adults.
The Cut: It's a really rare thing.  So tell me about the role of Miu Miu in the film.
AD:  The Miu Miu collection was infused with both a strength and vulnerability that was very beautiful. I let that idea guide me though the writing and production process. The cool thing about Miu Miu is that they were very clear that they didn't want or need the clothing to be at the forefront of the narrative. "Tell the story the way that you want to tell it." Well, they have to be wearing clothes so they'll just be wearing Miu Miu. So the goal is to create something emotional and let the clothing adorn that.
The Cut: As it should. So when did you first have that inkling for directing?
AD: I didn't have a desire to make film until I was 29 or 30. And it was only because of the proximity to filmmakers. I thought, "I work hard, I tell stories, I'm gonna do this." So that's really what it was, this contagious action.
The Cut: How did you go from being a marketing entrepreneur to being a director?
AD: Underneath every excuse is just the fear of doing it. But I just didn't want it to be a dream deferred. I did it all in secret. I wrote on the weekends and at night, I made a short first that I didn't want anyone to see. Then I made a documentary about a subject that none of my clients would watch. It was a hip hop documentary about a very small subset of artists in South Central. It wasn't until Roger Ebert wrote an amazing review for my first feature with actors that the first client called and said, "Do you know there's another woman named Ava who has a film out right now?" I was like, "Mmm yeah no that's actually me." I had to tell this client that I was making films.
The Cut: How did you handle working on your first films and juggling your company at the same time?

AD: My dearest friends became dearer during those first films. They never ridiculed me for wanting to become a filmmaker in my thirties. They embraced my dream wholeheartedly, doing everything from craft services to standing in as extras to just cheering me on in general. I'm very lucky in that department.