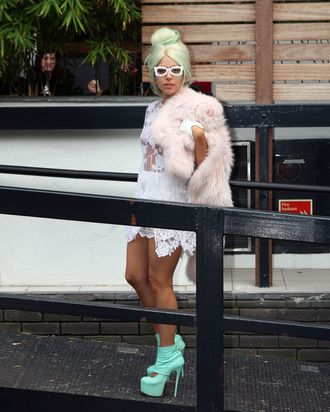 Photo: Neil Warner/Corbis
Jennifer O'Neill, a former assistant to Lady Gaga, is suing the star for more than $393,000, plus damages, to compensate for working 7,168 hours of unpaid overtime. From the Post comes some of the choice language Gaga used during her sworn deposition.
1. Fucking hood rat. Context: Gaga invokes the furor of 2 Live Crew, calling O'Neill a "f—king hood rat who is suing me for money that she didn't earn."
2. A long fucking day. Context: Gaga inquires whether O'Neill has a staring problem, because if so, it's "going to be a long f— king day."
3. I am going to tell you exactly what fucking happened. Context: Gaga plans to be as thorough as fucking possible, so that O'Neill's lawyer, Paul Millus, can better understand the intricacies behind the dispute.
4. Bullshit. Context: Gaga says to no one in particular, "This whole case is bulls—t, and you know it." A bit gratuitous, if you ask me.
5. Terry Richardson. Context: Gaga describes the benefits that came along with O'Neill's job: "She slept in Egyptian cotton sheets every night, in five-star hotels, on private planes, eating caviar, partying with [photographer] Terry Richardson all night, wearing my clothes, asking YSL [Yves Saint Laurent] to send her free shoes without my permission, using my YSL discount without my permission." Terry Richardson are two of the filthiest words in our lexicon.
6. Doing shit by myself. Context: Gaga notes the serious issues she faced while traveling. "I weigh 115 pounds, and I was trying to move these huge, big luggages all by myself in the room, and I did it all the time … I was very often waking up and moving my own luggage and doing s—t by myself." 115 pounds — make sure you get that on the record.
7. Fucking Tetris. Context: Gaga explains that when you're her assistant, "you don't get a schedule that is like you punch in and you can play f—king Tetris at your desk for four hours and then you punch out at the end of the day. This is — when I need you, you're available." Dude, we play Angry Birds.
8. Shit hammered. Context: Gaga remarks that after the fall 2011 Thierry Mugler show, she and O'Neill "partied until 5 in the morning, we got s—t hammered, I was crawling on the streets in Paris, I was screaming." Pause for introspection.
9. You're not my fucking friend. Context: Gaga recounts the beginning of the end for her and her former assistant — O'Neill "flipped out" in front of T—ry Rich—dson because she wanted to sleep in the second bed on Gaga's private plane. O'Neill pled, "Don't I get some sort of seniority because I've been here longer and I'm your friend?" And Gaga thought, You're not my fucking friend. Said twice for emphasis.