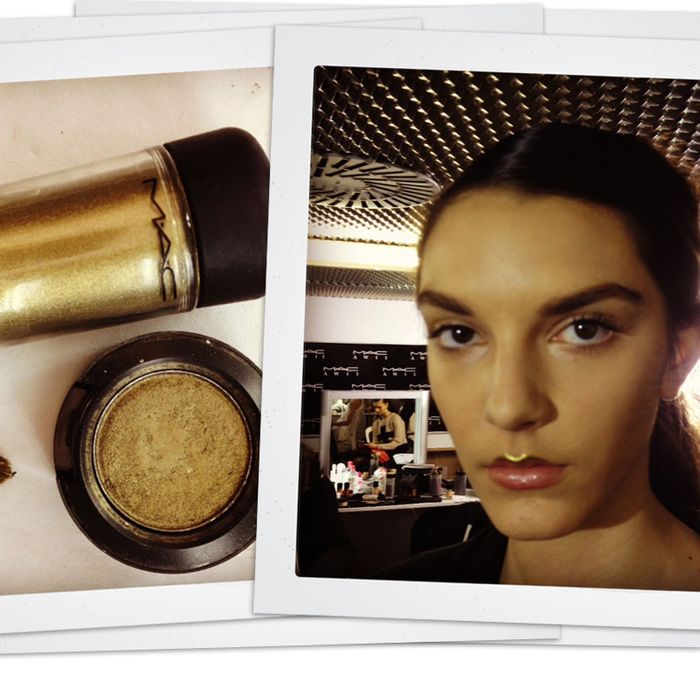 All week, the Cut is live at Paris Fashion Week, bringing you the best in backstage beauty tips.
Backstage at the Aganovitch show in Paris, makeup artist Max Delorme was spotted delicately outlining models' cupid's bows with gold paint. "The collection is really powerful with lots of volume and color," he said, while mixing yellow cream pigment with a dot of MAC's greenish Old Gold pigment onto the back of his hand. "So the makeup is pure and minimalistic, which looks futuristic; the gold on the lip also acts like jewelry." While painting high-impact gold pigment onto the lip (with nothing else) might not be an everyday thing, popping on a touch of your own pearlescent highlighter to that point on your lip will further define and accentuate the shape of your mouth.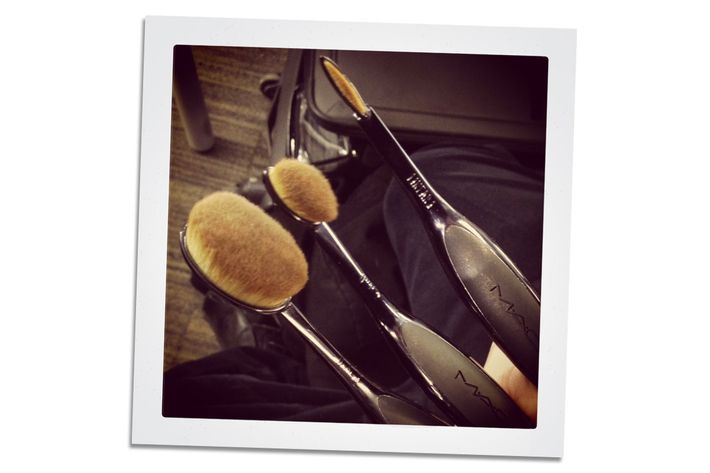 "When I first started at MAC, I'd always ask 'what's this brush for?'" asked makeup artist Christopher Del Castillo while showing-and-telling MAC's new trio of brushes that look like deluxe versions of the angled Reach toothbrush. "I finally learned to not even ask anymore and let it be whatever I want it to be." Ergonomically angled with ultrasoft, dense synthetic bristles, he uses the largest head size to apply highlighter to cheekbones and blend in contour colors. The mid-size one is used to apply eyeshadow ("it fits perfectly inside the crease") while the smallest and thinnest version is used to apply foolproof eyeliner. "It's even curved to fit the contour of the eyelid and is the easiest eyeliner brush MAC has." There's no word yet on when they'll be available, but judging by a quick sweep around the room, it looks like no makeup artist's kit is complete without them.