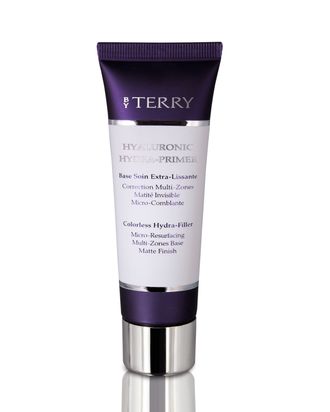 Photo: Courtesy of By Terry
Q: Will a primer make my complexion look better? And will it clog pores?
A: "For years I thought primers were unnecessary — just another heavy, pore-clogging layer," says makeup artist Pati Dubroff, "but when I actually used a mattifying primer, I became a total convert. It acts as a soft-focus lens to diffuse wrinkles and make pores less visible, and allows me to use almost no powder at all." Her primer of choice is By Terry Hyaluronic Hydra-Primer because it's lightweight, mattifying, and hydrating, but she doesn't slather it all over.
"You only need a tiny bit. I apply a minimal amount in the T-zone, and over any fine lines around the eyes or mouth." Similar to prepping a wall before painting, makeup primer creates a smooth surface that allows foundation to glide on easily, and helps it stay on longer while keeping shine in check. The ingredients that produce these results are silicone cross-polymers and minerals, such as talc, zinc oxide, silica, and clays like kaolin. (These are also commonly found in BB or CC creams that build a primer into their formula.)
Putting on a slick silicone makes people prone to breakouts understandably nervous. Cosmetic chemist Jim Hammer emphasizes that "modern silicones are very light and don't tend to cause buildup problems and clog pores." And there are silicone-free options out there: "Natural primers rely on pigments, mineral powders, starches, and natural waxes to fill in pores and wrinkles," he adds. So who could use a primer? "A 20 year-old with a perfect, poreless complexion doesn't need a primer, although I use a little around the nose and chin so I can forfeit foundation and powder," says Dubroff, who uses this trick to groom guys on photo shoots. "If your pores are in any way visible (even just to you), or if you have fine lines around your mouth or eyes, or if you tend to get shiny, then primer is golden."