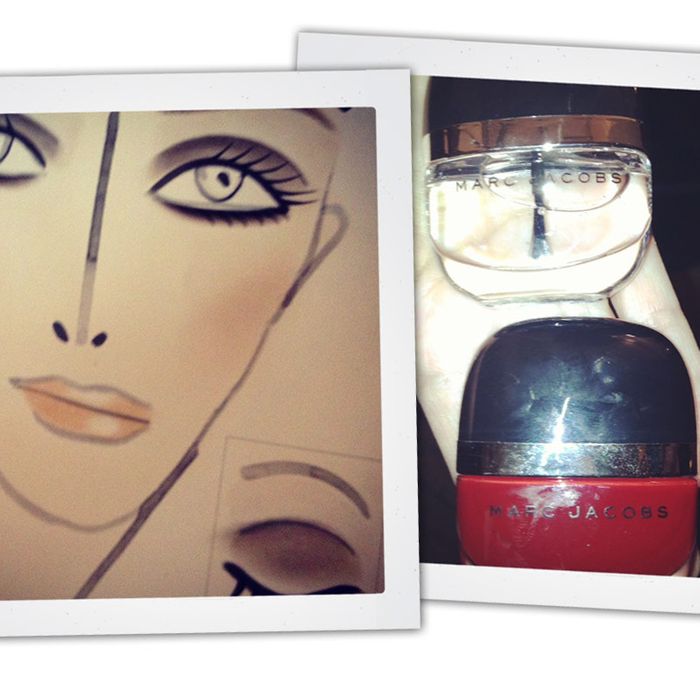 The giant orb of orange light — basically an Instagram filter IRL — emanating from the Marc Jacobs runway cast everything with a sepia-toned wash. "There's no color in the makeup look because you wouldn't be able to see it with that light," said makeup artist François Nars. The look he settled on focused on a Marianne Faithfull-inspired smoky eye. "It's very edgy with a touch of rock and roll." That last part was reinforced by hair stylist Guido Palau's Joan Jett wigs, which were hairsprayed to such shiny extremes, you'd think they were actually glistening with rocker sweat.
The two nail shades models sported are part of Jacobs's own collection of polishes (coming out next fall). "This rich red has so much pigment that I only need to use one coat," said manicurist and longtime collaborator Elisa Ferri of the pedicure shade Jezebel. "The manicure is a clear polish; they have an ultra-shiny, lacquered finish which looks completely rocker." That high-shine formula was requested by the designer himself to match a custom coffee table of his that has thirty coats of lacquer and, always considering the details, Jacobs even designed a rounded brush to hug the natural curve of nails. Genius! Maybe manicuring our right hands will be a little easier come fall.
See the complete fall 2013 Marc Jacobs collection here.