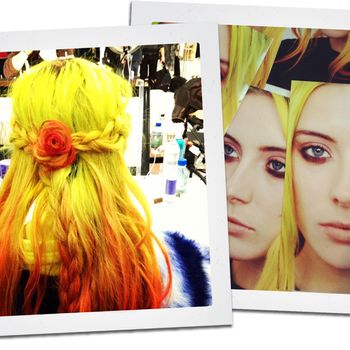 Photo: Photos by Christina Han
The Mulleavy sisters' fall collection was inspired by the good vibrations of California's sunny beaches, so naturally James Kalliardos's makeup look was unfussy and just a little worn-in. "You know when you've been out on the beach and you're wearing  mascara, it melts from the humidity?" asked Kalliardos backstage at Rodarte. "We're faking that same look here." He drew focus to the eyes by smudging dots of gel liner along the lower lash line with a mascara wand.
For surfer-chic hair, Odile Gilbert braided two sections on either side of the head, just above the ears, and tied them together at the back, curling the ends and twirling them into a rosette. Some models wore gold and silver barbed-wire crowns crafted by the Mulleavys, and some — ahem, just Chloe Norgaard — sported fluorescent citrus hair. "I do it myself with Manic Panic," said the catwalk queen who was cast as an exclusive for Rodarte. Well! Okay then.