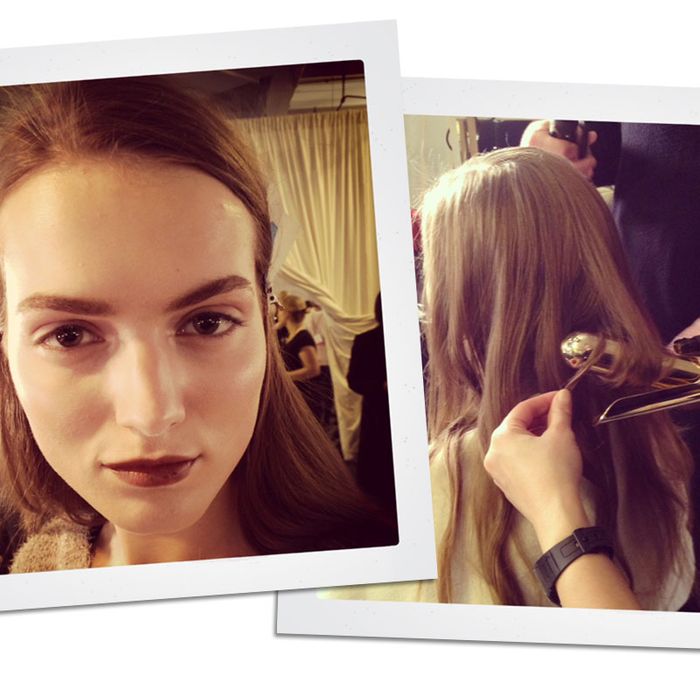 Photo: Photos by Christina Han
At 3.1 Phillip Lim today, the beauty look was that of "an uptown, sophisticated girl with a bit of an edge," according to NARS makeup artist Francelle Daly. "She either has a rocker boyfriend or is in a band herself; she'll take time to do her makeup but it isn't overdone." Daly created a "real skin" look with NARS Radiant Cream Compact foundation (available in August) and a touch of highlighter in Miss Liberty. Rich lips were the key feature, with a combination of the chocolate-brown Kenya lip liner and Mambo, a red-brown eyeliner, layered over lip balm.
Hairstylist Paul Hanlon envisioned a "spontaneous" look, like when random strands get caught under coat collars. That sounds like what we wear pretty much every day, but here's how to create the fancy version. Hanlon added mousse to damp hair, then blow-dried it with a round brush for volume. He then made loose waves with a 1.5-inch curling iron and tousled the hair with fingers, hair spray, and styling cream to give it the messy finish. For the runway, Hanlon pinned up random sections, but for everyday just leave it loose and wild.