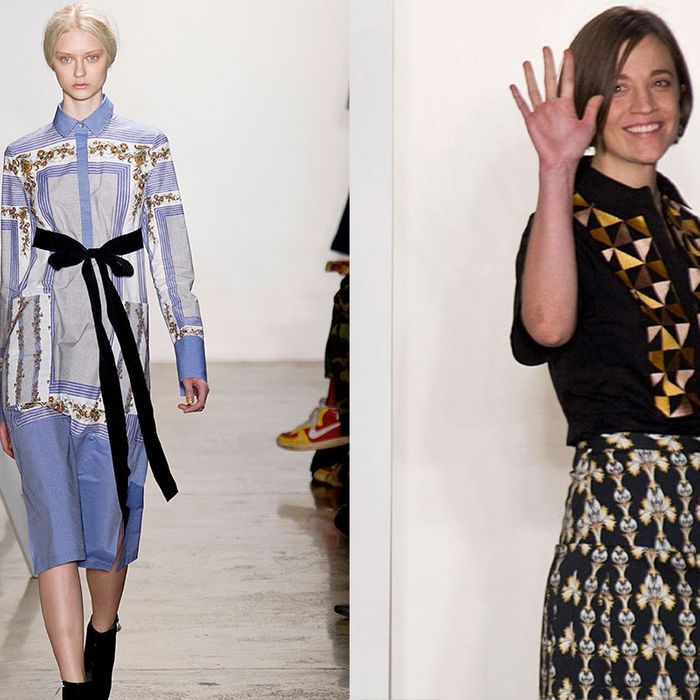 During yesterday's blizzard, many of us were thinking the same thing: Wow, it must suck to be a designer having to show in this storm. Would their clothes, sets, and models arrive on time? Would they show to an empty room? Those of us who braved the storm know that it did, indeed, suck. But it turns out that for one designer, Erin Beatty—who co-designs Suno with Max Osterweis—the storm sucked just a little bit more. When we ran into Beatty at 1 a.m., she wasn't so much complaining as letting it all out over multiple, much-needed cocktails at her label's rather excellent after-party at the Jane Hotel.
"Yesterday was my birthday," she began. "Most depressing birthday ever." Her February 7 birthday used to fall in the calm week before NYFW, but now that the schedule has been moved up, it's totally harshing on Beatty's celebration. "Now it's like whatever," she said. "My boyfriend was out of town, my sister was out of town, I got home at eleven-thirty. All my friends were like, 'Come meet us at this fashion party.' I was like, 'I'd rather die.' So I just turned on the television and watched Jenny McCarthy on Bravo Watch What Happens Live. It was depressing. Cheers to being past the birthday."
At least she and Osterweis were past the stress of putting on a fashion show in a blizzard, too. Many of their models showed up late, after driving in snow from the Helmut Lang show, which was also running late. And Anna Wintour didn't come. This was the first season she'd RSVPed to the show instead of previewing the collection. "We're like, 'Wow, the first time! How amazing! How exciting!' And then she RSVPed no at the last minute due to the blizzard and due to the fact that she didn't feel well," said Beatty, who at least saw a silver lining in La Wintour's absence. "The truth is I love Anna and I'm very eager to hear what she has to say about the collection, but it took a lot of pressure off."
This past year, Suno had the honor of being picked as a finalist for the CFDA/Vogue Fashion Fund for the second year in a row — and the disappointment of not winning it, or even placing, for the second year in a row. "We did it twice. We officially lost twice. And I think we're officially done," said Beatty. She was quick to add, though, "We appreciate everything the CFDA/Vogue Fashion Fund has done for us. They're not lying when they say to participate in it is to win, but we were really bummed not to place this season. All I wanted was to be like, 'Hey, we are still in there! Do not forget us. And FYI, we're good.'" At least she's gained comfort with La Wintour and made great contacts, like having Theory founder Andrew Rosen and J. Crew creative director Jenna Lyons in her phone. And she and Osterweis learned a lot. The most important lesson? "Never to expect to win," Beatty said, laughing.
That night, Beatty was anxious to hear what the world would think of Suno after this collection. "We were so scared because we made something that felt kind of different and new for us," she said. Namely, they'd used a lot of black instead of their usual explosion of prints. Why? "Honestly because fashion's exhausting right now. She and Osterweis felt they had to stop being so specifically associated with prints and open up for a broader appeal.
Post-birthday, post-blizzard, post-Anna-no-show, there's a lot of work to be done. Beatty has a side gig consulting for Tory Burch, which she's really excited about. Plus, Suno has to get in more stores to be successful. But all in all, the night wasn't so bad. "My favorite nights in New York are all blizzard nights," said Beatty. "So as kind of upset as I was, I was actually more pleased than anything because there's something about a blizzard where people are like, 'I got here. It's my last thing of the night. I'm cool.'" At that moment, some friends came by with a bottle of champagne and wished her a happy birthday. Her face lit up, and she got another drink.