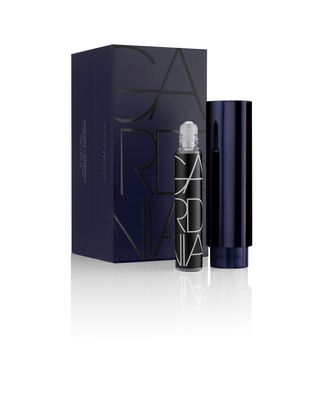 At first glance, this dark and cylindrical canister looks like a spy gadget of sorts, or a sleek tube of Mace. Instead, it's the refillable perfume oil roller ball case for Terveer, the latest scent project from sisters Annie and Therese Gibbons, who made a name for themselves as the founders of Alora, a home-fragrance line. "We've wanted to do a perfume oil for so long," Annie said of the collection they named after their mother, Mary Terveer. "It's so much more personal than a spray of perfume."
On your first purchase, you'll get a roller ball vial of fragrance packaged with an "alum," their version of a refillable perfume bottle. These metal-and-navy vials are TSA-approved and durable enough to get tossed about in your bag, so you won't have to buy another alum again (unless you lose it).
There are three scents to choose from, each inspired by the sisters' memories. Incense, which conjures up their childhood years spent catherdral-snooping in Italy, is comprised of sweet bergamot, burnt firewood, black patchouli, and musk. The notes in Green (fresh ivy, sweet pink pepper, fig wood, vetiver, wet oakmoss) take them back to their family's home in southern Minnesota. And the third scent is Gardenia, one that the sisters always wanted to make for their home-fragrance line but couldn't due to budget constraints. "I wanted to capture true, Hawaiian gardenias, like the kinds I grow in my own yard," Annie says. "So I mailed boxes of them to [our nose] and he matched it."
Terveer retails for $185, and is exclusively available at Barneys starting today.