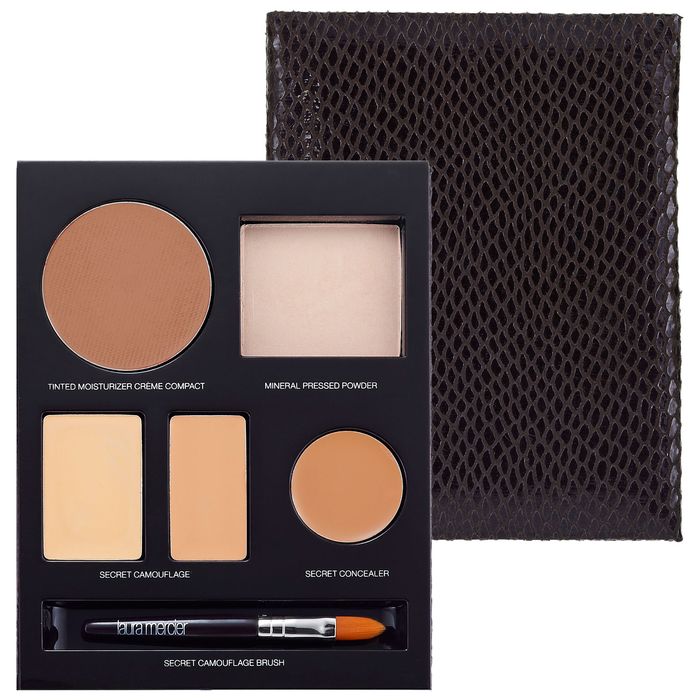 Photo: Courtesy of Laura Mercier
Among the great ironies of female life is that the days when you have the time and energy to apply expert makeup are the days you need it least. You went to bed at a reasonable hour the night before, awakening well-rested and calm. You performed all three steps of your skin regimen and have no zits.
Days when you wake up late, exhausted, and panicked, are the days when you most desperately need makeup. On those days, women face a second irony: foundation, powder, and concealer — the most urgent makeup, the kind you need most after a late night at a place where you don't have a toothbrush, much less a Clarisonic — are deeply inconvenient. They are messy (good luck applying Bare Minerals on the subway), require a variety of applicators, and are rarely packaged together for on-the-go use.
Enter Laura Mercier's Flawless Face Book Portable Complexion Palette, which is the size of one and a half iPhones. The magnet closure snaps open to reveal a large mirror, five types of makeup, and two applicators. Two dense, yellow-toned "secret camouflage" concealers work well for dark circles, while a goopier "secret concealer" hides blemishes. The tinted moisturizer is solid (in the upper left of the palette, above) and is portioned generously enough to use some extra as a sheer foundation. It's silky to the touch and is applied easily with a finger. Finally, a pressed powder in the upper right comes packed with a sponge applicator to dust and blend the look.
In the backseat of a taxi, this palette takes me from bare-faced to polished in the space of two city blocks. On rushed mornings, I find myself reaching for it for the sake of speed. It's spill-proof, packs well in a purse, and — perhaps most critically — the mirror is big enough to hide behind when you're teetering in the corner of a moving subway car, furtively trying to finish your face.