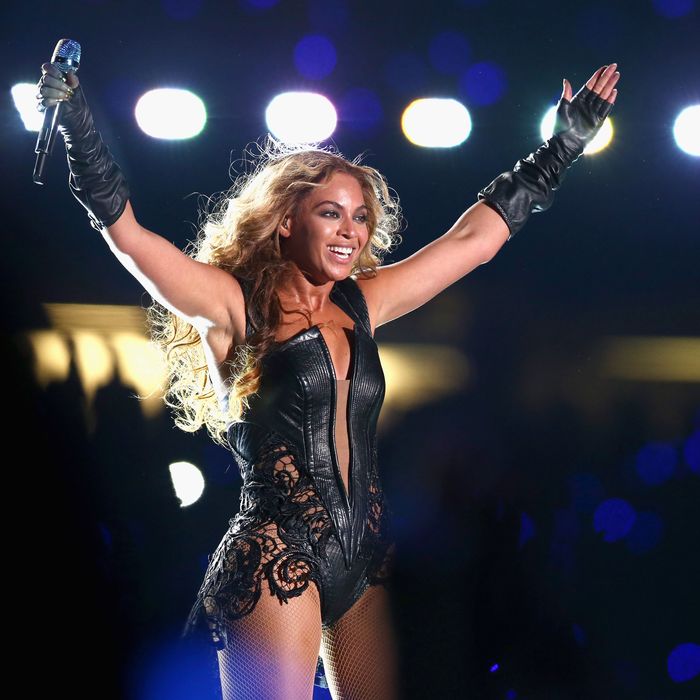 Photo: Christopher Polk/Getty Images
Beyoncé's halftime performance is the sole reason many people, including yours truly, watched the Super Bowl this evening, and it was everything we hoped for. Not only did she definitely not lip-synch (you could hear her breathing heavily a few times), she reunited with Destiny's Child for "Single Ladies," and even let crowd members touch her hair. Without further ado, here's a full breakdown.
When the lights on the stage went up, my first thought was, Is that a light-up profile of Bey and Jay looking at each other? But instead, it was just two Beys, no Jay. Which makes sense, as the world can't get enough of one Beyoncé anyway. It was fitting, particularly in contrast to Madonna surrounding herself with the word VOGUE last year, that Beyoncé chose to be surrounded by … herself.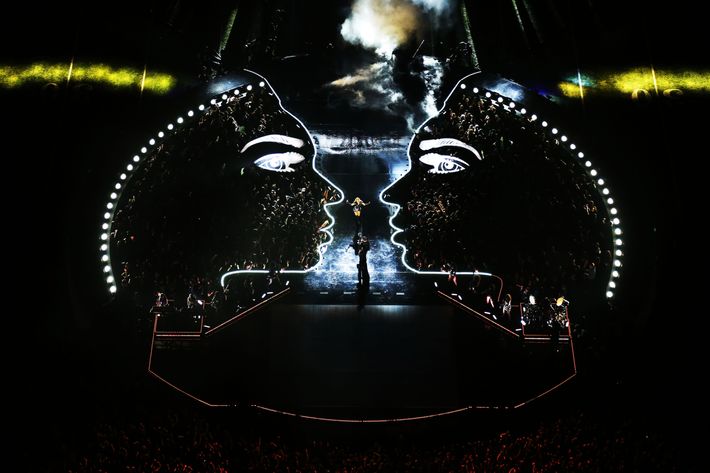 Her silhouette appeared on a raising platform, like a deity ascending to the sky. Her hair was loose and wavy, perfect for whipping. She started the performance in a leather jacket with padded shoulders and a short puffy skirt, but then shed the jacket almost immediately.
She then ripped off the skirt to reveal lacy ruffles underneath, like a sexy butt-doily. It was awesome.
The outfit is by New York–based designer Rubin Singer, who has worked with Beyoncé several times in the past. According to a press release sent out in the middle of the performance, Singer first presented sketches to Beyoncé's stylists, Raquel Smith and Ty Hunter, in November:
Over the next two months there were no less than five fittings and well over 200-man hours with a team of 14 dedicated to creating the final look at the designer's New York City atelier … The stage costumes are based on Singer's upcoming fall 2013 collection entitled "Valkyrie's Dominion." In Norse mythology a Valkyrie is a female figure who decides which soldiers die in battle and which live. A woman with power, focus and unbridled sexuality, not unlike Ms. Knowles herself, was the starting point. 
The ensemble was made of leather, Chantilly lace, python, and of all leathery creatures to choose from, iguana. There were flesh-toned mesh insets, presumably to give the whole getup some much-needed flexibility. Also of note: her legwear, which included flesh-colored fishnet tights — almost slutty-looking, but not quite — and knee-high black socks, worn with booties. The sock-bootie combo seemed odd, as though she really wanted to be wearing knee-high go-go boots but for some reason couldn't. (Update: Proenza Schouler tweeted that they designed Bey's shoes. The choice is great nod to high fashion, sure, but also seems risky for dance moves. Perhaps this also explains the extra sock layer.)
Despite our wildest hopes, many of us really didn't think that Destiny's Child would be there. So when Kelly Rowland and Michelle Williams emerged, I gasped and exclaimed, "But Kelly Rowland outright lied!" (Boyfriend, rolling eyes: "What will they think of next?")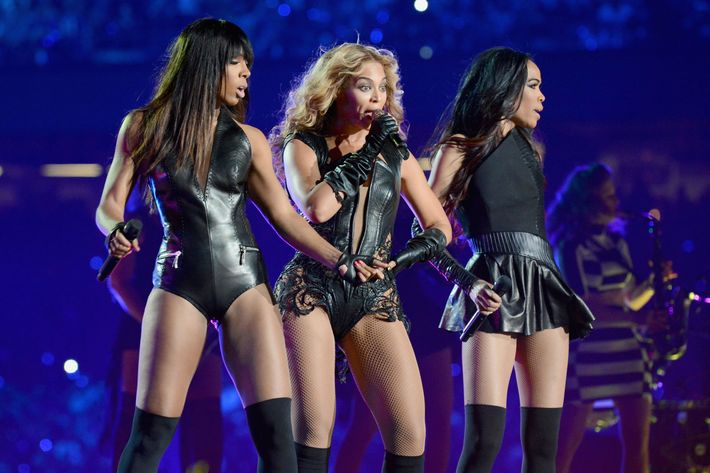 Singer also designed the costumes for the 120 backup singers, as well as Williams, who wore a flippy leather mini-skirt, and Rowland, who was the least-dressed of the trio in her straight-up leotard. They performed a stirring rendition of "Single Ladies," during which Bey made great faces.
The performance concluded with Beyoncé kneeling at the edge of the stage, whipping her torso forward to caress her fans with her hair as they strained upward to touch the knees of her fishnets. (Just think: The tops of some people's heads have now been sanctified with Beyoncé's tresses.) Then the power went out in the stadium, and more than half of America turned off their TVs.