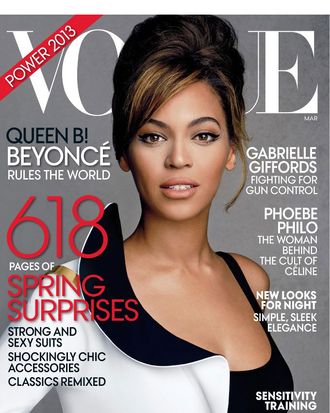 This weekend, the sequel to Beyoncé's April 2009 Vogue cover leaked online, forcing Vogue.com to post the accompanying story today — or perhaps that was Anna's plan all along. The article describes B's forthcoming projects, her friendships with Gwyneth Paltrow and Kelly Rowland, and how she frequents the same "bring-your-own-wine pizzeria" in Brooklyn as the writer. (It's Lucali, according to our Grub Street brethren.) But Beyoncé also talks, a lot, about motherhood, a topic she doesn't often discuss.
"I felt very maternal around eight months," she remembers. "And I thought I couldn't become any more until I saw the baby …. But it happened during my labor because I had a very strong connection with my child. I felt like when I was having contractions, I envisioned my child pushing through a very heavy door. And I imagined this tiny infant doing all the work, so I couldn't think about my own pain …. We were talking. I know it sounds crazy, but I felt a communication."
She adds, "It was the best day of my life" — certainly a reprieve following months of speculation that she wasn't, in fact, pregnant. Beyoncé and her camp have previously addressed rumors she hired a surrogate: In an October 2011 interview, her publicist told ABC News the rumblings were "stupid, ridiculous, and false," and last year, B called the scenario "crazy … It wasn't hurtful, it was just crazy." Apparently, she revisits the topic (again) in her documentary Life Is But a Dream. From Vogue:
Today, the gossip bewilders her more than it angers her. "That was very odd," Beyoncé says now. "Who even thinks that? Like, who would make that up …. You can't take it too seriously."

Beyoncé's mother, Tina Knowles, who calls the pregnancy rumors "the most ridiculous thing in the world," admits she has a harder time letting gossip slide. "It's tough as a mother because people say all this crazy stuff … and I want to say, 'You should tell them' sometimes. She'll say, 'Mom, I don't owe them that. Let them say what they want to say.'"
More Beyoncé on Parenting Fun Facts: She refers to her daughter Blue Ivy as her "homey" and "best friend," and mentions she "definitely" wants to have another baby, "but I don't know when." It is B's year. Add it to the To-Do List, after world tour.