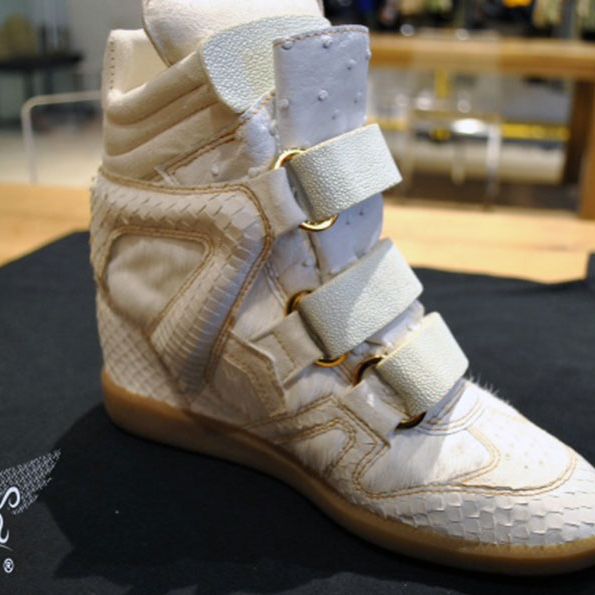 The People for the Ethical Treatment of Animals, who already chastised the pop star for wearing a fur coat to the inauguration and a butt doily made from pythons for her Super Bowl performance, remain nonparticipants in the Year of Beyoncé — now calling her out for asking PMK (Perfectly Made Kicks) to update Marant sneaker wedges using things with faces. From PMK's website:
Summoned by King Bee and given the task to create a custom design worthy of her approval, PMK takes the Isabel Marant sneaker wedge back to the beginning of time and gives it what they call the Eden treatment. A hybrid of land and sea skins are used to create this handcrafted creation. Stingray, Ostrich, calfs fur [sic], Crocodile, and Anaconda give the already impeccable design atitude [sic] and the tones of white mixed with gold stitched details produces a feeling of elegance, mimicking the southern belle's sweet and fierce persona.
In return, PETA said: "These custom-made kicks come with a high price and it's paid by the various animals who were beaten and skinned alive or cruelly farmed and killed. Although most people aren't as familiar with the types of animals (snakes, stingrays, crocodiles, and ostriches) killed for this single pair of sneakers as they are with the cats and dogs we share our homes with, these animals are highly sensitive living beings who try hard to avoid capture and suffer enormously when trapped, netted, speared, and skinned alive." Emphasis, apparently, on skinned alive.
The Daily Mail points out that PMK partnered on a Nike Air Jordan 1-inspired sneaker with Beyoncé's husband, Jay-Z, last year. Dubbed the "Brooklyn Zoo," the shoes were "an elaborate combination of elephant-print, ostrich, python, boa, crocodile, lizard, alligator, suede, and sting ray," but PETA stayed silent. Never heard of H.O.V.A.