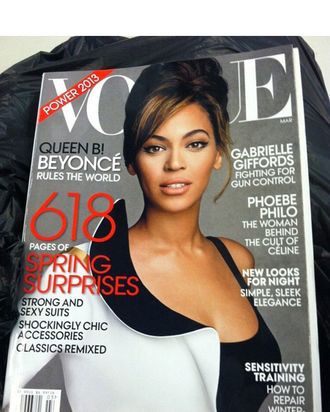 Beyonce in Balenciaga.
Photo: BeyonceLite/Twitter.com
Those rumors about Beyoncé on Vogue's March cover (the annual "Power" issue, and also the second-biggest issue of the year, behind September) are true, according to this photo leaked by fan Twitter account BeyonceLite. She's wearing a ruffly piece from Givenchy by Riccardo Tisci — the same designer who made that infamous sheer gown she wore to the Met Gala last year.* In related news, this means that Michelle Obama will almost definitely cover the April "Shape" issue, which works because she can talk about her "Let's Move" health initiative. 
* Correction: this dress is not Balenciaga, no matter how much we wanted it to be.