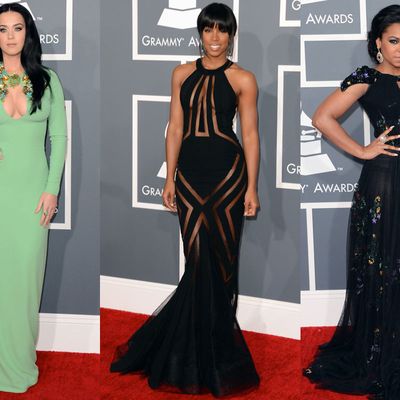 After CBS issued a "Wardrobe Advisory" spelling out just what the network 's big-wigs consider inappropriate to wear on national television (wardrobe malfunctions may be good for ratings, but they're not so popular with the FCC), many celebs undoubtedly had to go back and rethink their Grammy red carpet looks, or … not!
Rihanna showed up in a red Azzedine Alaia gown that, at certain moments, made us press our faces up right up to the TV and ask "My God, Ryan Seacrest, are those Rihanna's nipples?" Ri-Ri then changed into a decidedly under-boob revealing crop top and skirt for her performance. Katy Perry's Gucci gown looked like it was barely holding her in, but it's Kelly Rowland who wins the award for most in-your-face naked.
Take another look at the guidelines CBS issued below, and then decide for yourself what was the most controversial in our slideshow.
Please avoid exposing bare fleshy under curves of the buttocks and buttock crack. Bare sides or under curvature of the breasts is also problematic. Please avoid sheer see-through clothing that could  possibly expose female breast nipples. Please be sure the genital region is adequately covered so that there is no visible "puffy" bare skin exposure.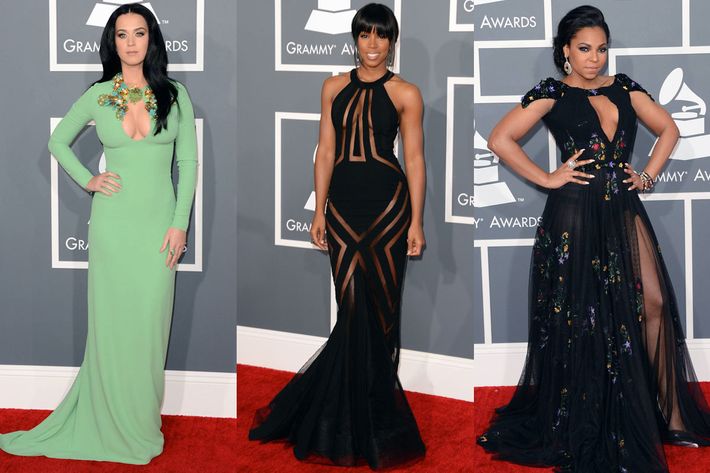 The Top-Half Violators: Katy Perry, Kelly Rowland, Ashanti
Extra points to Ashanti for also getting what looks to be a visible underwear line in there.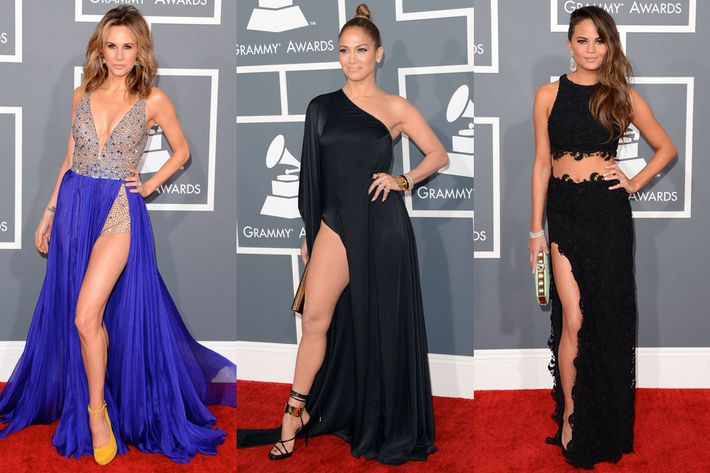 The Below-the-Belt Offenders: Keltie Colleen, Jennifer Lopez, and Chrissy Teigen
J.Lo wins for that exposed hip, which means there can't be anything under that Anthony Vaccarello number, but Chrissy Teigen pulls her weight by showing some belly button.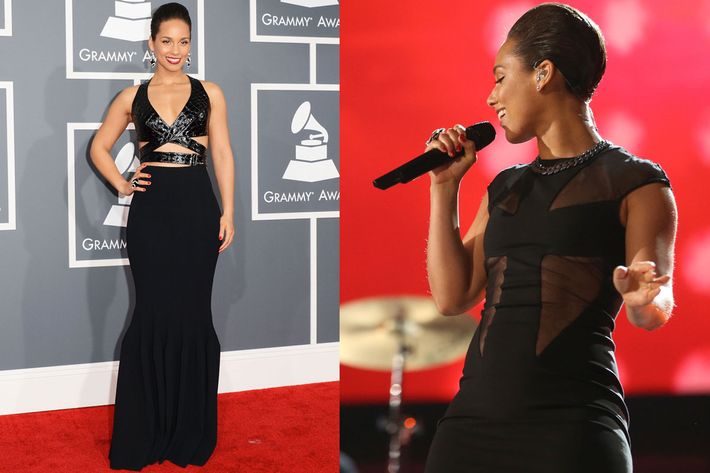 The Censored Look: Alicia Keys
She walked the red carpet in an Azzedine Alaia with strategic cutouts, but changed into a sheer dress with panels that fail to cover that illicit under boob. Gasp.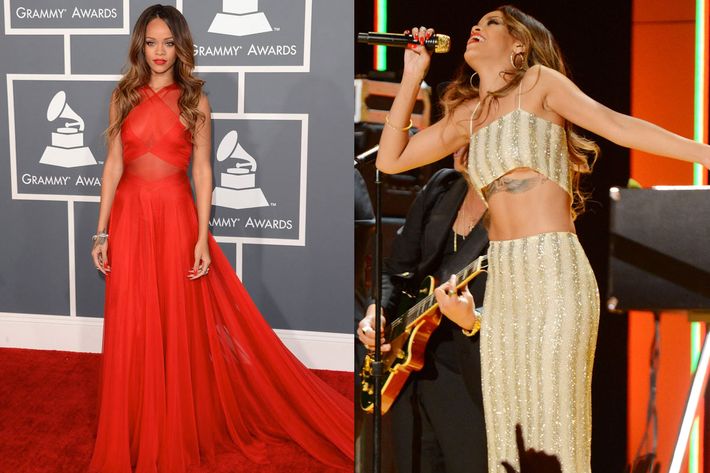 The Peek-a-boo No-no: Rihanna
Her red carpet gown may have been perfectly tasteful (a now you see it, now you don't nipple barely counts as breaking the rules when you're Rihanna), but the bedazzled crop top once again highlights that visible lower bosom.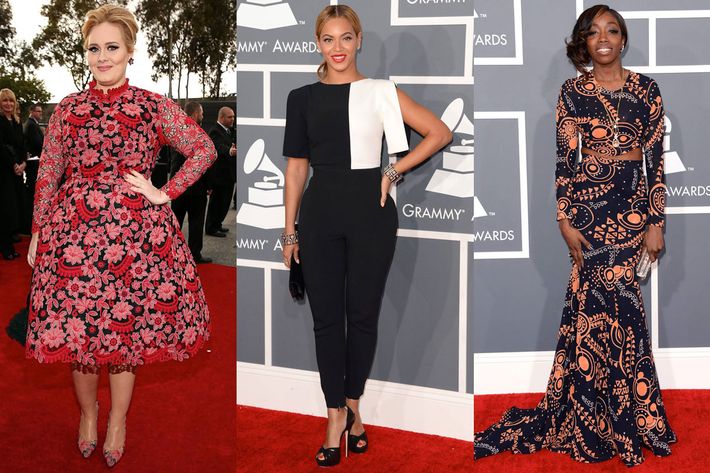 The Ladies Who Paid Attention: Adele, Beyonce, and Estelle
If Beyonce is wearing pants, you know things are serious.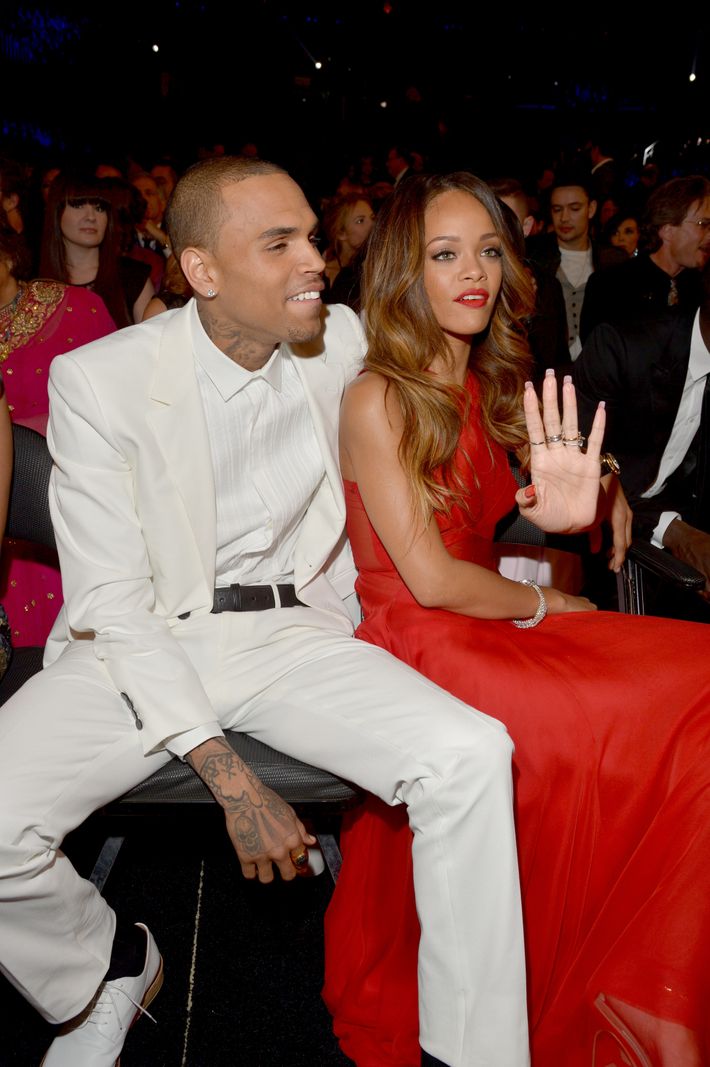 The Couple That's Controversial for Just Being Themselves: Chris Brown and Rihanna
Because: this.